Cancun, you either love it or hate it. We for one love it! With its white sand beaches, zany nightlife and endless rows of hotels, Cancun calls us back again and again. But there are plenty of things to do in Cancun besides chilling at the beach.
There is a reason Cancun is the top place in Mexico that both Canadians and Americans visit all year long. There is an endless list of Cancun activities to be had. We've gone back to the Yucatan Peninsula again and again since the year 1999 and always find something new to see and do.
So let's get started to help you find all the things to do in Cancun that will make your trip a vacation to remember.
Best Things to do in Cancun Mexico
Looking for transportation from Cancun Airport to your hotel, check out eTransfers for the best prices. They offer shuttles to the Hotel Zone, Playa Del Carmen, Tulum, and all along the Mayan Riviera.
There is no doubt that most people book at least one trip from Cancun. Located in the gateway to the Mayan Riviera, many activities take places out of downtown Cancun. We are going to talk about our favorite day trips as well, plus we have a full article on The Best Day Trips from Cancun.
Get in the Mood to travel to Cancun withour video: The Best of Cancun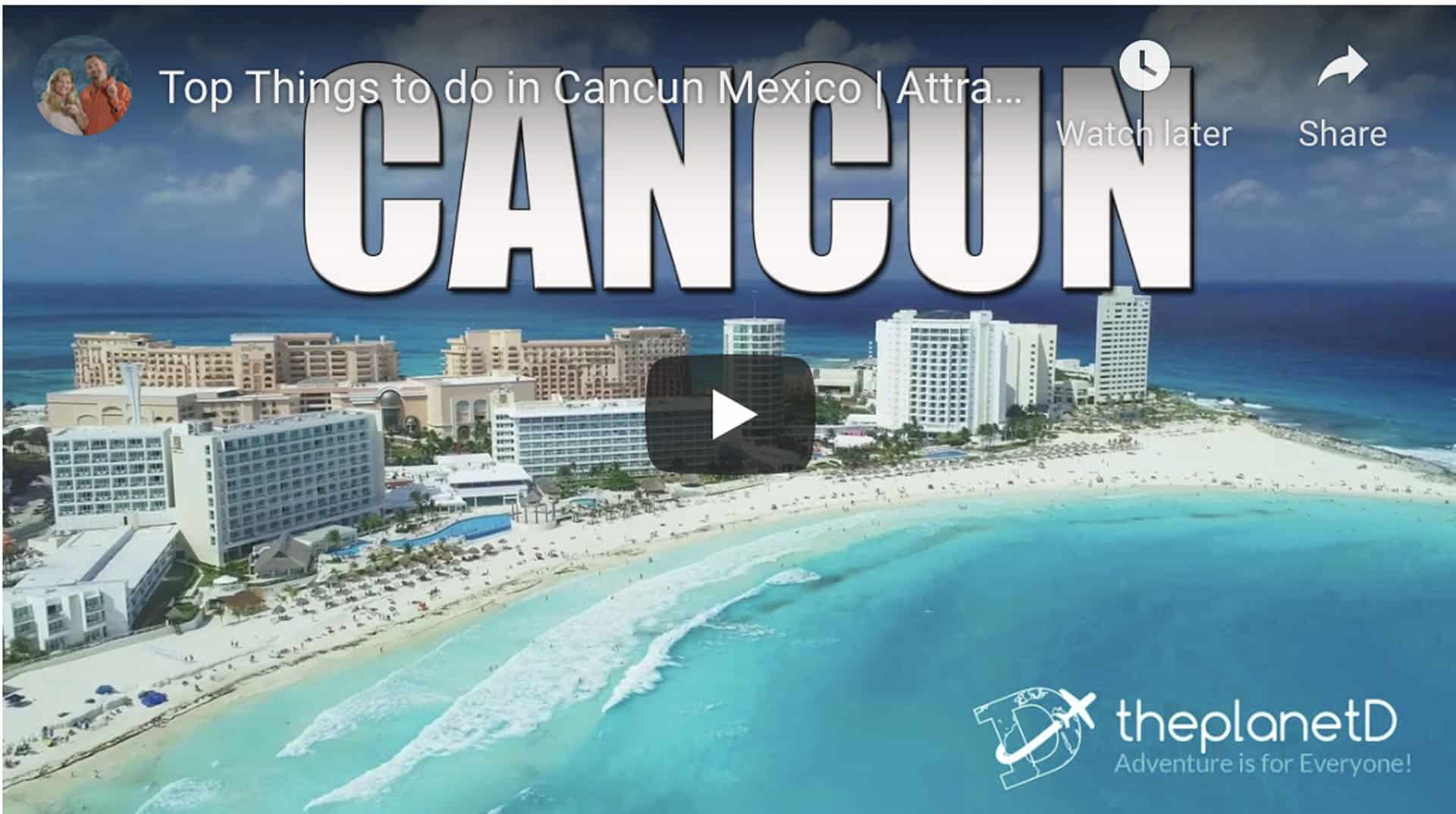 We use Get Your Guide around the world and have used them for many of our Cancun travels. It offers transfers, tour guides, and access to many of the top activities in Cancun with full refunds if canceling within 24 hours of excursions. Plus, they take last-minute bookings too. We have also used Viator to book Cancun tours as well.
Things to do in Cancun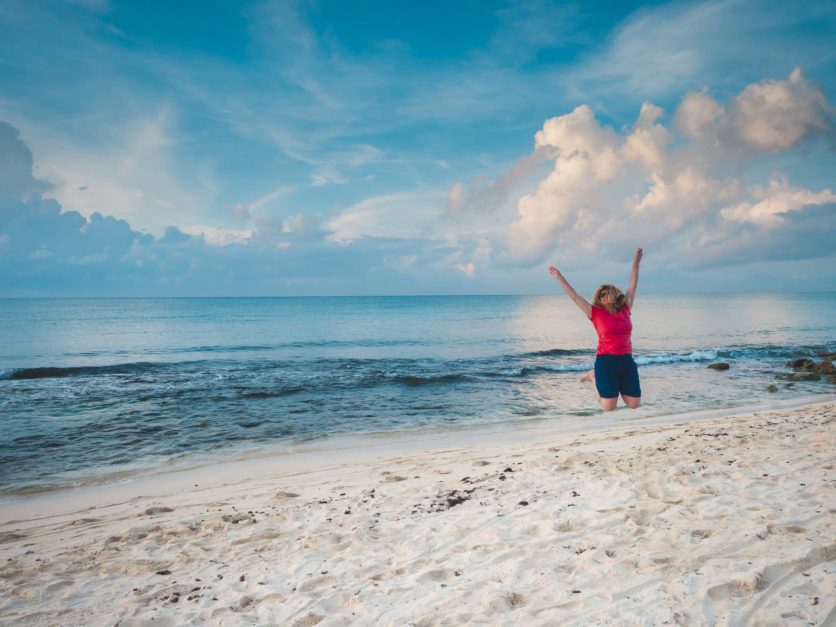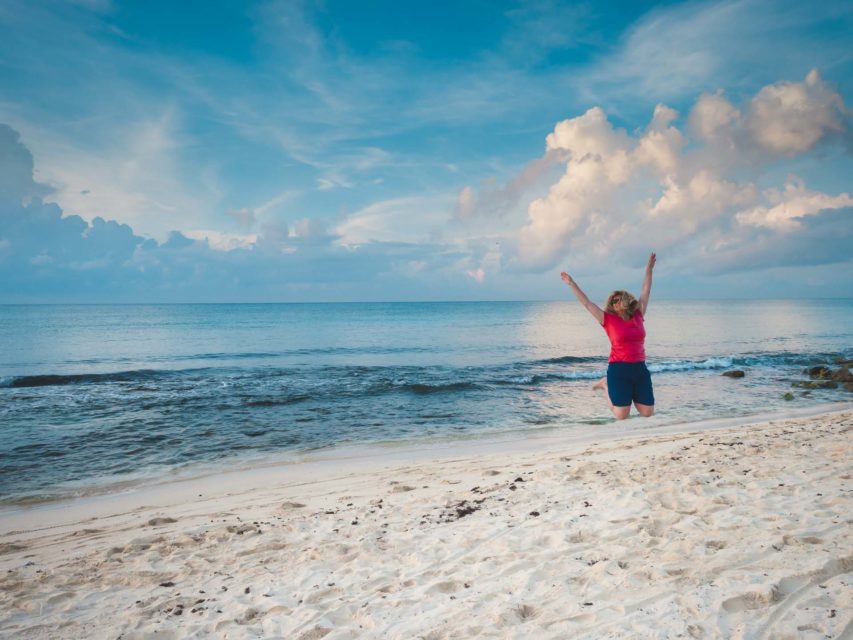 Most things to do in Cancun are when out on excursions that take time away from the hotel zone. These are the best things to do near Cancun to enjoy a day out.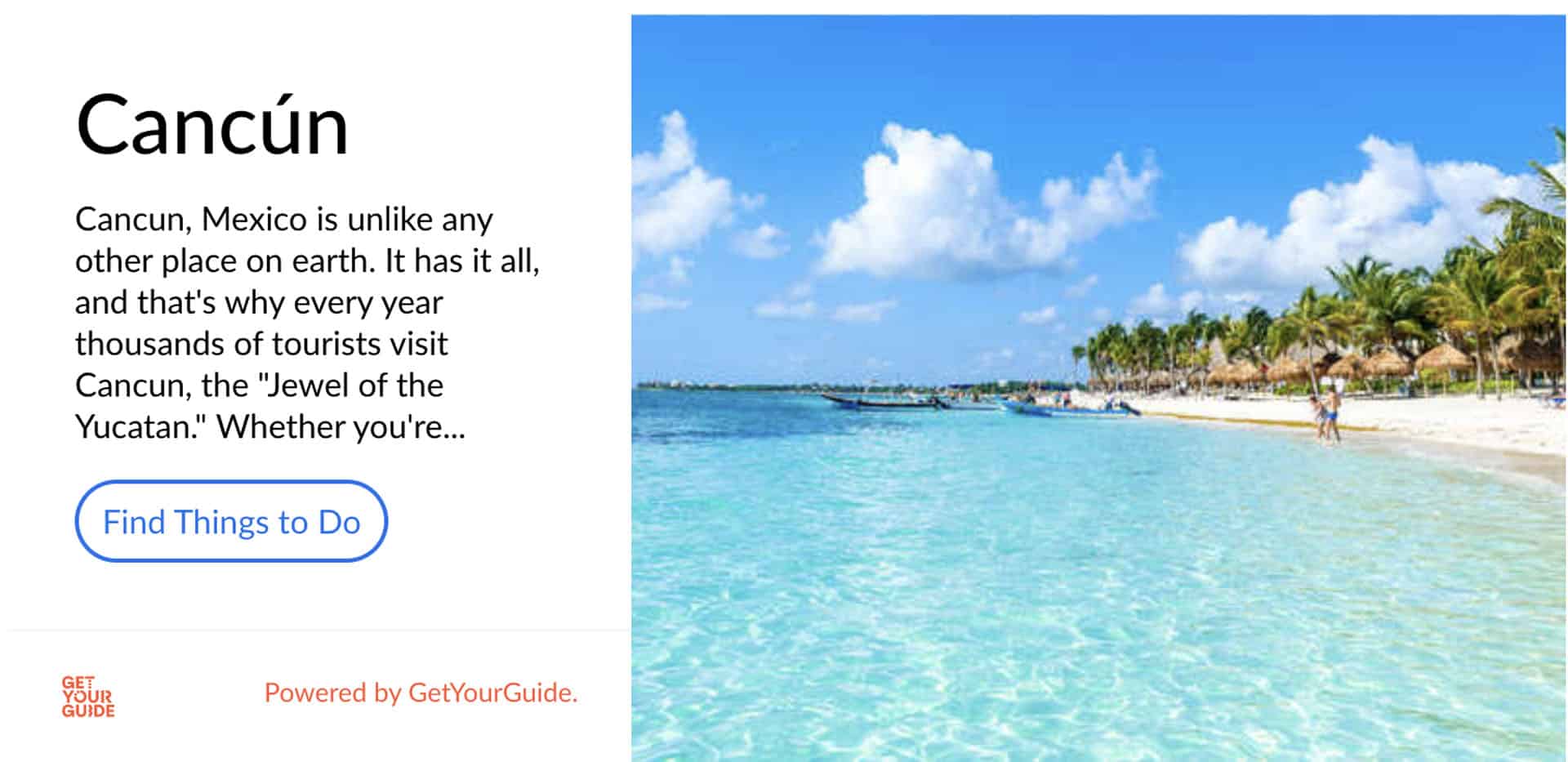 From watersports to a natural theme park, Mayan ruins to underwater rivers, you are going to fall in love with Cancun.
1. Go Scuba Diving Through The Best Coral Reefs in the Northern Hemisphere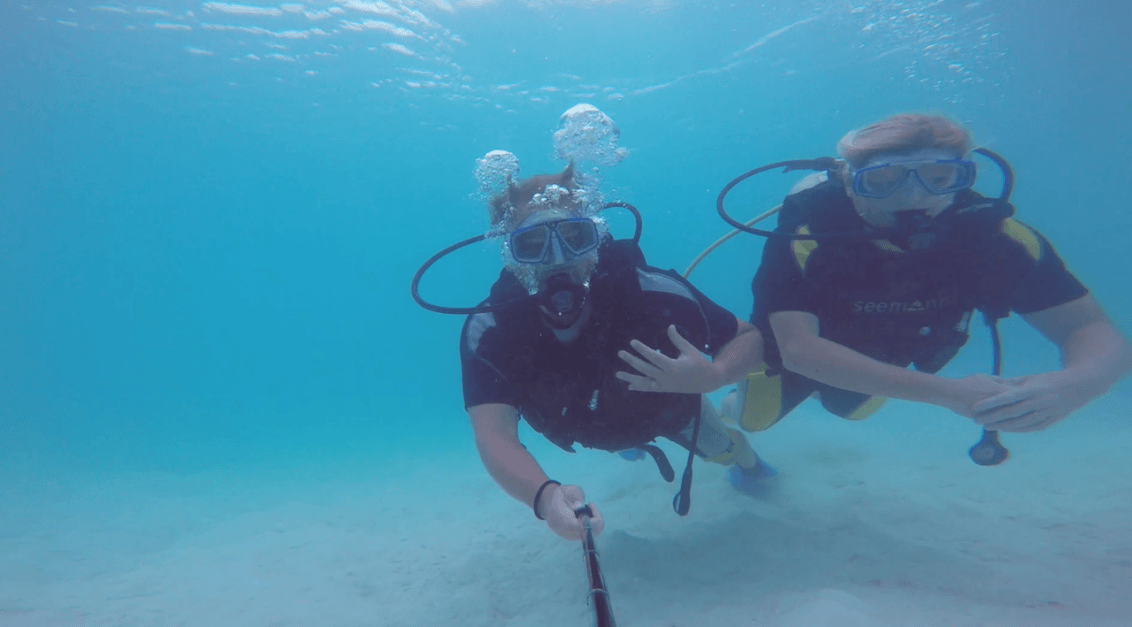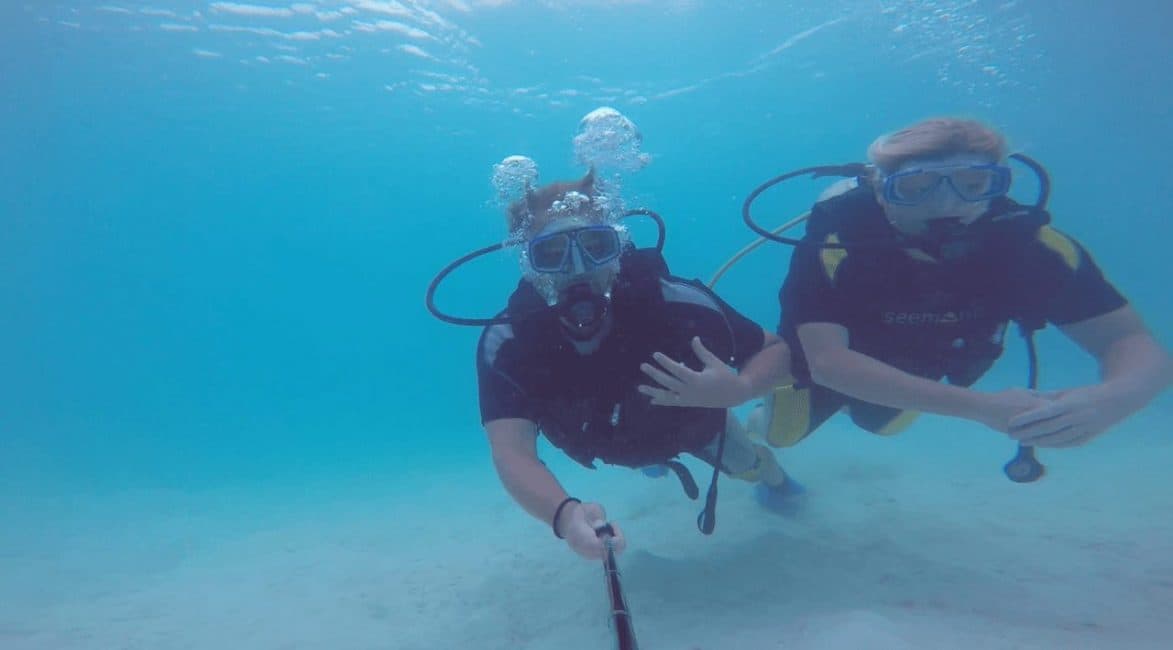 The coral reef off the shore of the Riviera Maya and Cancun is one of the best in the world. In 1961 Jacques Cousteau discovered the magnificent diving here and declared the area as one of the most beautiful dive sites in the world. Thanks in part to the popularity of diving in these waters, they were declared a national marine park in 1996. This has allowed the reef to thrive and the wildlife to flourish, making for one of the most sensational diving experiences you're likely to ever have.
Cozumel is the top spot in the Yucatan Peninsual for scuba diving, but you can book scuba diving tours from Cancun to explore its crystal clear waters with visibility reaching over 100 feet.
Even if you are a beginner you can try scuba diving in Cancun. Many resorts offer PADI certification and explore dives.
2. Snorkeling with Whale Sharks and Sea Turtles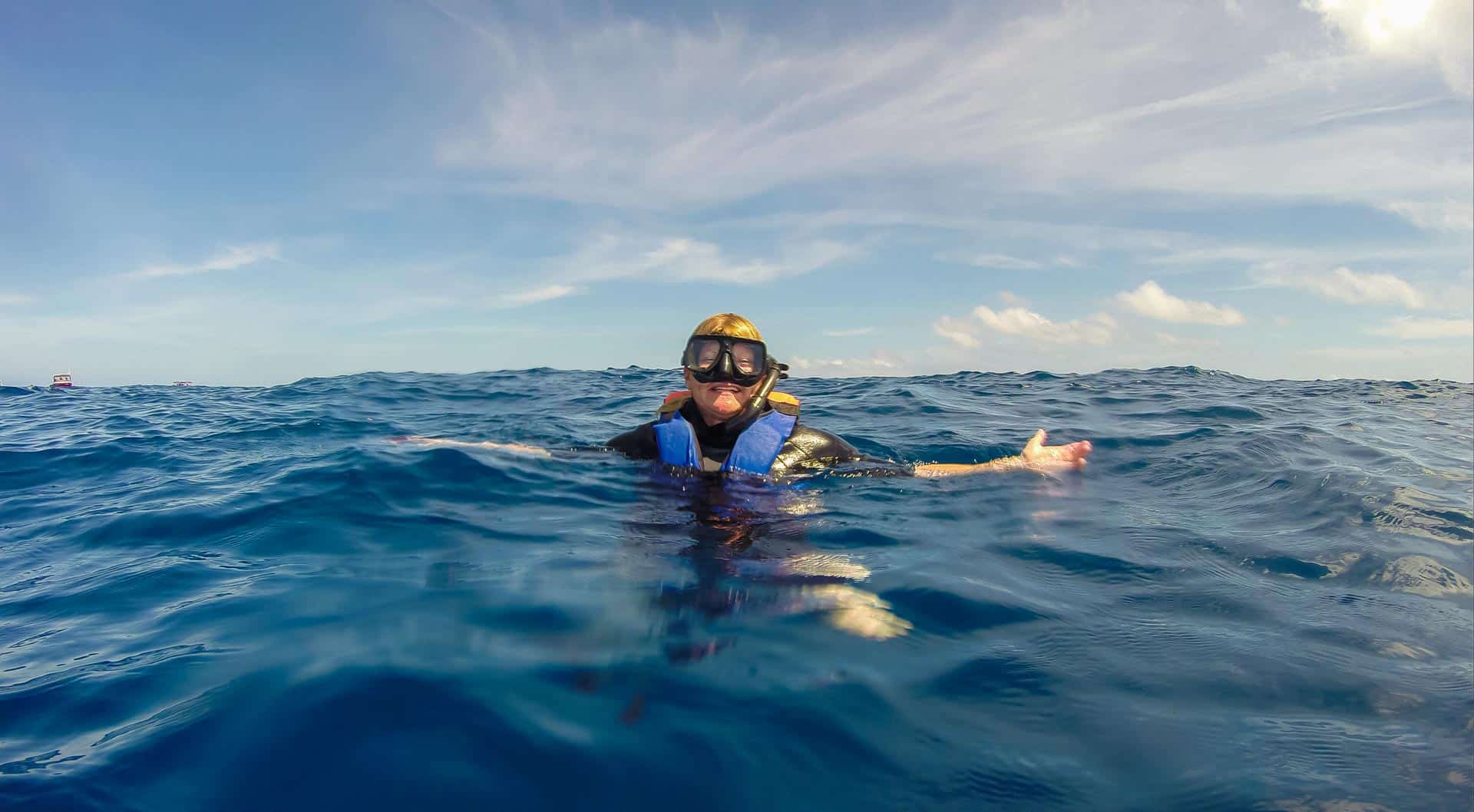 If you aren't ready to go diving, snorkeling is one of our favorite things to do in Cancun. There are so many snorkeling experiences near Cancun. Isla Mujeres is one of the best places in the world to see sea turtles and just off the Yucatan Coast is one of the best places in the world to spot whale sharks. Swimming with whale sharks is hands down one of the most exciting things to do in Cancun. To see these gentle giants up close is one for the bucket list.
Swimming with Whale Sharks – This seasonal activity is a must. If you are in Cancun between May and October, be sure to book a tour to swim with Whale Sharks.
3. Explore Cancun's Cenotes – one of our favorite things to do in Cancun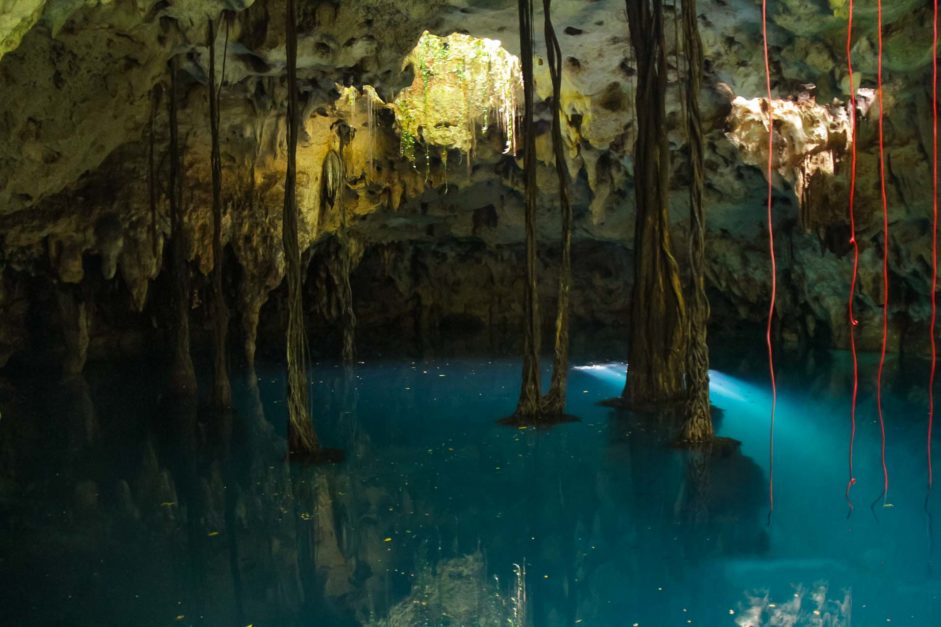 The Riviera Maya is known for its underground rivers known as Cenotes and intrepid travelers will want to make sure to get into at least one on their visit to Cancun.
There are so many Cenotes to visit near Cancun. One of the best Cenote tours is Rio Secreto and we highly recommended it. But Rio Secreto is only one of many Cenotes in the Yucatan Peninsula.
During our last trip to Cancun, we stayed near the lovely Puerto Morelos located between Playa del Carmen and Cancun and there are several Cenotes in Puerto Morelos. Verde Lucero Cenote is a cenote you can visit on your own and do some zip lining too.
Watch our Cenotest Videos
Watch our videos: Adventures in Mexico – A Remarkable Cenotes Tour and A Tour of Rio Secreto.
Lu'um Cenote was our favorite with a full day of water sports from Rappeling into the Cenote, and doing many adventures like a zip line over a cenote, swimming in a Cenote and kayaking through the underground rivers.
4. Zip Lining through Jungles and Cenotes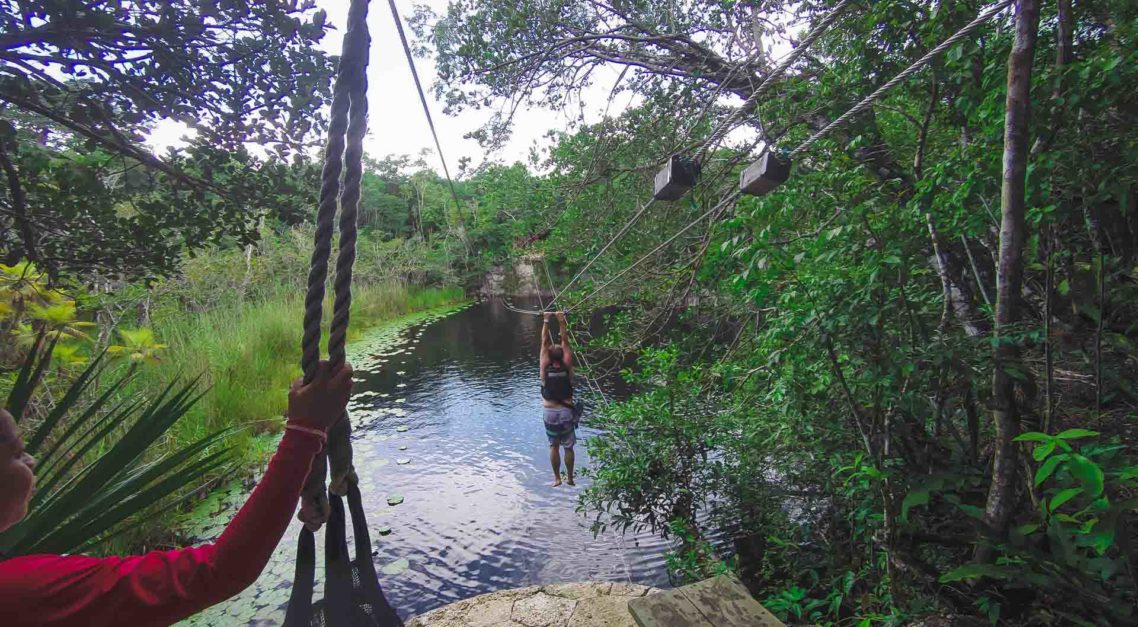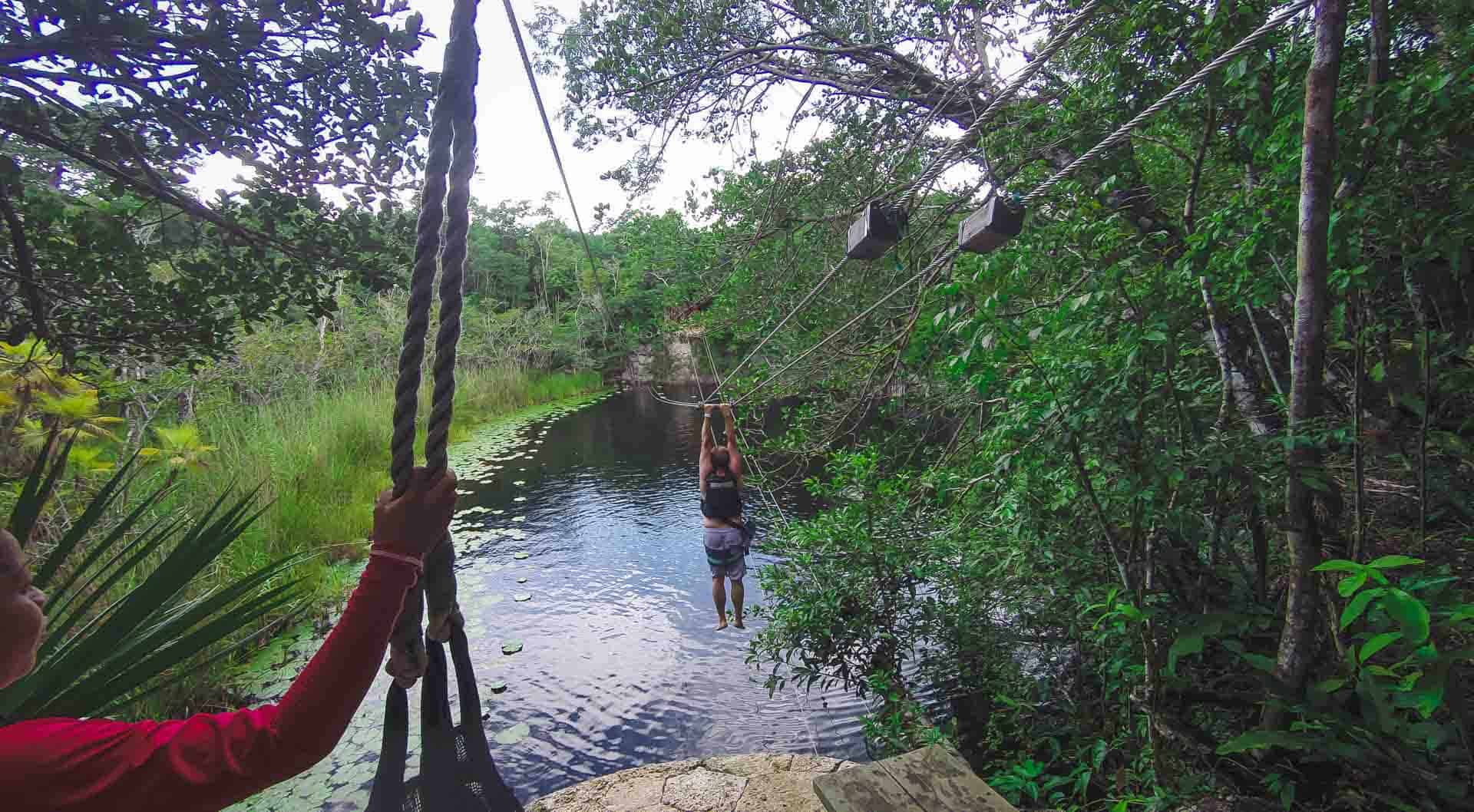 If you are looking for adventurous things to do in Cancun, add zip lining to your list. The people who brought you Xcaret, have created an adventure theme park that houses the most visited in the world! Zip lining is a thrill to soar above the jungle. Mexico is the only place where we ever had a wet water landing and Xplore has two of them!
There's not only ziplining here though, you will have a blast on the ATV adventure, rafting through the Cenotes and swimming through underground caves.
Book this highly rated tours – ATV Tour, Zip line and Cenotes Tour all in one. The great thing about the Maya Riviera is that many tours combine the top attractions all in one day.
5. Isla Mujeres – Great Cancun Day Trip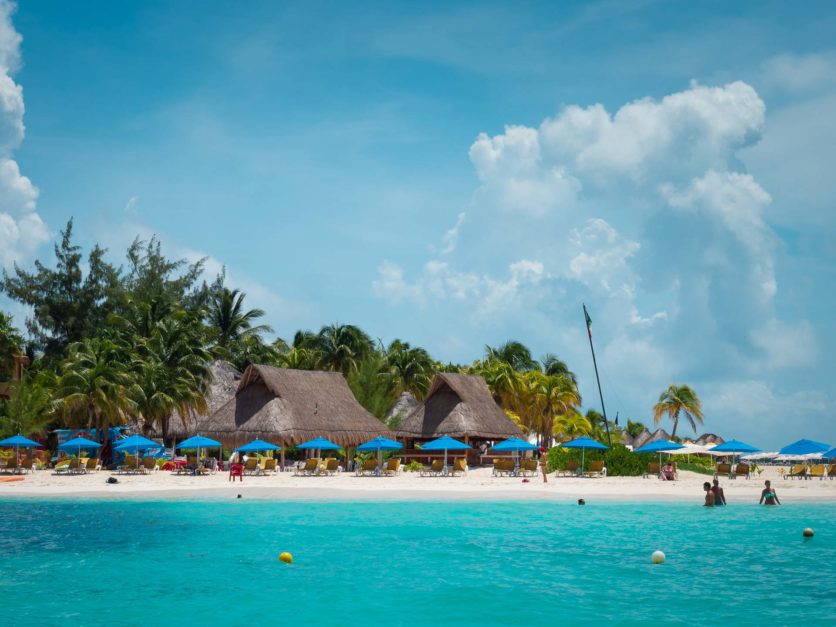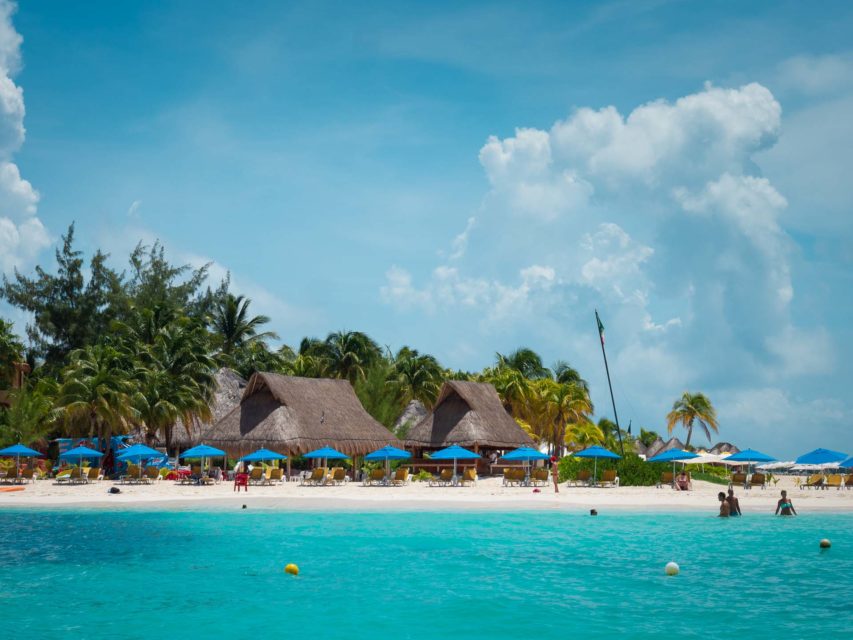 Isla Mujeres, aka the Island of Women got its name from the many images of Goddesses on the Island. The island was sacred to the ancient Mayans who worshipped it as the goddess of childbirth. Today, Isla Mujeres is a beautiful escape just a short 30 minute boat tour from downtown Cancun.
Many people spend the day at the Garrafon Reef Park. This natural park is filled with water sports like snorkeling in the coral reefs, kayaking, hiking and even ziplining. Just a 15 minute ferry ride from downtown Cancun, this is a popular place to visit.
You can spend the day enjoying all the many activities, but make sure to visit the turtle conservation center located on the island too where you'll be able to witness sea turtles being hatched!
Book this highly rated tour – all-inclusive Isla Mujeres Catamaran Tour – Includes an open bar, food, and stops at El Meco coral reef, downtown Isla Mujeres and beautiful views of the Riviera Maya coast.
6. Isla Contoy – A Beautiful Island Near Cancun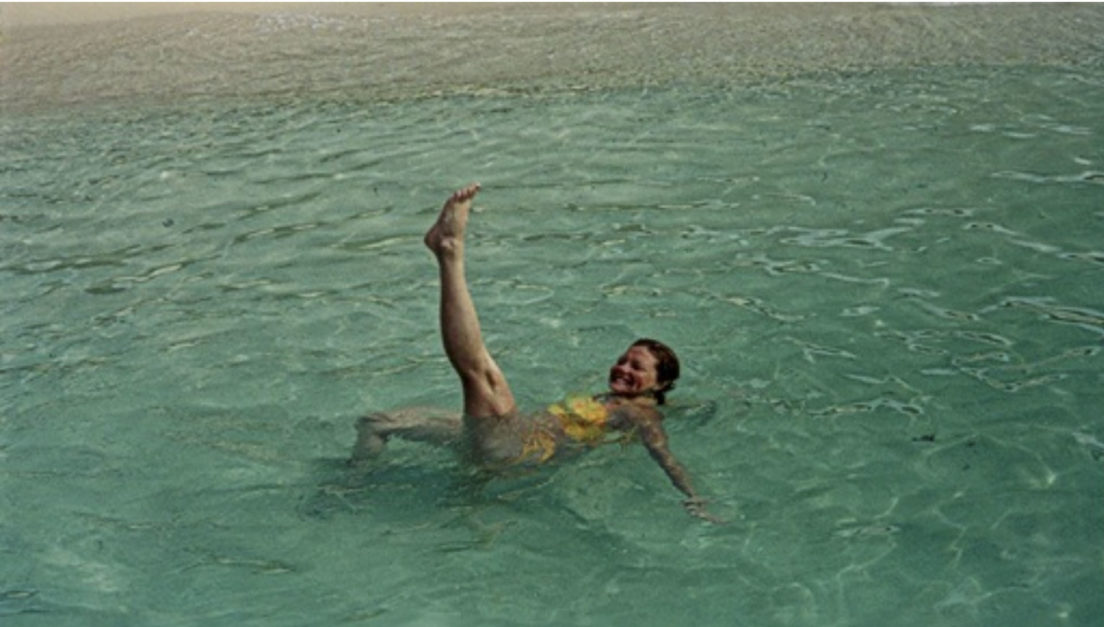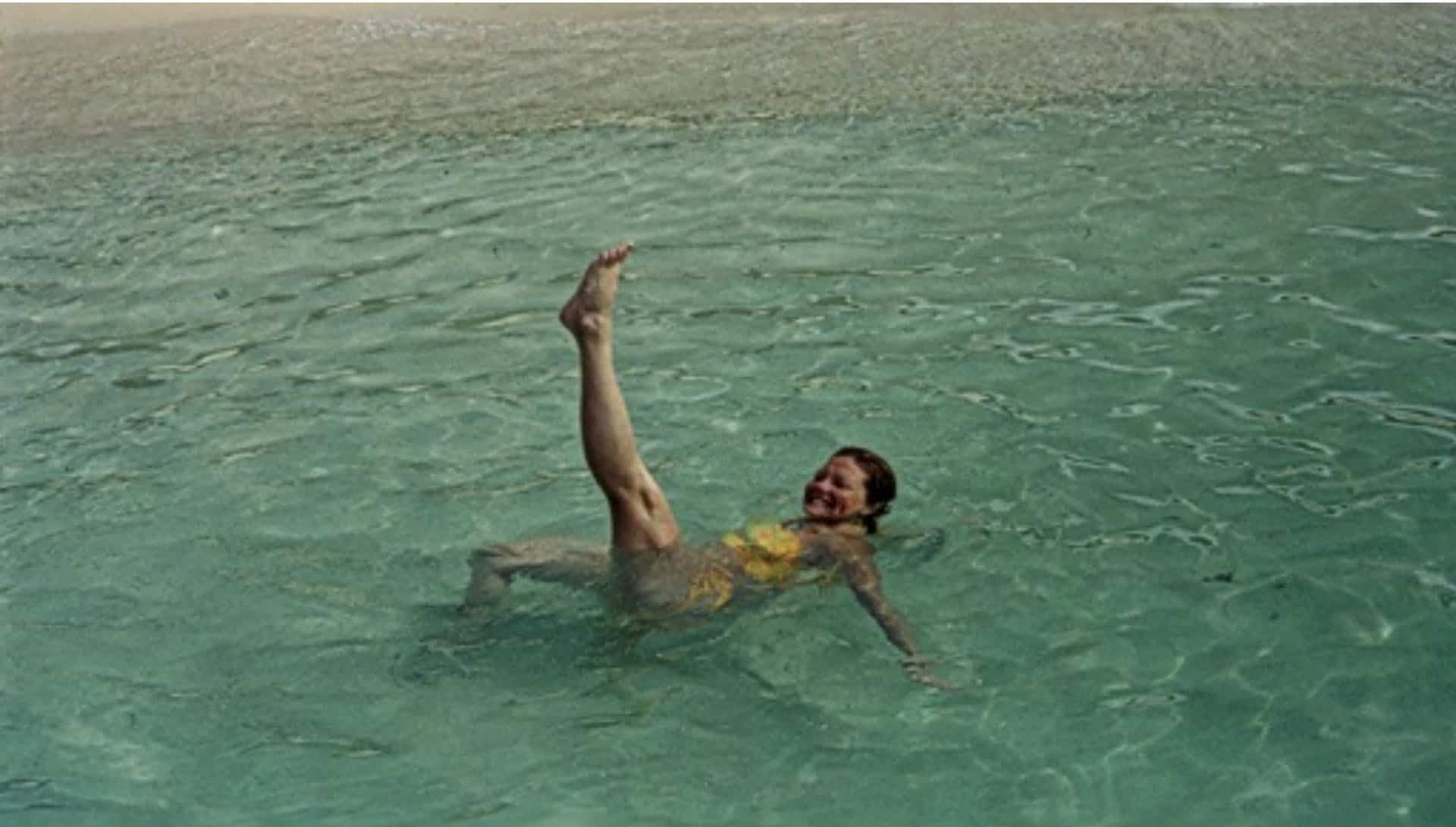 Another Island not to be missed when searching for things to do in Cancun is to go bird watching at Isla Contoy. This island is often combined with trips to Isla Mujeres and it is a lovely protected area to spy thousands of birds and sea turtles.
Isla Contoy has been designated a National Park and they only allow 200 people on the island a day. After exploring the island, its time to get in the water to do some snorkeling in Mexico's gorgeous coral reefs.
Book this island combination tour – Isla Mujeres and Islan Contoy tour where you'll discover two of the most beautiful islands in the Yucatan Peninsula. Easy cancellation within 24 hours of activities.
7. Chichén Itzá – The Best Mayan Ruins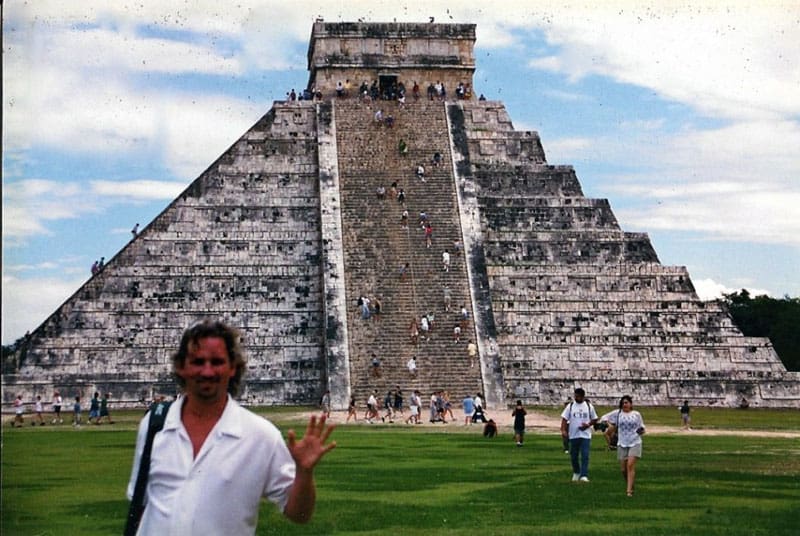 I think the very first day trip everyone books when visiting Cancun is a trip to the ancient Mayan Ruins of Chichén Itzá. Chichen Itza is the most famous of all the Maya Ruins in the Yucatan and it is the largest ancient city.
No trip to Cancun would be complete without a visit to this UNESCO World Heritage Site. Trust me, the first time we went to Cancun, everyone asked us up on our return "did you go to Chichen Itza?" yes, yes we did! We actually visited Chichen Itza years ago when you could still climb to the top of El Castillo. See our list of favorite 42 Amazing Ancient Ruins of the World
If you can rent or hire a car to visit before the tour buses arrive, we highly recommend it. This places gets busy.
Chichen-Itza – Chichen Itza is a long drive from Cancun, so combine it with a full tour stopping at a Cenote, and the Colonial City of Vallidoid.
8. Explore the Underwater Museum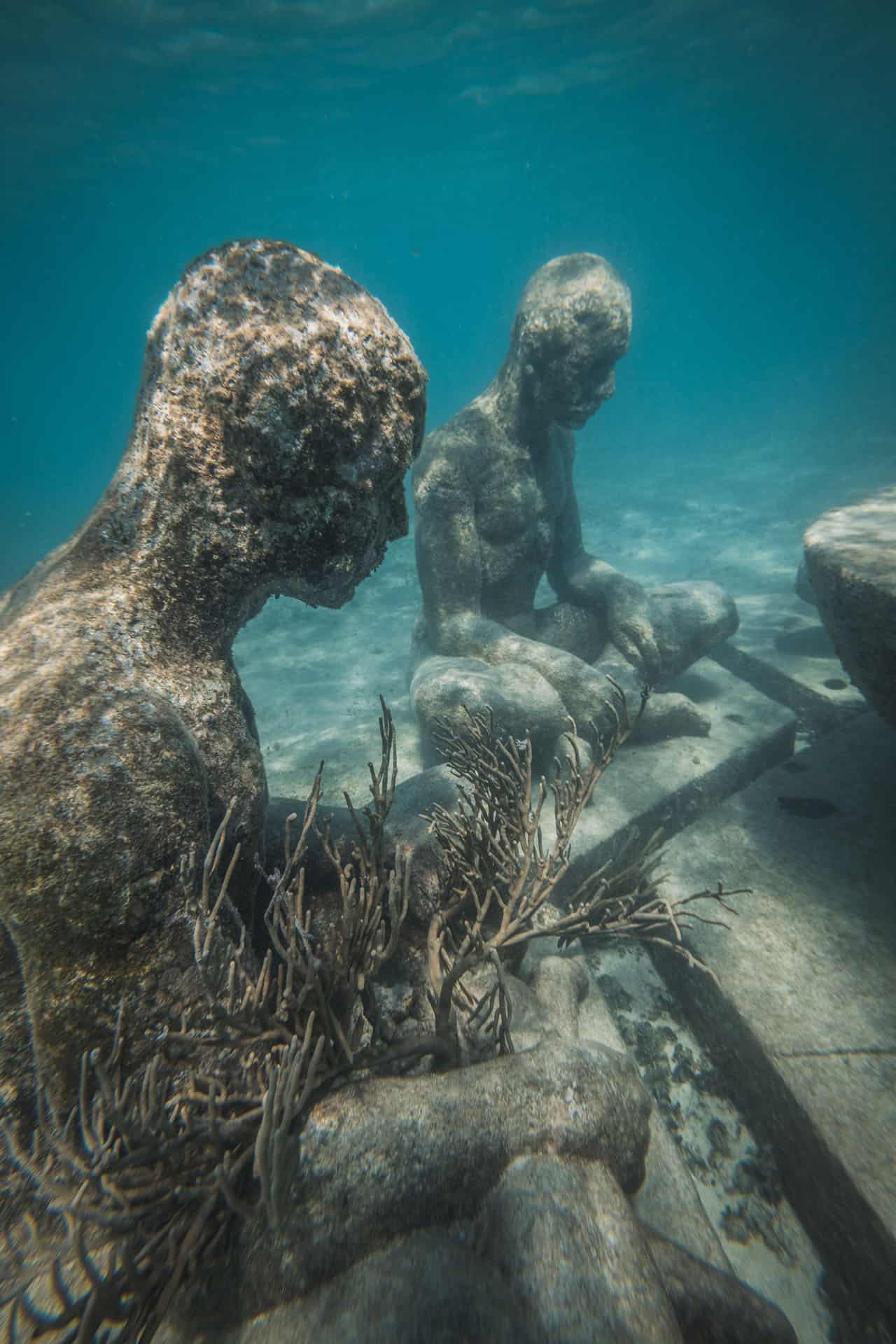 You don't have to go far to have a unique underwater experience. One of the best things to do in the Yucatan Peninsula is to go scuba diving. And the underwater museum of Cancun is a unique scuba diving experience.
This artificial reef consists of 45 statues making it the largest underwater artificial reef system in the world. Locals posed for these statues that were submerged to create a base for coral to grow on.
Whether you scuba dive, snorkel, or just want to go out on a glass-bottom boat, you can see this museum on a three-hour trip from the Hotel Zone.
Even beginners can dive at the underwater museum – Book this beginner's scuba diving experience where you'll have a brief introduction before heading out to see the underwater statues and artificial reef.
9. SUP – Stand Up Paddleboarding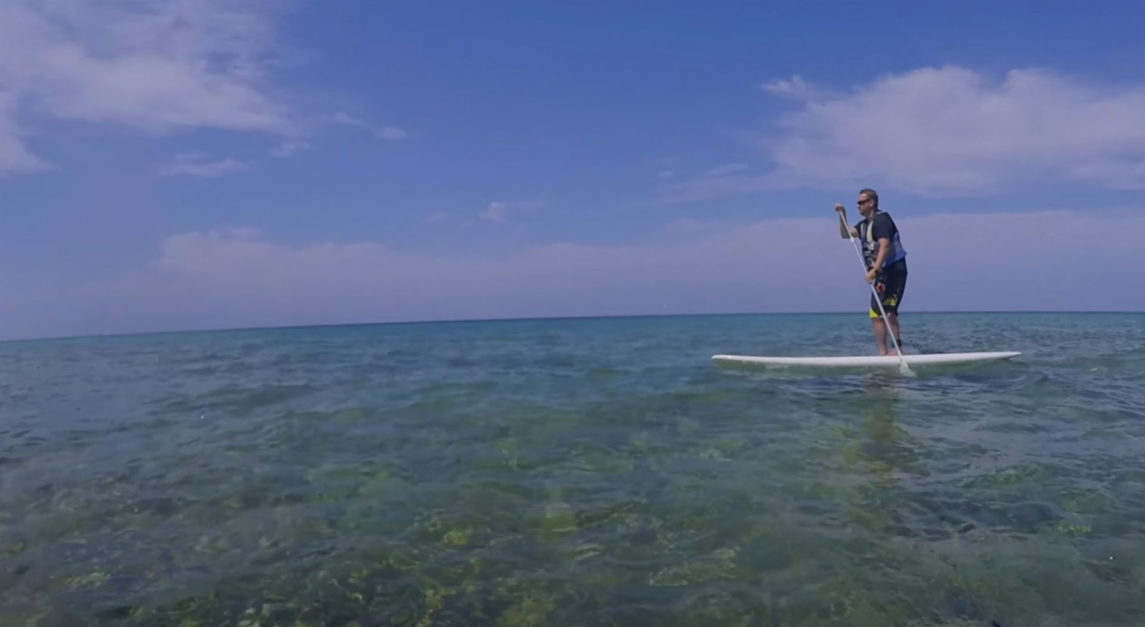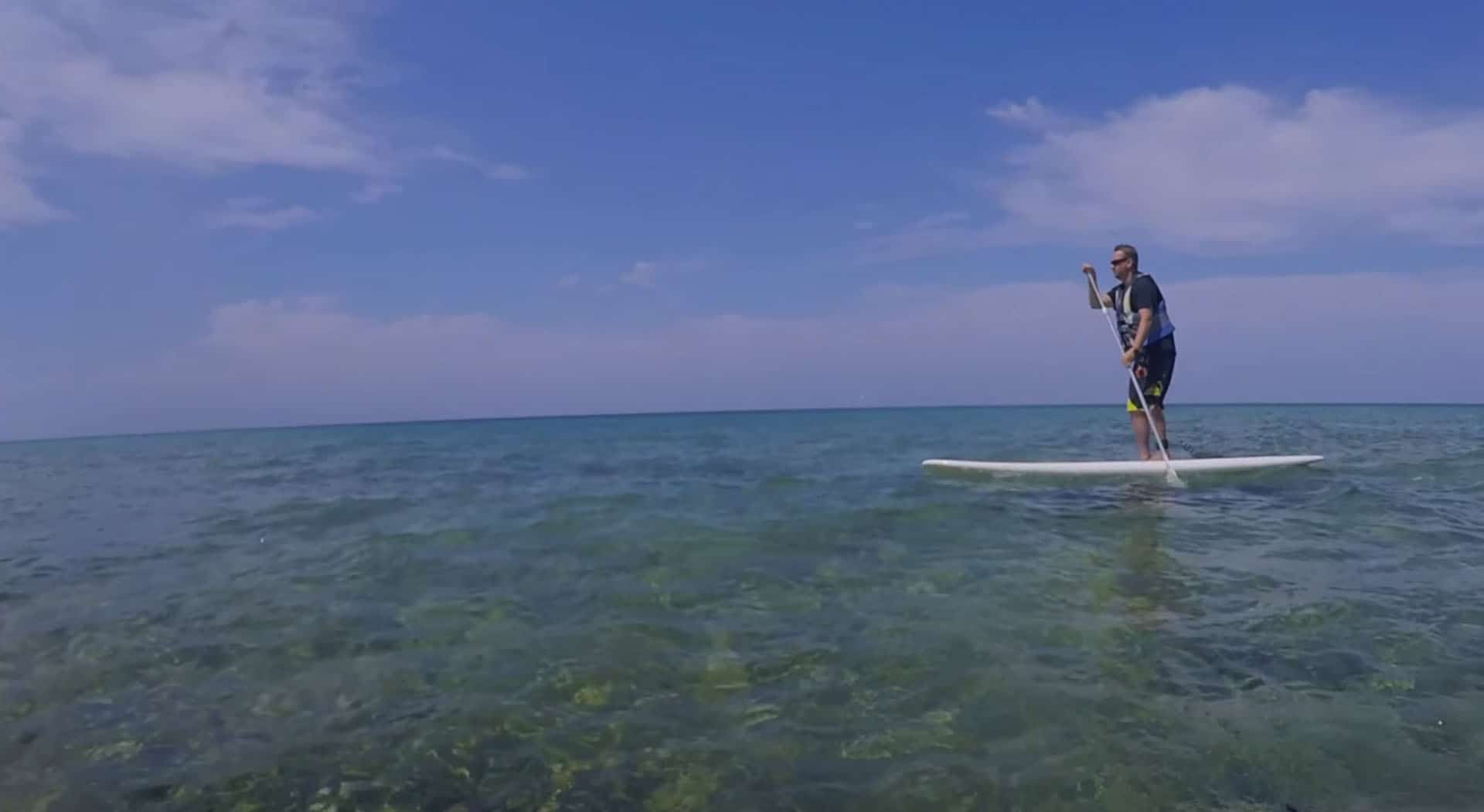 Most hotels in Cancun offer free stand-up paddleboarding with their packages and SUP along the coast is one of the best affordable activities in Cancun. The waters at Cancun's hotel zone are calm making it a great place to give it a try. Stand up paddleboarding is a fun way to explore the coast and get a little exercise in.
You can even do some organized tours into the mangroves. When looking for fun things to do in Cancun, consider as SUP trip, you may discover your new favorite hobby!
Best Things to do in Cancun – Hotel Zone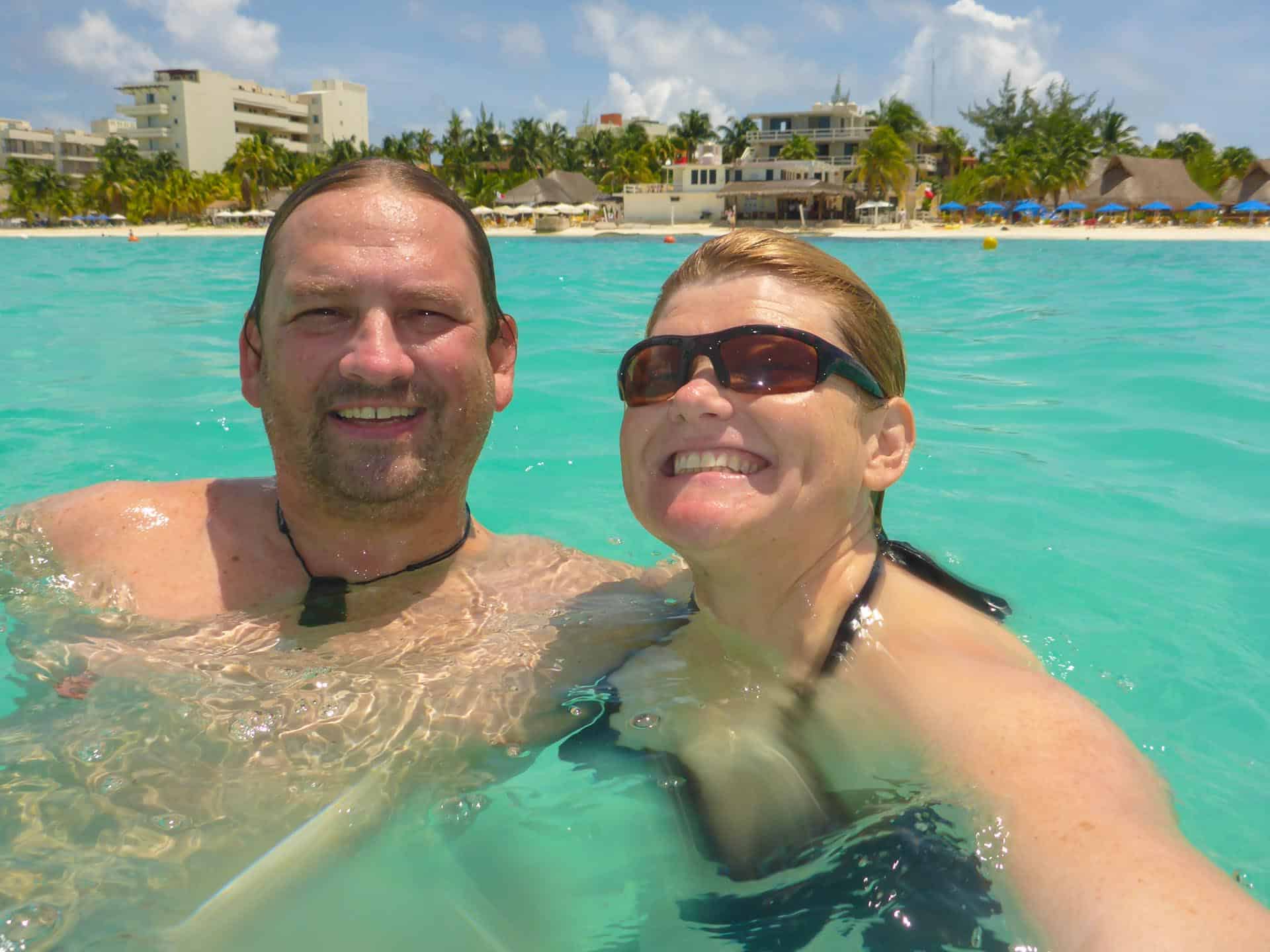 Where to Stay in Cancun Mexico
The Hotel Zone is a good place to stay to for your first time in Cancun to be in the heart of the action. All tours around the Yucatan Peninsula and the Maya Riviera will pick you up from your hotel, so you don't have to worry about getting out to see the sights.
Looking for hotels in Cancun? Check out this interactive map for accommodation from AirBnB to luxury hotels.
Check out More thing to do in Cancun with Get Your Guide. Save money by booking in advance instead of at your hotel. Usually, tours have easy cancellations within 24 hours and they pick up from your hotel.
10. Stroll the Hotel Zone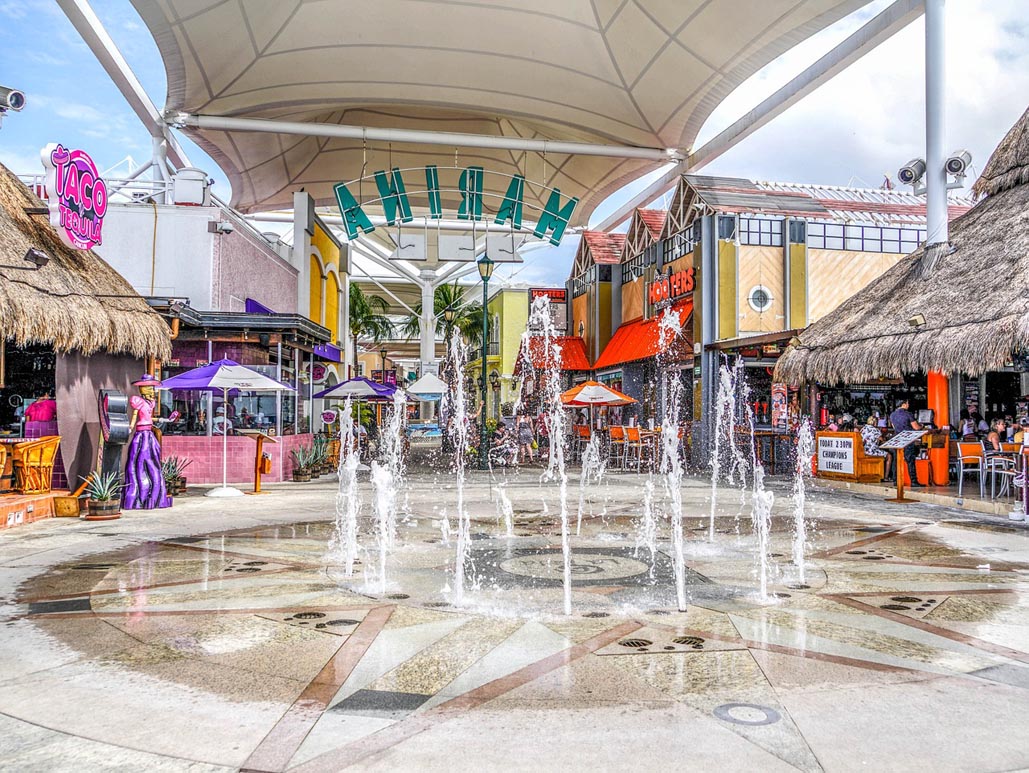 Just walking along the hotel zone of Cancun is an adventure unto itself. This zone is 22km (14 miles long) and filled with restaurants, bars, shopping malls, and all-inclusive mega-resorts.
You don't have to stay at an all-inclusive to have a fun time, we once stayed in a hotel downtown Cancun and had so much fun exploring by foot, enjoying the nightlife, and having a more immersive experience.
11. Maya Ruins of El Rey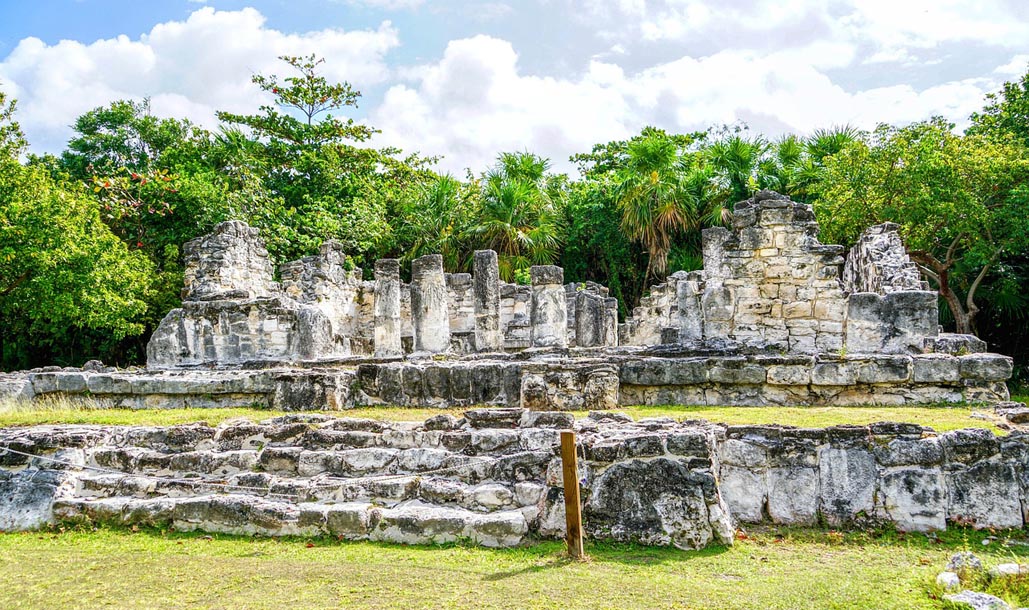 It may not be as massive as Chichen Itza or as famous as Tulum, but the El Rey Ruins is a proper Mayan archeological site near downtown Cancun. There are 47 ruins to explore with a burial site and ancient murals.
The star attraction of this site is the colony of iguanas that inhabit the ruins. They are used to people so the chances of seeing one is very good! Not all visitors to Cancun will want to take a bus ride for hours to see Mayan Ruins, so this is the next best thing.
12. Coco Bongo – fun things to do in Cancun at night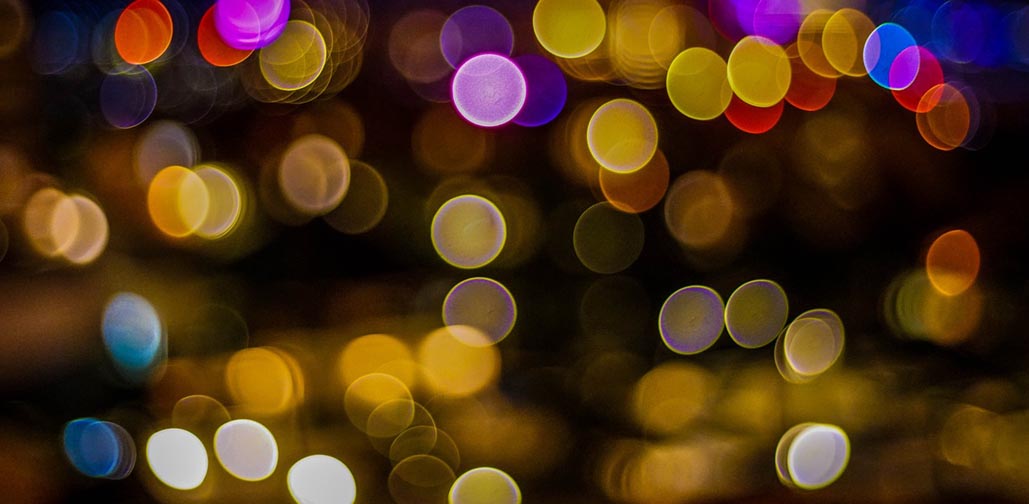 You can go to a club dancing anywhere and there are a lot of clubs downtown Cancun to party in. But Coco Bongo is a nightclub offering entertainment including acrobats, a light show, and gogo dancers. It's truly an extravaganza with a circus on steroids vibe. It's an all-night event so be prepared for a hangover in the morning.
Coco Bongo is only one of the many bars downtown. Other places to visit for nightlife are Mandala, Congo Bar, Palazzo and of course, you can never miss an opportunity to party it up at Senor Frogs!
13. Playa Delfines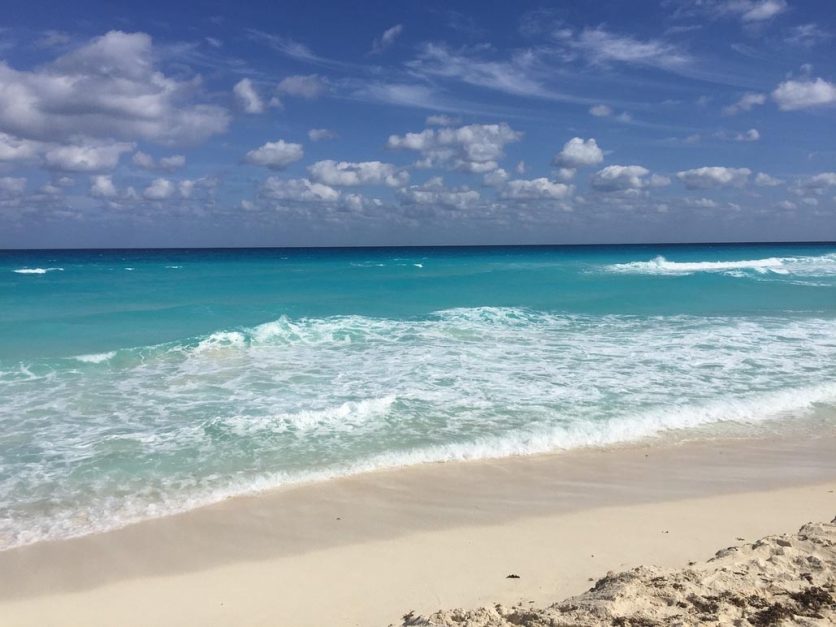 Cancun is famous for its endless white sand beaches. From the Cancun Riviera to Playa del Carmen, and Playa Mujeres, you'll find some of the best beaches in Mexico here. The beaches right in front of the hotel zone are fantastic with soft white sand that goes on for days. Chances are when you visit Cancun, you'll be staying at an all-inclusive resort with its own beach. But some of you may be at a hotel on the lagoon and others may want to get off the resort.
Playa Delfines is the only public beach that is completely void of hotels and restaurants. It gives you that local experience offering a quieter day out in the sun. There are free beach umbrellas to use and lifeguards on duty. It's name says it all, Playa Delphines translates to Dolphin Beach and you'll have a great chance of spotting dolphins here.
14. Best Beaches Near Cancun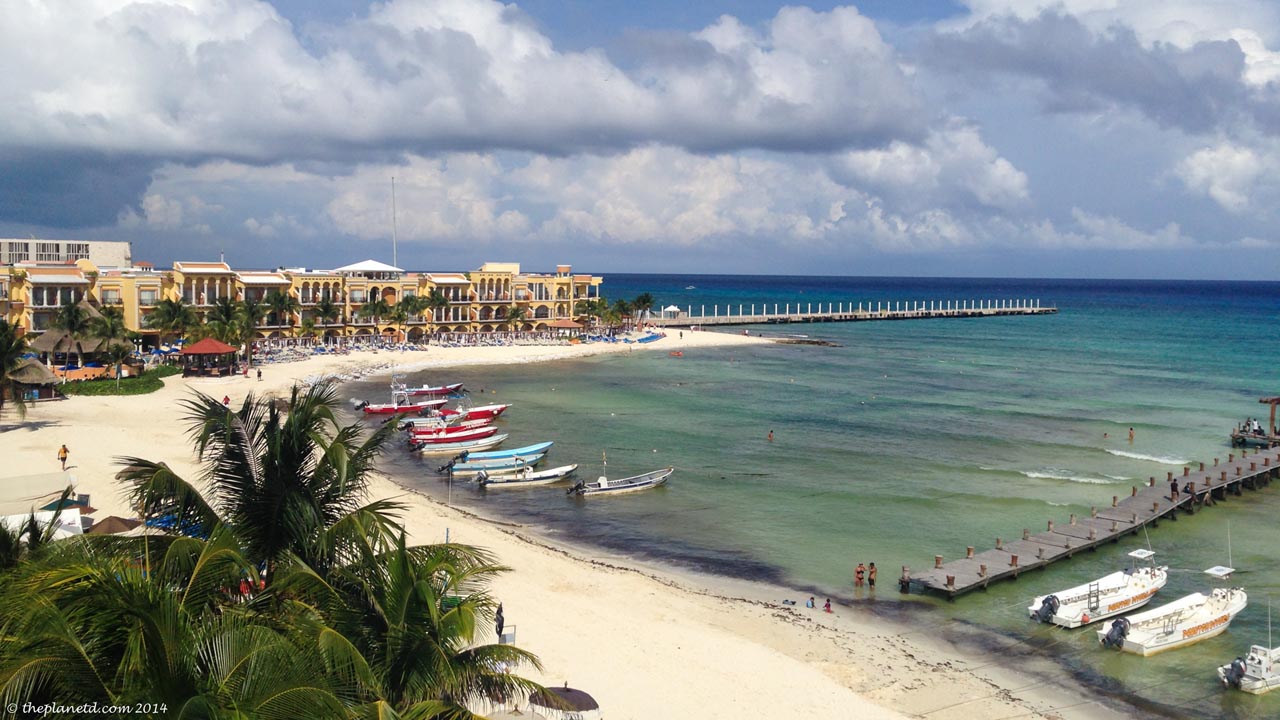 There's nothing we love more than walking on the soft white sands for our morning stroll. What I love is how long the beaches are in Cancun, we can walk for hours. Hotels have beautiful beaches right off of the property and you can walk from hotel to hotel to enjoy the gorgeous setting. If you want to go beach hopping around Cancun, here are some of the best beaches to
Some of the best beaches near Cancun:
Playa Norte on Isla Mujeres – regular Cancun Isla Mujeres ferries will take you to this beautiful beach.
Playacar Beach in Playa del Carmen – a great day trip from Cancun is to hang out in Playa del Carmen and it has a fantastic beach!
Sian Ka'an Biosphere Reserve – a pristine beach that is on a UNESCO World Heritage site.
Tulum Beach – When exploring the Mayan Ruins of Tulum, you often have a chance to relax on its beautiful beach. It has some of the most spectacular views in the Mayan Riviera.
15. Museo Maya de Cancun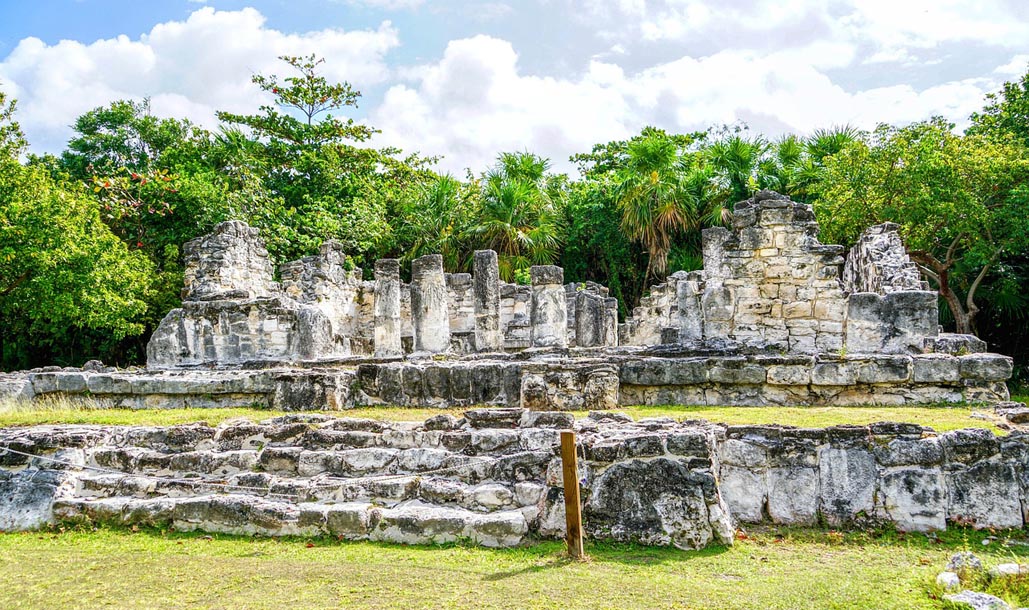 If you want to add a little culture into your trip but don't want to spend time on a bus going on a day trip to Tulum or Chichen Itza,you can get the Mayan ruin experience closer to downtown Cancun.
The Maya Museum in Cancun is a great place to learn about Mayan history. As we get older, we enjoy going to museums be it in Cancun Mexico or Paris France. We have learned that museums are a great complement to visiting places in real life.
If you are planning on visiting places like Tulum or Chichen Itza, this will help you understand the Mayan history and culture better before you go.It is a newer attraction opening in 2012 and is located right in the hotel zone.
16. Outdoor Markets Cancun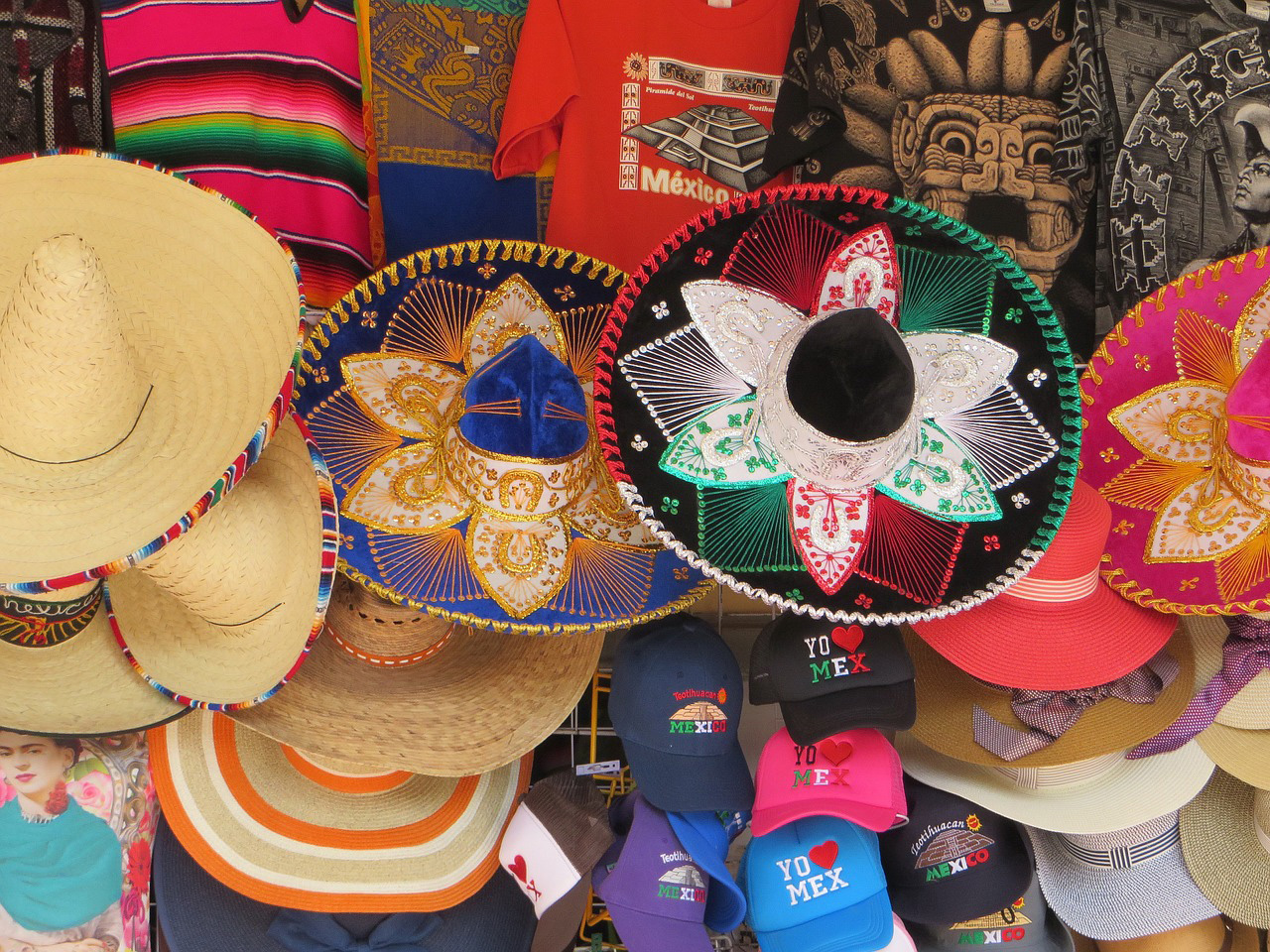 Cancun is a modern city with shopping malls, a Walmart and even a Costco. I don't know about you, but when I travel, I want to visit more traditional markets.
One of many markets in Cancun is Mercado 28 is an outdoor open-air market that sells souvenirs, crafts, and jewelry. It is a covered market so you won't be scorched by the sun, but it has that traditional feel of an old flea market. Sharpen your bargaining skills and get ready to buy some Mexican souvenirs at discount prices.
17. Cancun Sign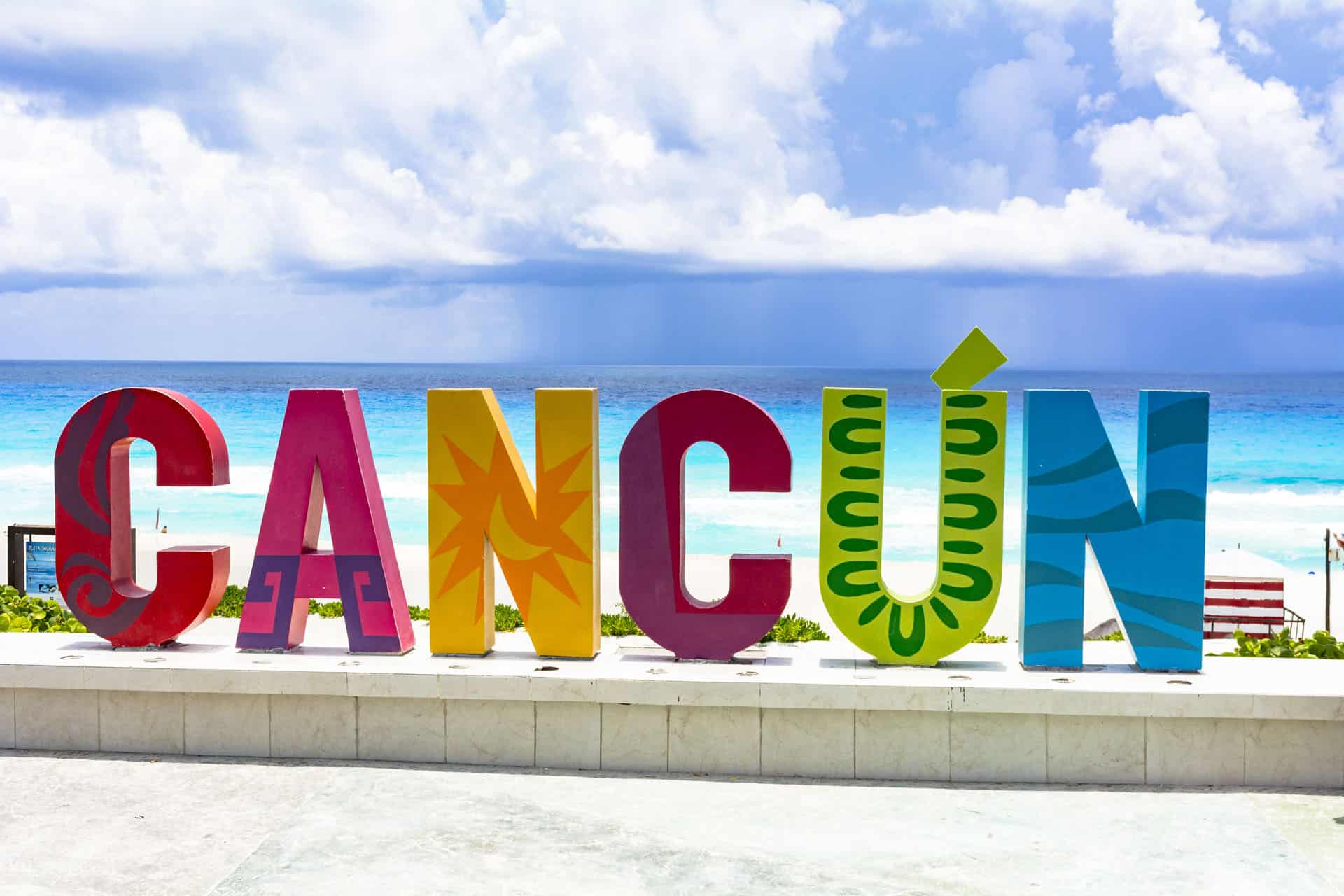 There's no doubt that one of the most popular things to do in any destination these days is to get a selfie in front of the destination's sign. Well, you'll find a colorful Cancun sign like everyere else on the planet waiting for you. It has fast become one of the most popular tourist attractions in Cancun and is a must when checking off your list of Cancun activities.
18. Flyboard
If you are ready for a thrill of a lifetime, try flyboarding in Cancun's hotel zone. There are only a handful of operators in Cancun that will let you fly over the water like a snowboarder.
Head out with an instructor on a wave runner for 30 minutes to help you get the hang of flying through the air! We didn't have the nerve to do this, but we loved watching the crazy travelers try their hand at it.
19. Kayaking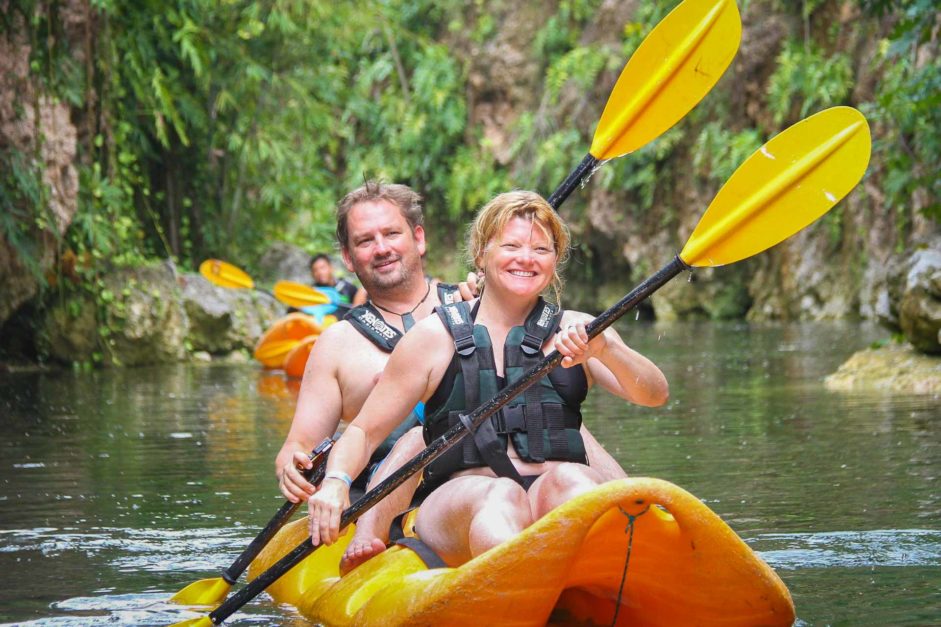 Believe it or not, you don't have to go far from downtown Cancun to experience a bit of nature. Nichupte Lagoon is a natural reserve near Cancun that has mangrove forests and seven lakes that you can go kayaking through.
There are also plenty of water sports to be had from taking boat tours through the jungle lagoon, snorkeling, and scuba diving. Nichupte Lagoon is a great way for visitors to experience a bit of the jungles of the Yucatan without having to go far.
Where to Stay in Cancun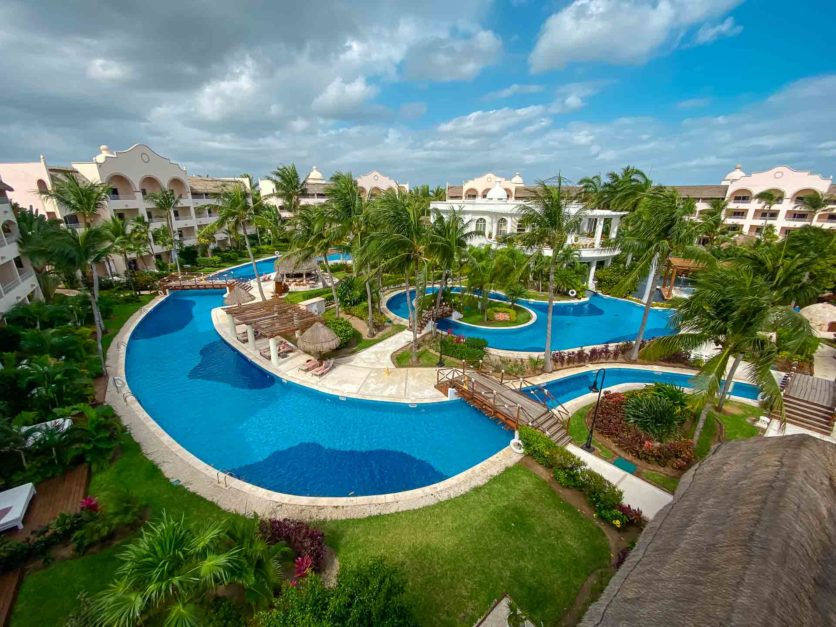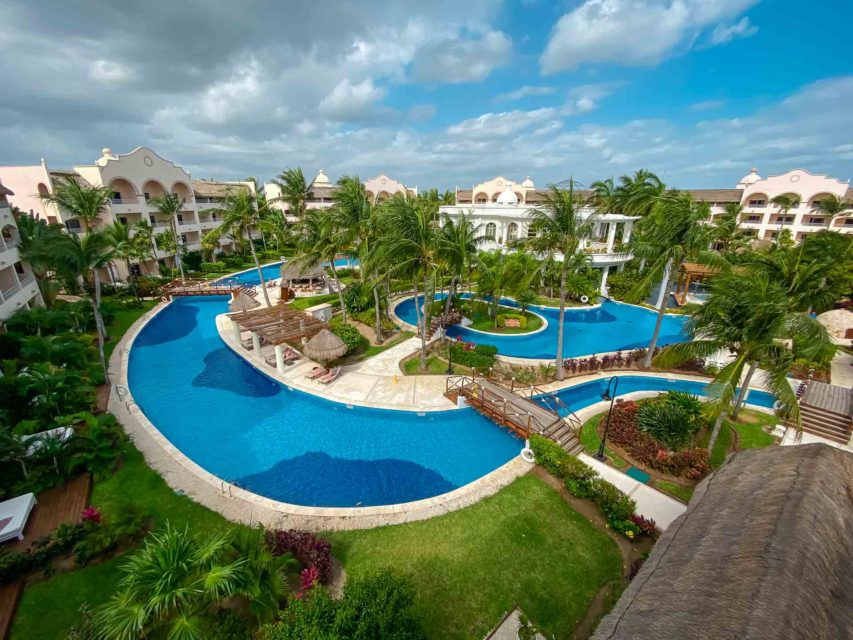 Besides Cancun, anywhere along the Mayan Riviera from Playa Del Carmen to Tulum is a good location to stay. We have stayed in Cancun, Playa del Carmen, Cancun Riviera, Cozumel, Puerto Morelos, and Playa Mujeres. All of these locations work as tours, and transfers will pick up and drop you off here. (save for Cozumel which we feel is more dedicated to diving. That was our goal when we stayed on the island)
There are literally thousands of hotels in the area, and we can't break them all down ourselves. You should check out TripAdvisor and Booking.com for rates, reviews, and locations of hotels in Cancun that suit your budget and needs.
There are countless hotels in the Mayan Riviera and everyone has a favorite. But these are hotels we have stayed at in Cancun and trust.
When to Visit Cancun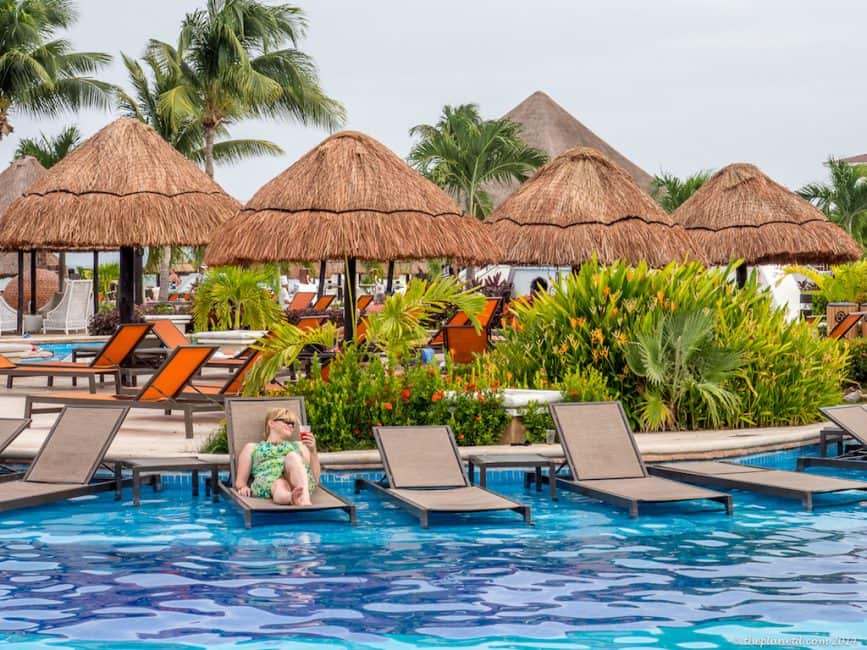 We have been to the area at all different times of the year and for the most part, anytime is a good time to visit Cancun.
High season in Cancun – December through to the end of April is the best time to visit Cancun for the best climate. It is when the weather is optimal and most stable. Especially from January – March. It is the dryest season, but it is also comfortable with humidity at its lightest making for a very comfortable trip.
Summer Season – We have been to Cancun in the dead of summer and it was fantastic. It's a little more humid and you may get a little bit of rain each day but nothing to stop you from enjoying the sun.
These months are the rainy season in Cancun which means that there is the occasional afternoon shower. Rates are cheaper and crowds are fewer in the offseason of Cancun. Summer is also a great time to swim with whale sharks. The season is from June to September.
Shoulder Season – During September and October, Cancun is just starting to gear up for the winter season, so this is where you'll find the best deals. But some tours are not operating, you may come across construction at your hotel and you may be in the middle of hurricane season. Cancun does see fewer hurricanes than the Caribbean though.
When to Visit Cancun for Diving and Snorkelling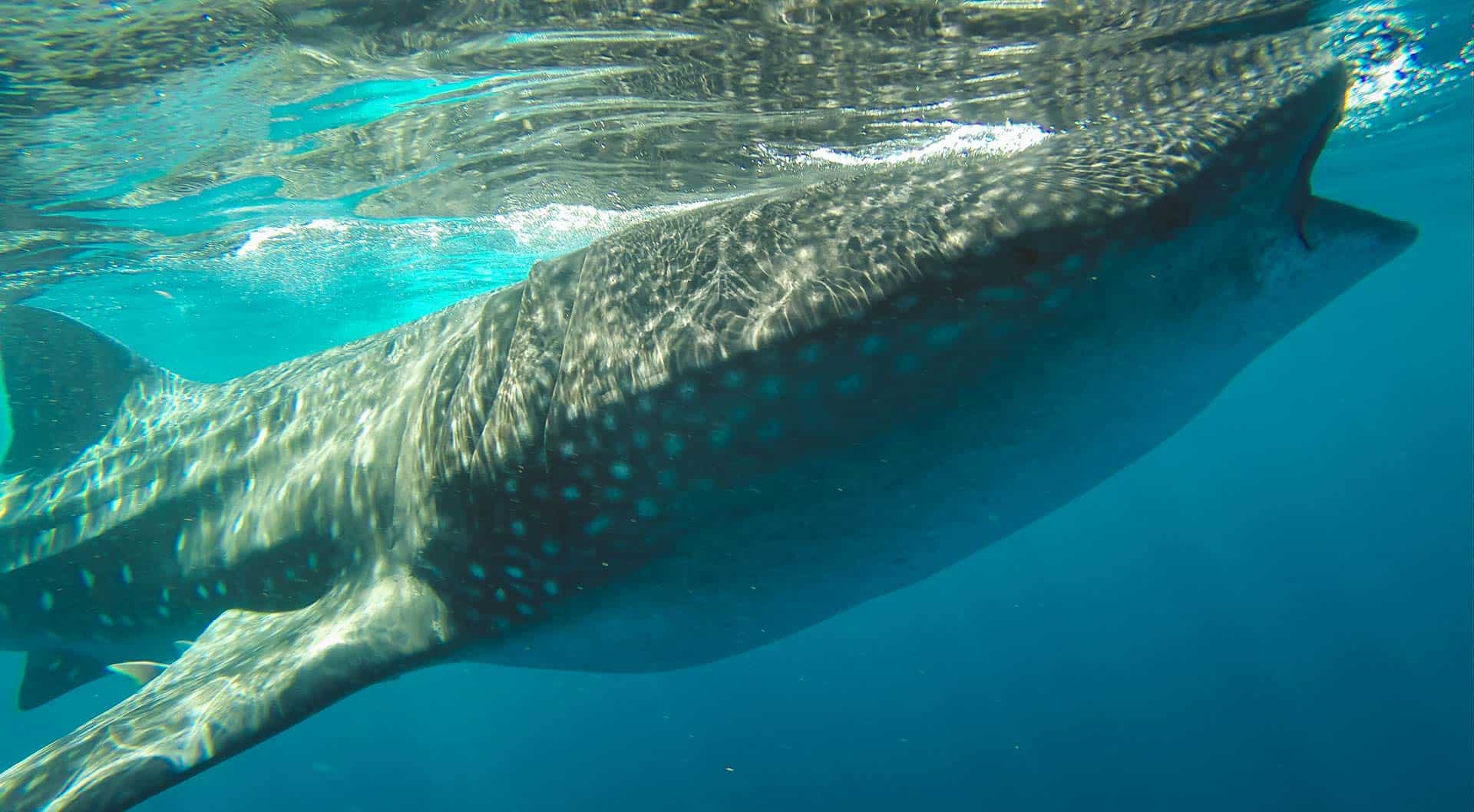 We have done a diving trip to Cancun in the Spring, we swam with whale sharks in the summer and gone diving and snorkeling in the dead of winter.
Anytime is a good time to enjoy the water in Cancun. But as we said above, whale shark season is from June to September. (September is getting late, but we were once on the last trip of the year and saw plenty)
Sea Turtles are nesting in May and October, so you have a good chance of seeing them on the beach. (Don't disturb them though, they are laying eggs and are very endangered.
And these are the very best things to do in Cancun Mexico. What adventures will you try when you go to Mexico next?
If you enjoyed all these Adventures in Mexico be sure to save it to Pinterest for future travel planning.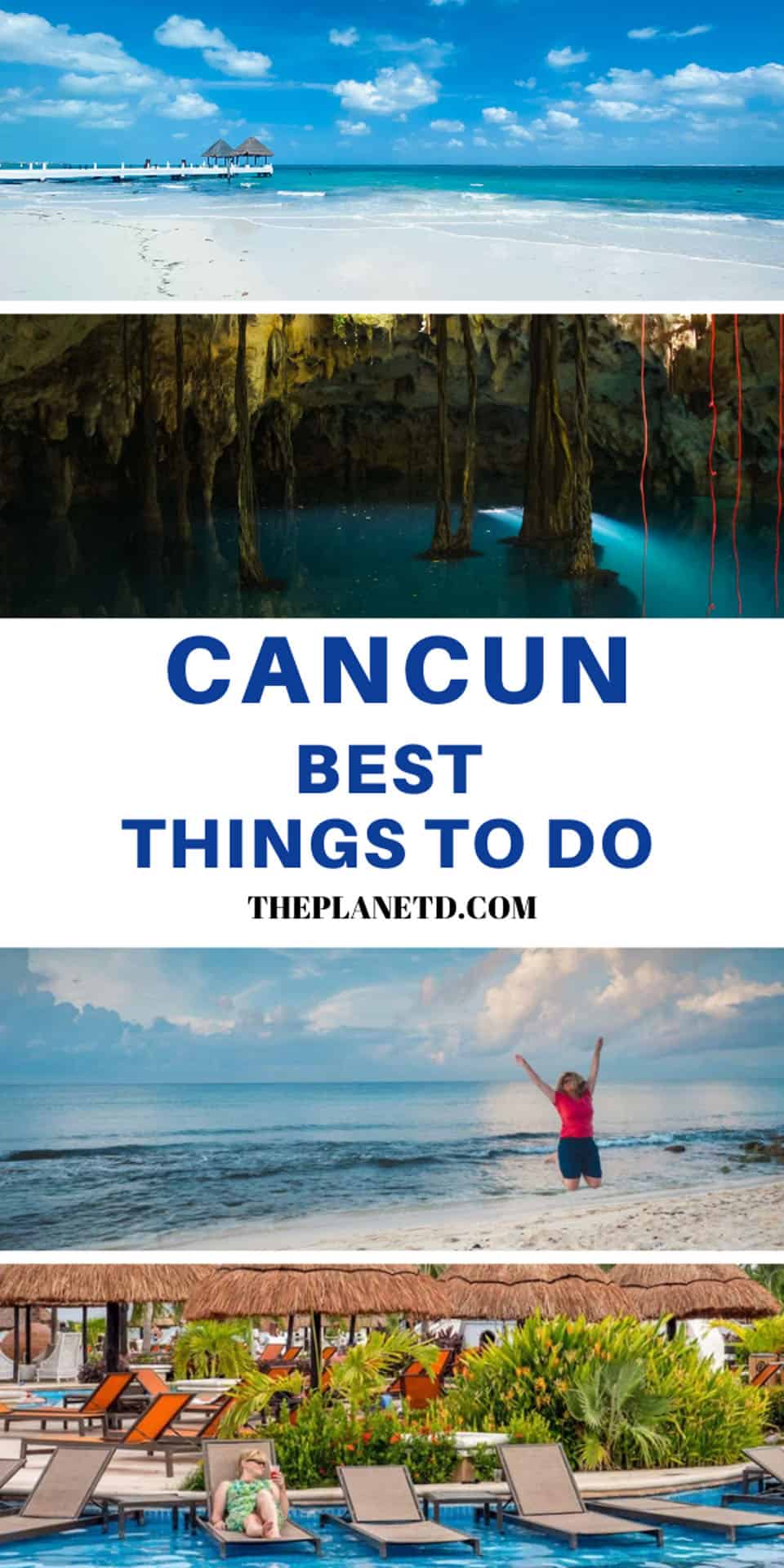 Read Next