If you are looking for the best weekend getaways from Toronto, you've come to the right place. We've been all over the province and have broken down where to go in Ontario to escape the city
Summer is just around the corner and things are looking good. We just may open up and be able to explore our own backyard. I know Toronto has been locked down forever and people are itching to getaway, and we've got you covered.
Weekend Getaways from Toronto
Dave and I have explored every nook and cranny of Ontario have taken many road trips through the province on countless weekend getaways from Toronto. So we decided that this was the summer to finally put together a comprehensive guide to the very best weekend getaways from Toronto to keep you busy all summer long. Are you ready? Let's go!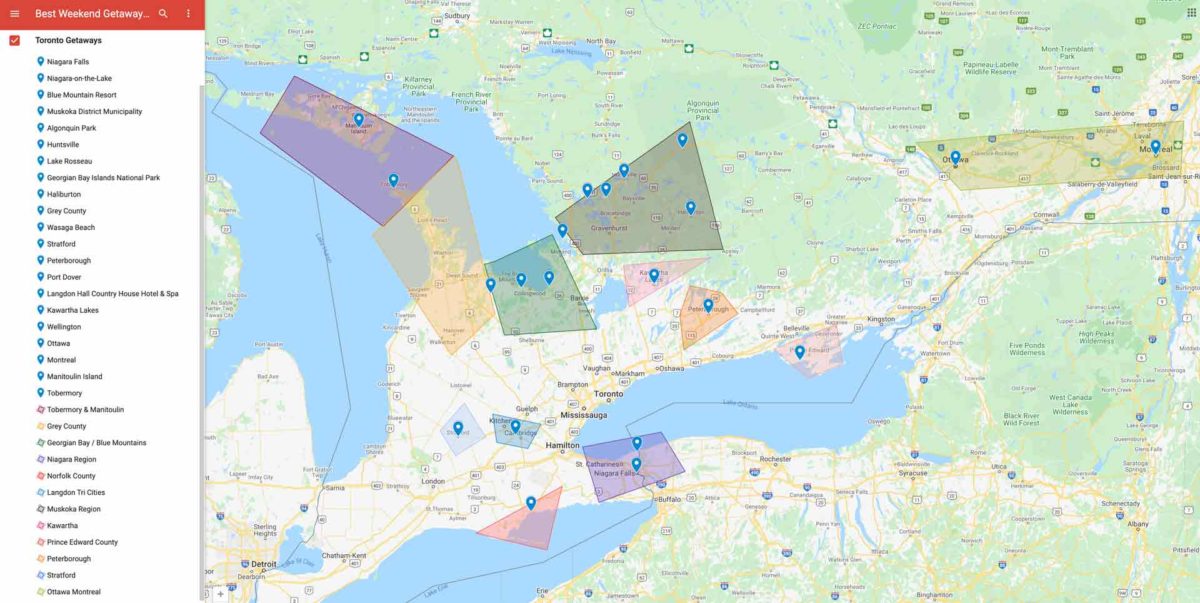 Some attractions may be closed due to COVID 19, be sure to check government websites and restrictions before leaving Toronto.
1. Niagara Falls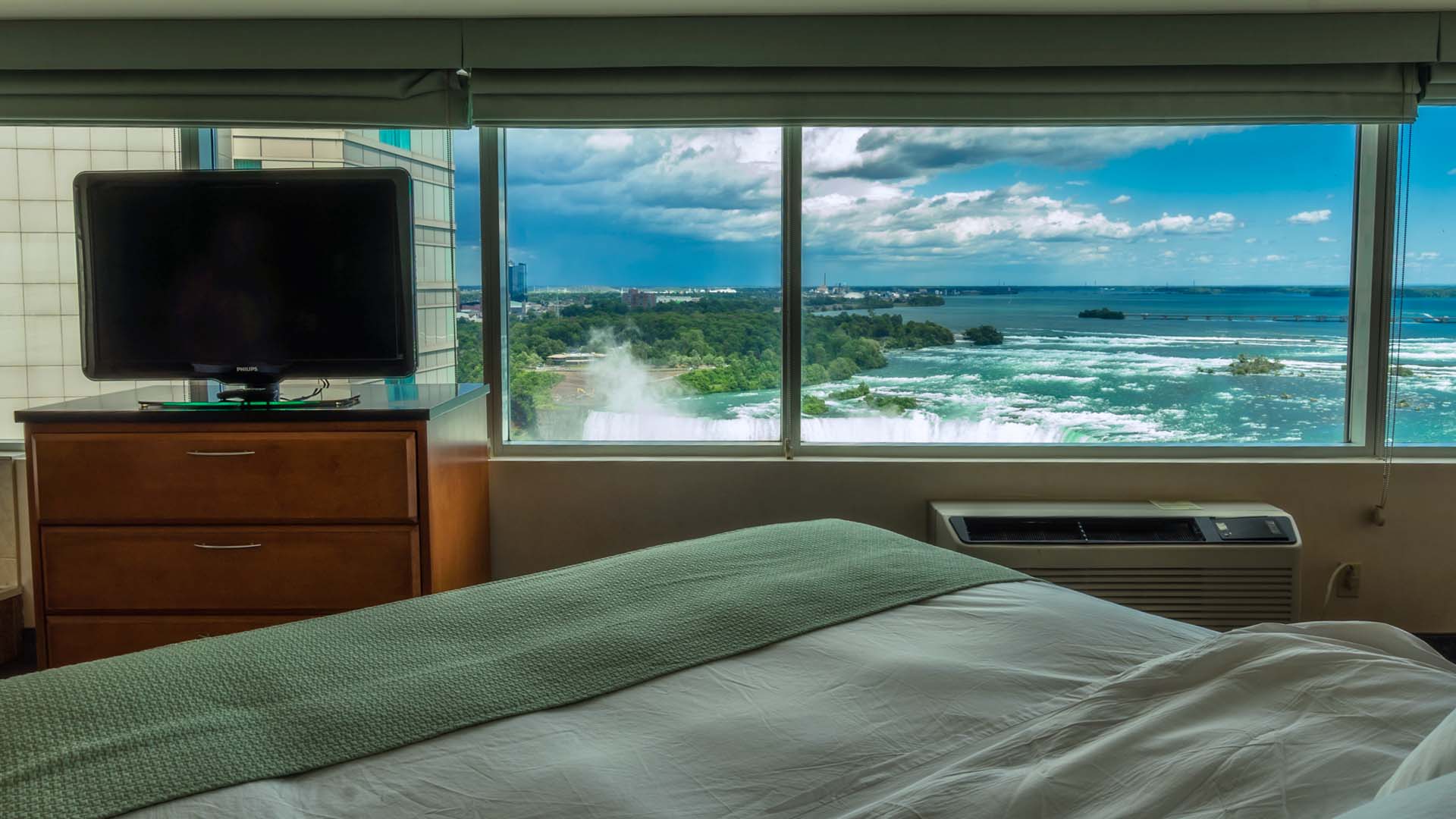 I know, I sound like a broken record because I always include Niagara Falls in my favorite places around the world, but it's true. I love it! This natural wonder is right in the backyard of Toronto making it one of the best all-around weekend getaways from Toronto. We often do just a day trip from Toronto as well, but it is more fun to spend the weekend.
Stay in the Fallsview Tourist area, our favorite is the Marriott Fallview Resort. Try your luck at the Fallsview Casino, hop on the Hornblower and take a Journey Behind the Falls. Don't miss walking up Clifton Hill and taking in some of the wax museums
There are amazing romantic packages to Niagara Falls where you can spend time in a jacuzi suite overlooking Niagara Falls and then enjoy dining with a view after a day of Adventure.
2. Niagara on the Lake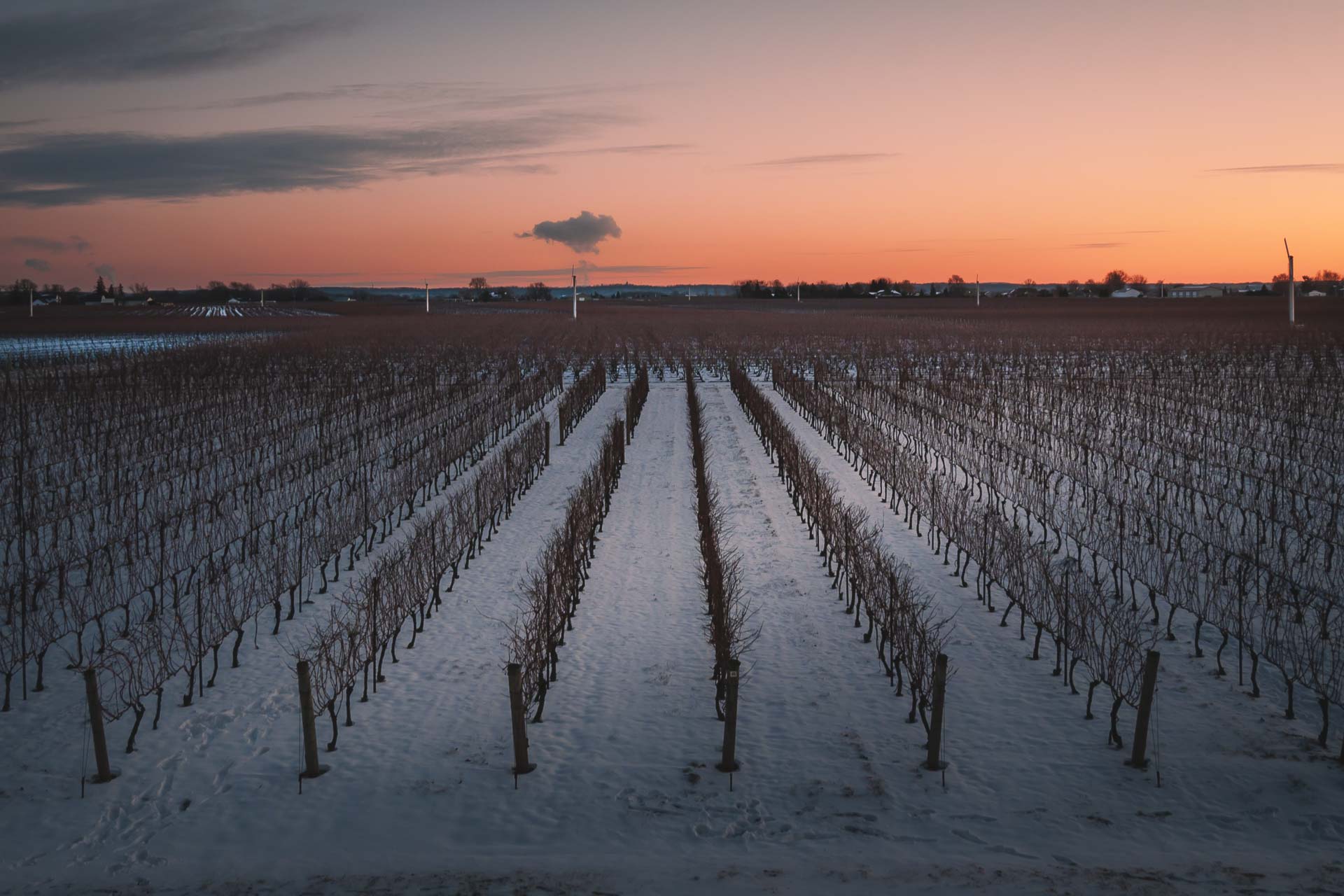 For the ultimate romantic weekend getaway from Toronto, Niagara on the Lake takes the top spot. Stay at the historic Pillar and Post for a romantic getaway or relax in one of its historic hotels or BnBs. There are many to choose from that are walking distance from the charming heritage district of downtown.
Located just 90 minutes from Toronto, Niagara on the Lake is filled with history and beauty. Take in a show at the Shaw Festival, hop on the whirlpool jet boat through the Niagara gorge, or rent a bicycle to go vineyard hopping. Home to the Shaw Festival, theater goers will love visiting this professional theater, and history buffs can take a stroll to the Fort George National Historic Site
Niagara on the Lake is 90 minutes from Toronto by car.
Don't have a car, check out car rental prices here.
Book this day tour from this day trip from Toronto for a taste of Niagara on the Lake
See our full list of things to do here
We have a breakdown of Where to Stay in Niagara on the Lake in our Niagara Guide.
3. Blue Mountain / Collingwood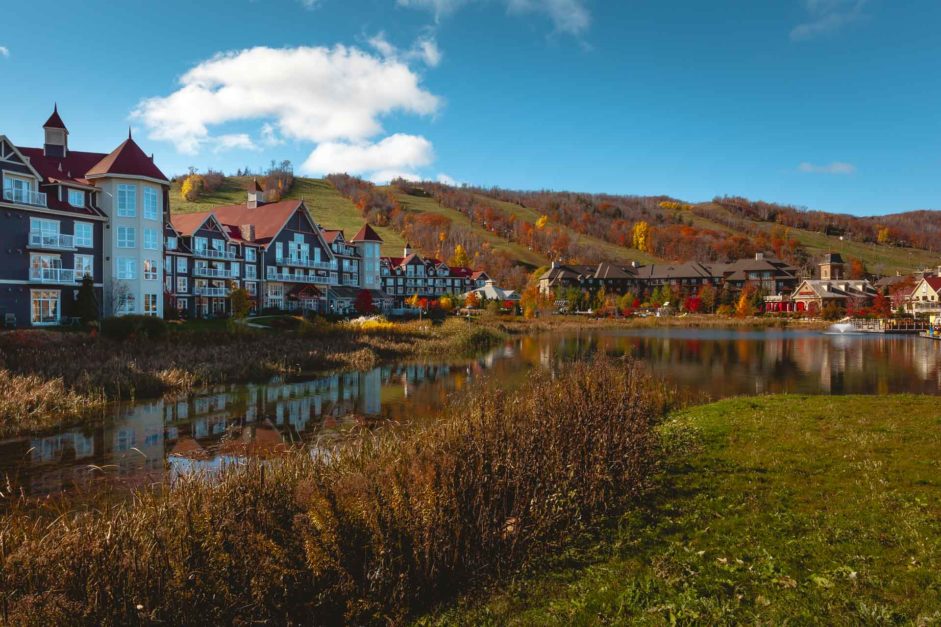 Blue Mountain Village and Collingwood is our year-round getaway. With the best skiing in Ontario, we love getting on the slopes in the winter. But summertime is filled with fun and adventure.
Located on Georgian Bay, Blue Mountain Village and Collingwood are filled with outdoor activities. Take a boat tour, go rock climbing on the Niagara Escarpment or explore the scenic caves and suspension bridge.
This year-round destination is perfect for skiing and snowboarding in winter, but the village is lively in the summer two with the slopes turning into a slide ride on the Ridge Runner Mountain Coaster and mountain biking trails. When you are finished with all the outdoor fun, relax at the Scandinavia Spa Blue Mountain. (our favourite thing to do).
Collingwood is a 2 hour drive from Toronto
It's complicated to get to there by bus or train, but it's doable. Check out Rome2Rio for details.
If you don't have a car, we suggest renting one here.
See our full Blue Mountain Travel guide here
Where to Stay in Blue Mountain, we suggest the Westin Trillium House in the Village. You can search more hotels here.
Muskoka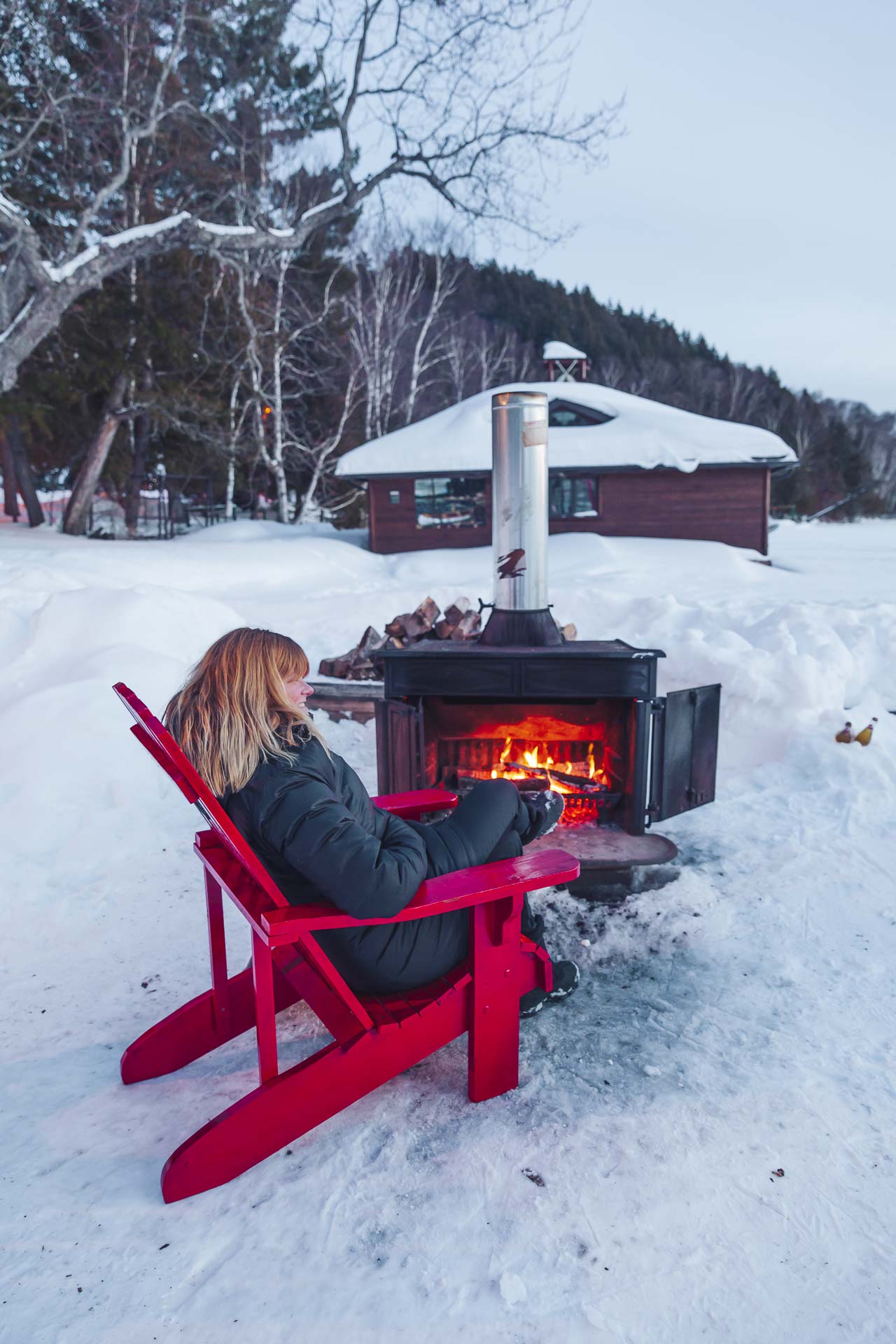 Muskoka is the gateway to cottage country just a couple hours north of Toronto. Attracting movie stars and celebrities to its many lakes, Muskoka is the ultimate weekend getaway from Toronto. The Muskoka Region of Ontario spans a huge area being home to Huntsville, Bracebridge, Algonquin Provincial Park, Gravenhurst, the Muskoka Lakes, Georgian Bay and Arrowhead Provincial Park.
Enjoy sunset cruises on Lake Muskoka or Rosseau or visit the 30,000 islands off the shore of Midland. There are watersports aplenty from sailing and kayaking, paddle boarding and canoeing. So, how do you choose where to go in Muskoka? Let's find out.
4. Algonquin Pronvincial Park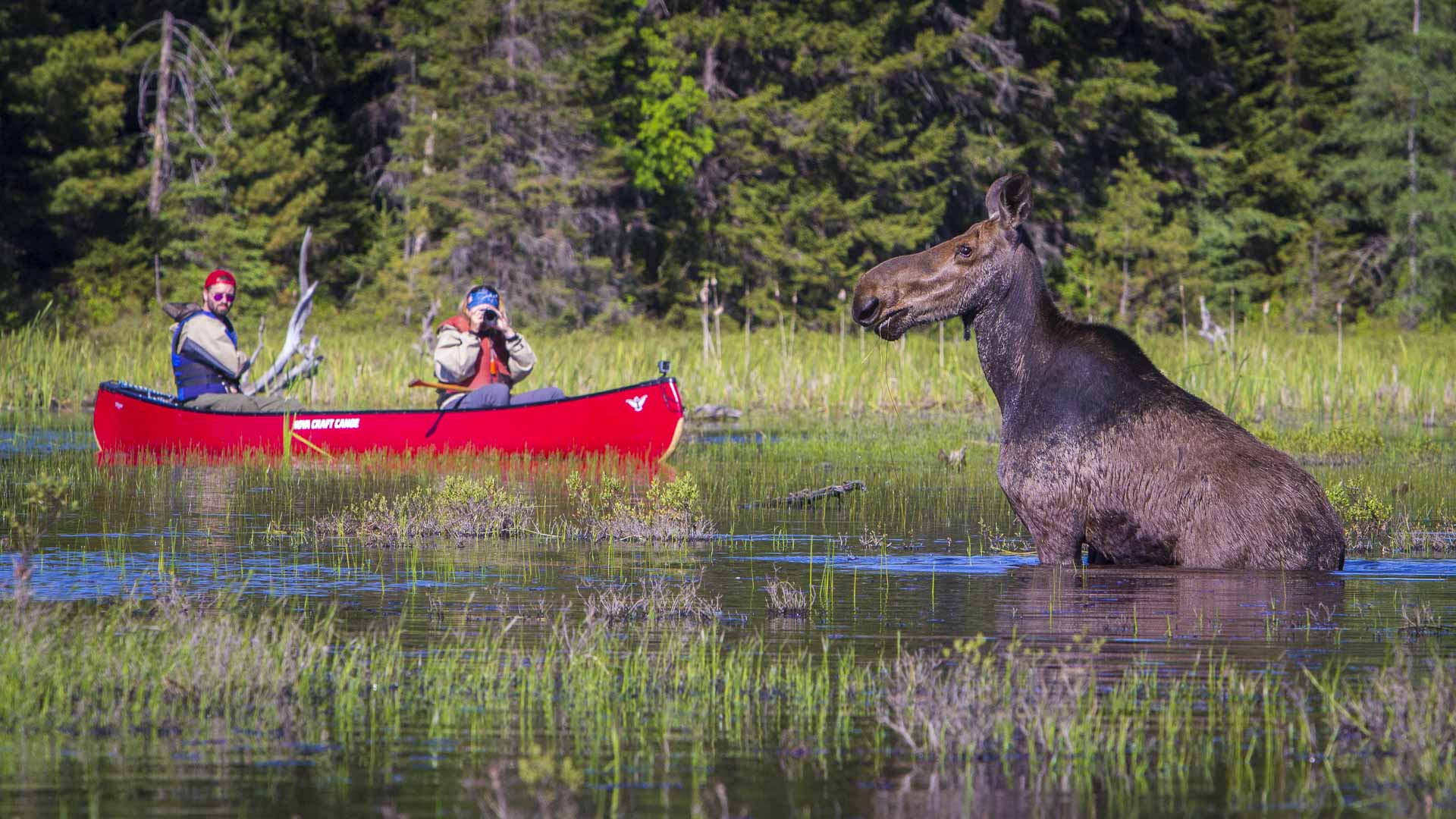 If you are looking for a rugged weekend getaway from Toronto, look no further than Voyageur Quest. They offer canoe trips to Algonquin Park taking you to secret spots where you are sure to spy many a moose. But if you want a little luxury in Algonquin Park, they have that too with a cottage retreat on a private island with your own beach and outdoor sauna.
Algonquin Park is a 3 hour drive from Toronto
Voyageur Quest offers canoe tours and luxury cottage rental.
Algonquin Outfitters offers canoe rentals.
Check out our time in Algonquin Park here.
5. Huntsville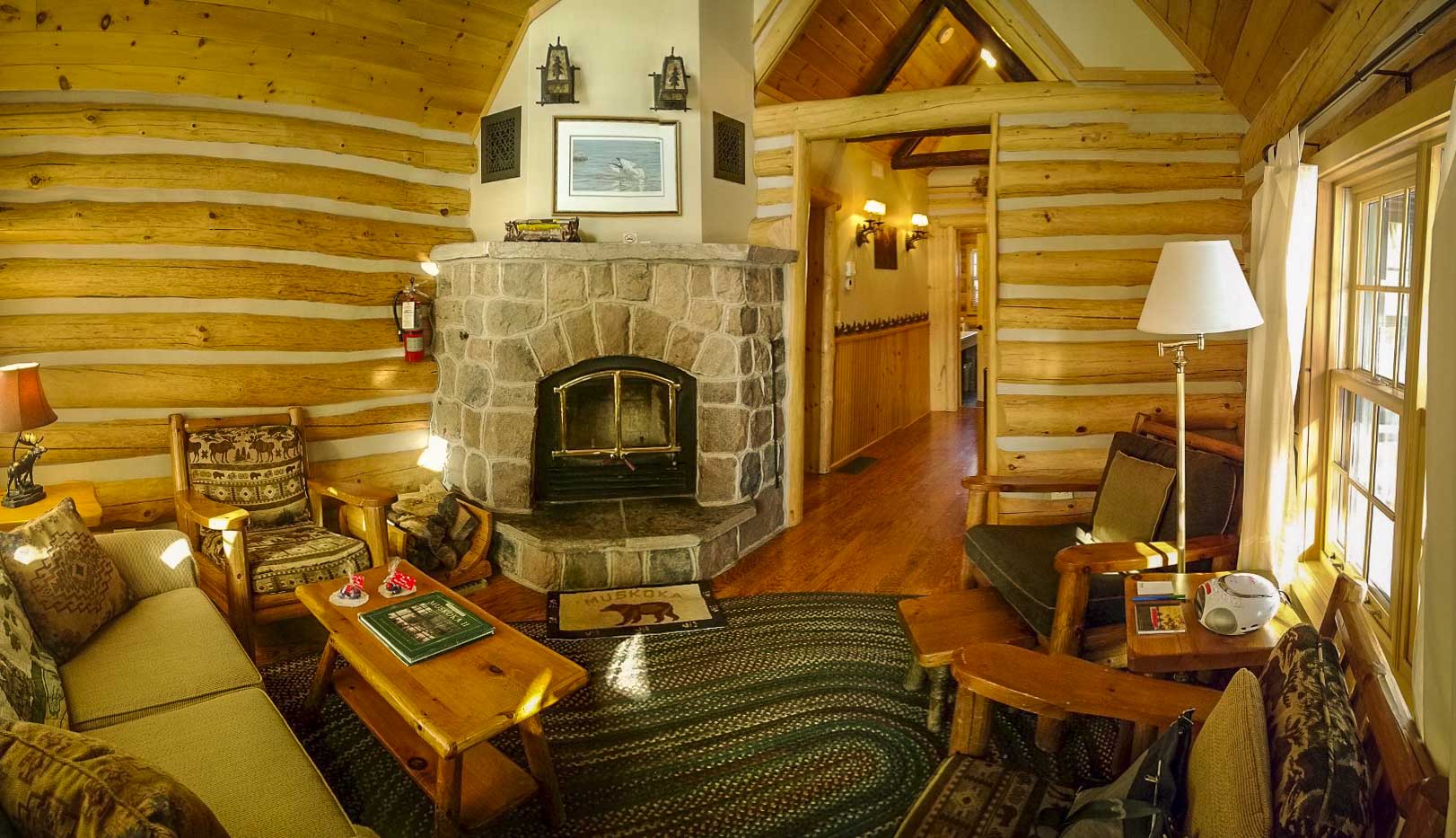 Deerhurst is the Grand Dame of resorts in Muskoka. Operating since 1896, this lakeside lodge is the ultimate weekend getaway. This year round resort has outdoor adventures for both summer and winter. It is an excellent places to make a base to explore Muskoka with canoes and kayaks, golfing, hiking trails and beaches right at your fingertips.
You never have to leave the resort, but if you do, you are close to all the main Muskoka attractions like downtown Huntsville Algonquin Park, Arrowhead, and Bracebridge.
Deerhurst Resort in Huntsville is 2 hours and 45 minutes drive from Toronto
You can book a weekend stay at Deerhurst Resort.
6. Lake Rosseau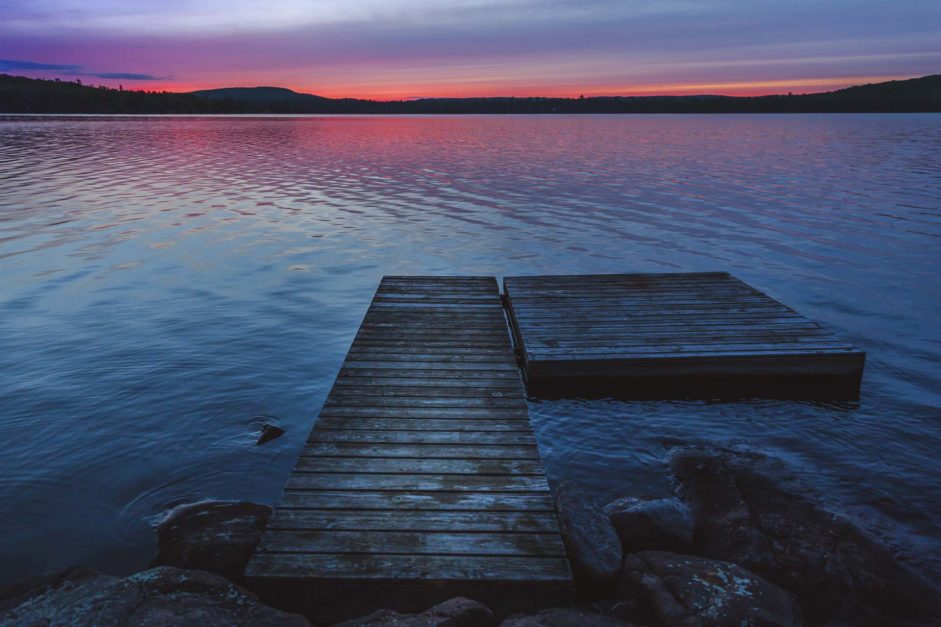 Goldie Hawn and Kurt Russel called Lake Rosseau home and the luxurious JW Marriott Muskoka Resort and Spa on Lake Rosseau is fit for celebrity royalty. The A-list location dates back to 1894 when it was known as Paignton House.
Today, this five-star retreat attracts weekenders from Toronto to enjoy what National Geographic once called, The World's Most Beautiful Destination. Dave and I took our first expensive weekend getaway from Toronto to Lake Rosseau and it has always been close to our hearts. We didn't do much but take advantage of sitting by the dock, sipping wine and enjoying a boat ride on the mirror lake.
Lake Rosseau is 3 hours drive from Toronto.
There are a lot of hotels to suit all budgets in Muskoka, check out rates here.
Read more things to do in Muskoka here.
7. Georgian Bay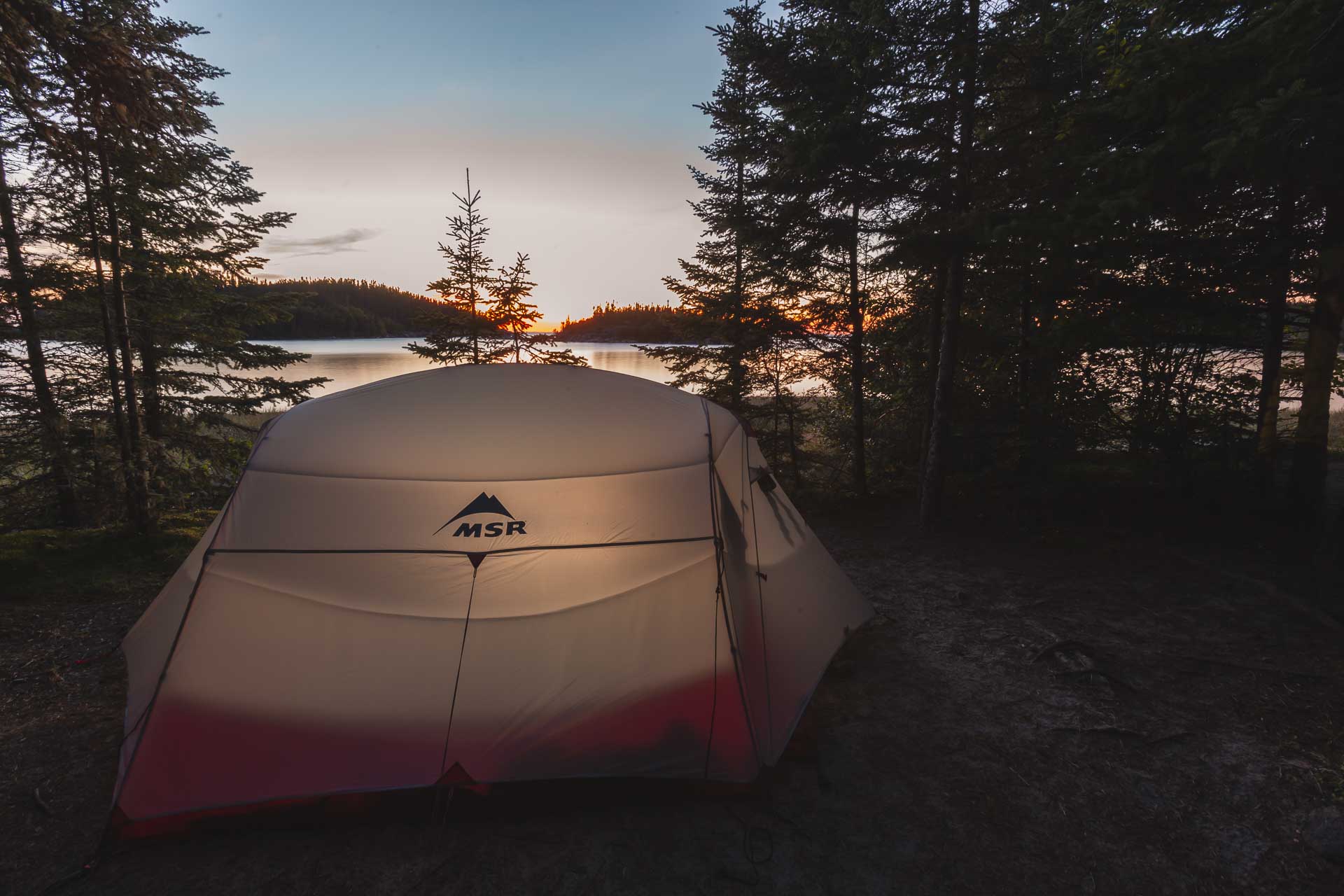 Georgian Bay Islands National Park is the world's largest freshwater archipelago. You can only reach this UNESCO Designated Biosphere by boat and when you get out there, you'll be transported to a pristine wilderness for camping, hiking and mountain biking.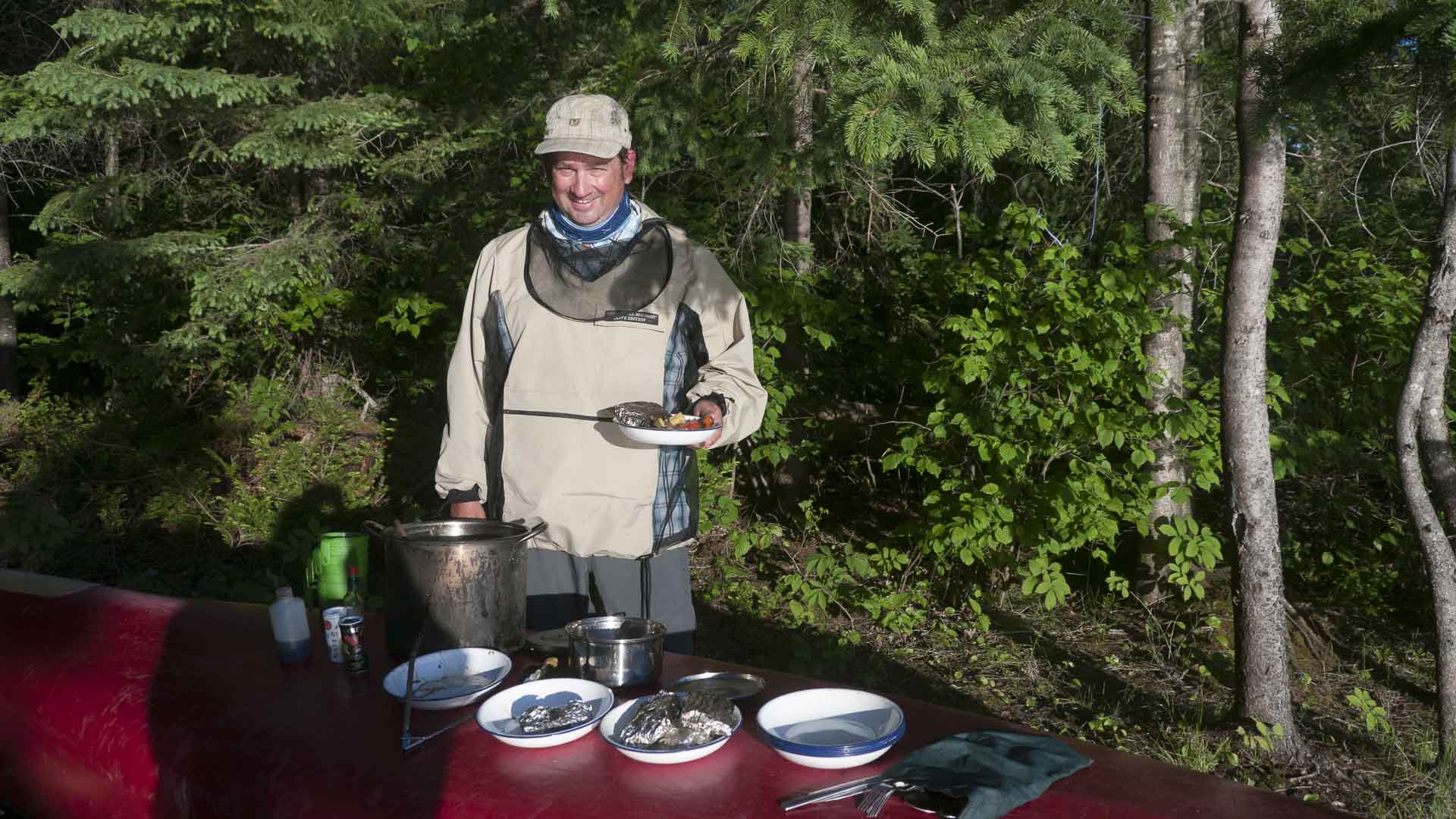 The mix of the Canadian Shield and dense forests inspired Canada's famous artists The Group of Seven. Stay in an oTentik to really enjoy this weekend escape.
Visit Park's Canada for campsite availability and information.
Georgian Bay national park can only be reached by boat. The Day Tripper leaves from Honey Harbour daily in season. Book your tickets here.
Campsites can be booked at Park's Canada.
Honey Harbour is a 2 hour drive from Toronto
8. Haliburton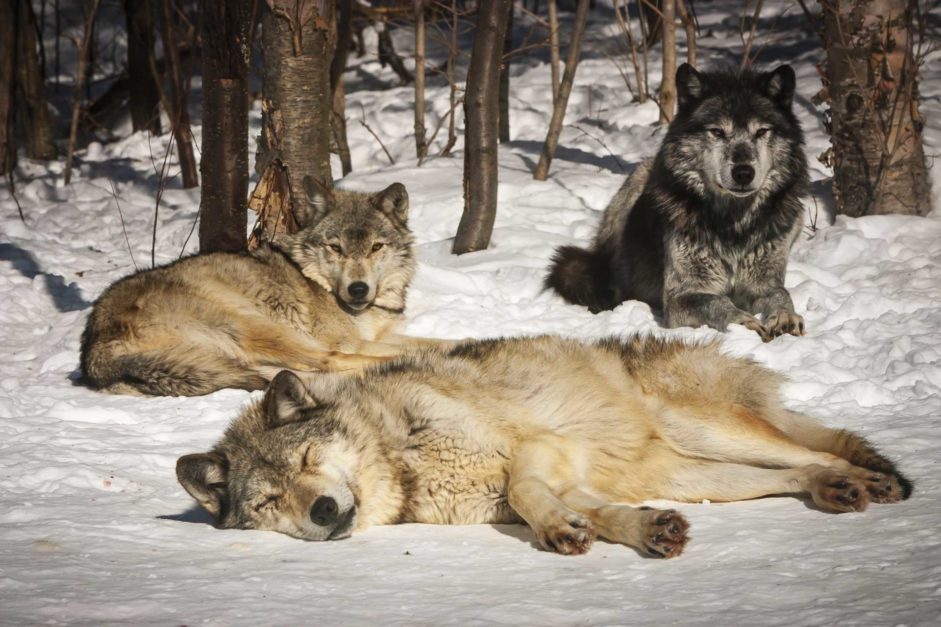 Make a base at Sir Sam's Inn and Spa to explore everything there is to do in Haliburton. This spa has an incredible indoor water spa making it a year-round retreat with skiing, snowshoeing and snowmobiling at your fingertips in the winter.
Haliburton has a ton of outdoor summer adventures with canoe routes, sunset cruises, and hiking trails. But our favorite thing to do in Haliburton is to visit the Wolf Sanctuary at Haliburton Forest where you can see wolves in their natural habitat. If you love dogs, go dogsledding with Tanya and Hank at Winterdance.
9. Grey County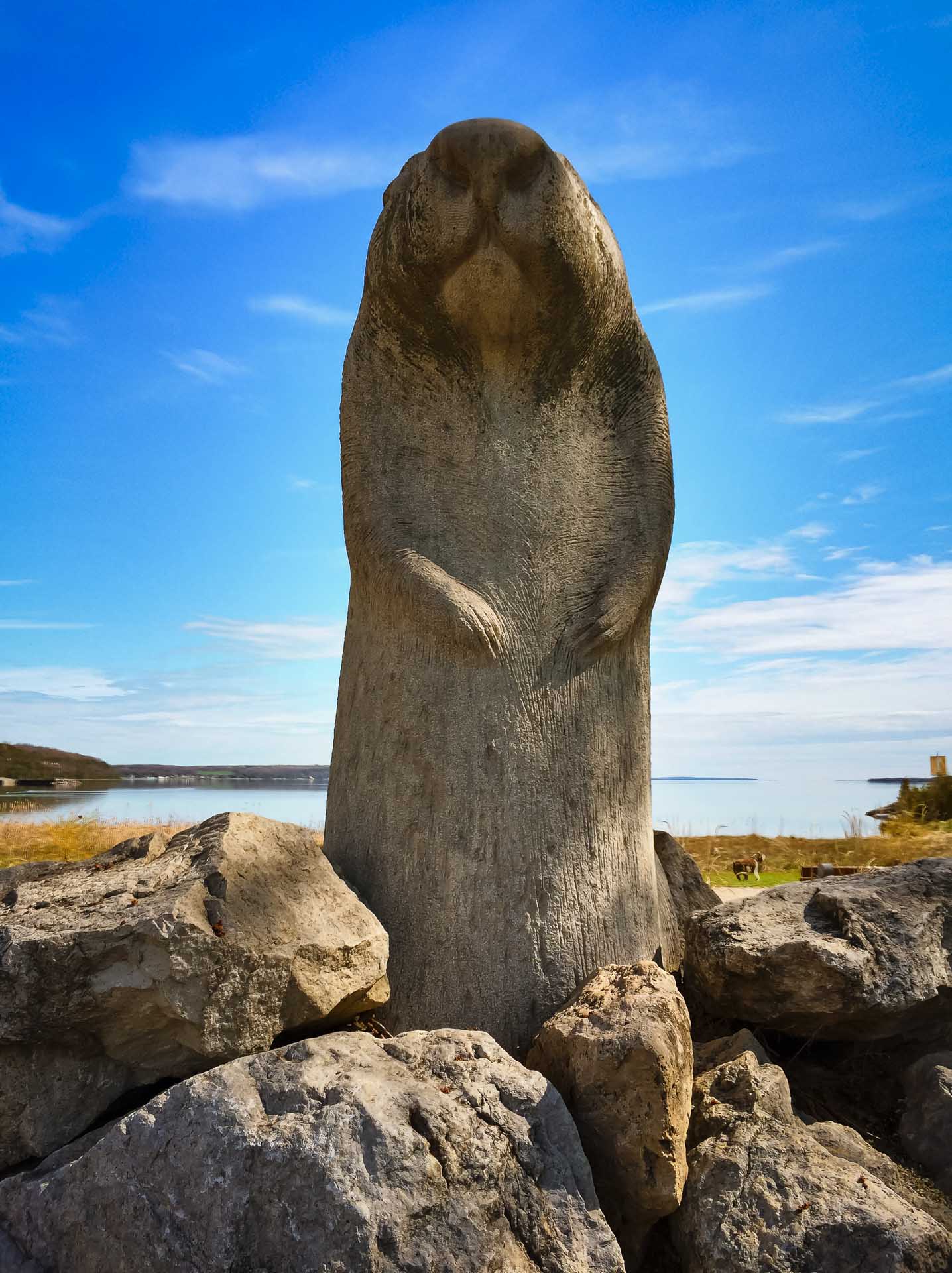 Bruce County is a hidden gem from Toronto, that many city slickers may not know about. (don't worry, I'm a city slicker too!) But this lovely part of Ontario, makes for an amazing weekend getaway. Located on Lake Huron's Bruce Peninsula, there are so many things to see and do here.
Make a base in Walkerton or Wiarton to explore all there is to offer in the Bruce. Sauble Beach is Canada's Second longest freshwater beach at 11km.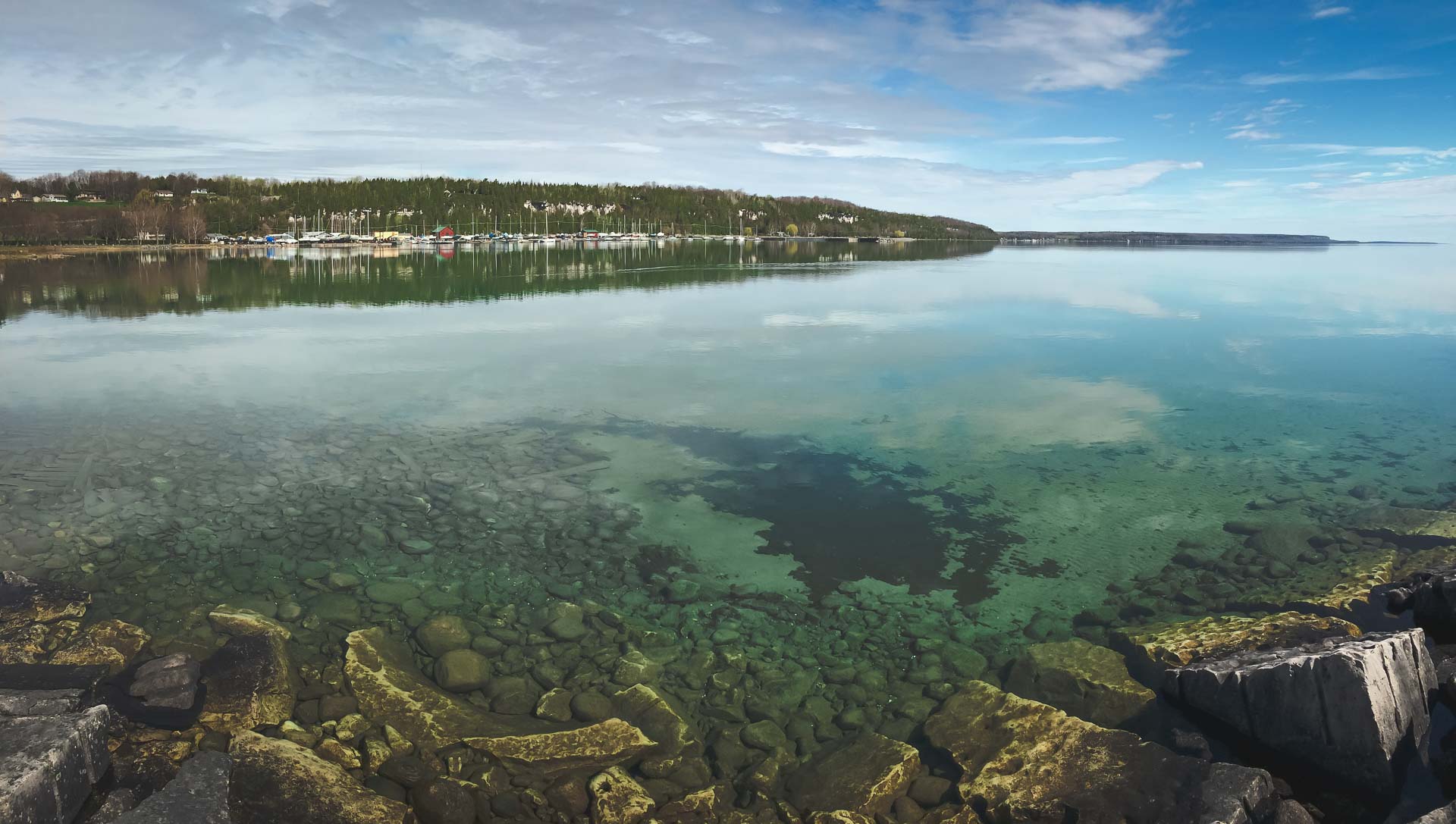 Grey County is home to Wiarton Willy, our loveable groundhog who predicts spring. There are eight beautiful waterfalls to explore including Hoggs Falls, Eugena Falls, and Inglis Falls. Make sure to visit to the Kincardine lighthouse offers great insight into the maritime history of the great lakes.
10. Wasaga Beach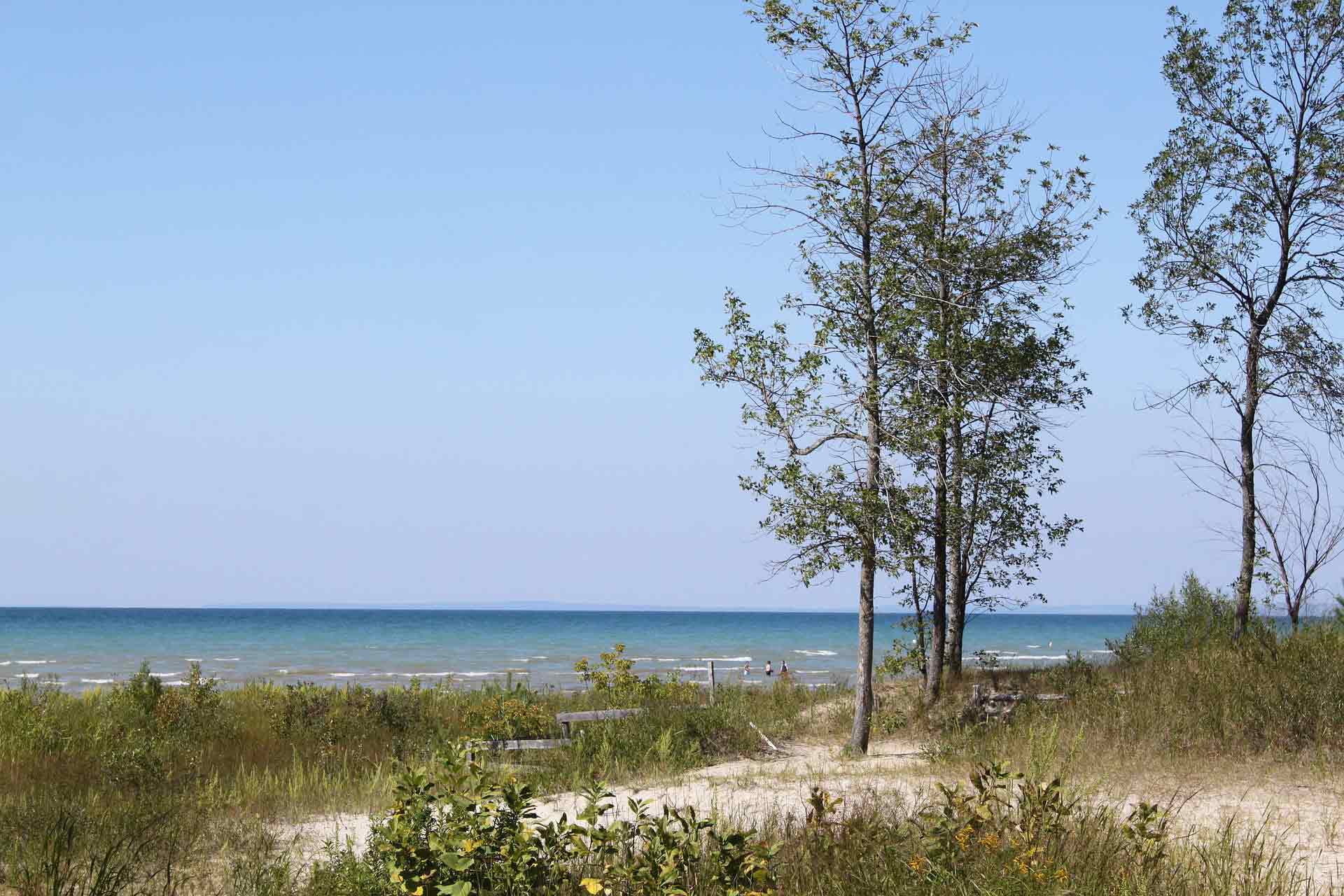 One of our favourite weekend trips from Toronto always includes a beach and the mother of all beaches is Wasaga Beach. We mean it! Wasaga Beach is home to the longest freshwater beach in the world. At 14 km long, Wasaga beach is not only long, it is sandy and shallow. Its warm waters make for some of the best swimming in Ontario.
So pack that cooler full of beer and enjoy everything Wasaga Beach has to offer.
Wasaga Beach is a 2 hour drive from Toronto
Most of the accommodation around the area are motor inn types of motels, so when we go here, we love to go camping. We are fans of Craigleith Campground and provincial park 20 minutes away.
But, there are a lot of cottages renting out as apartment rentals too like this one.
11. Stratford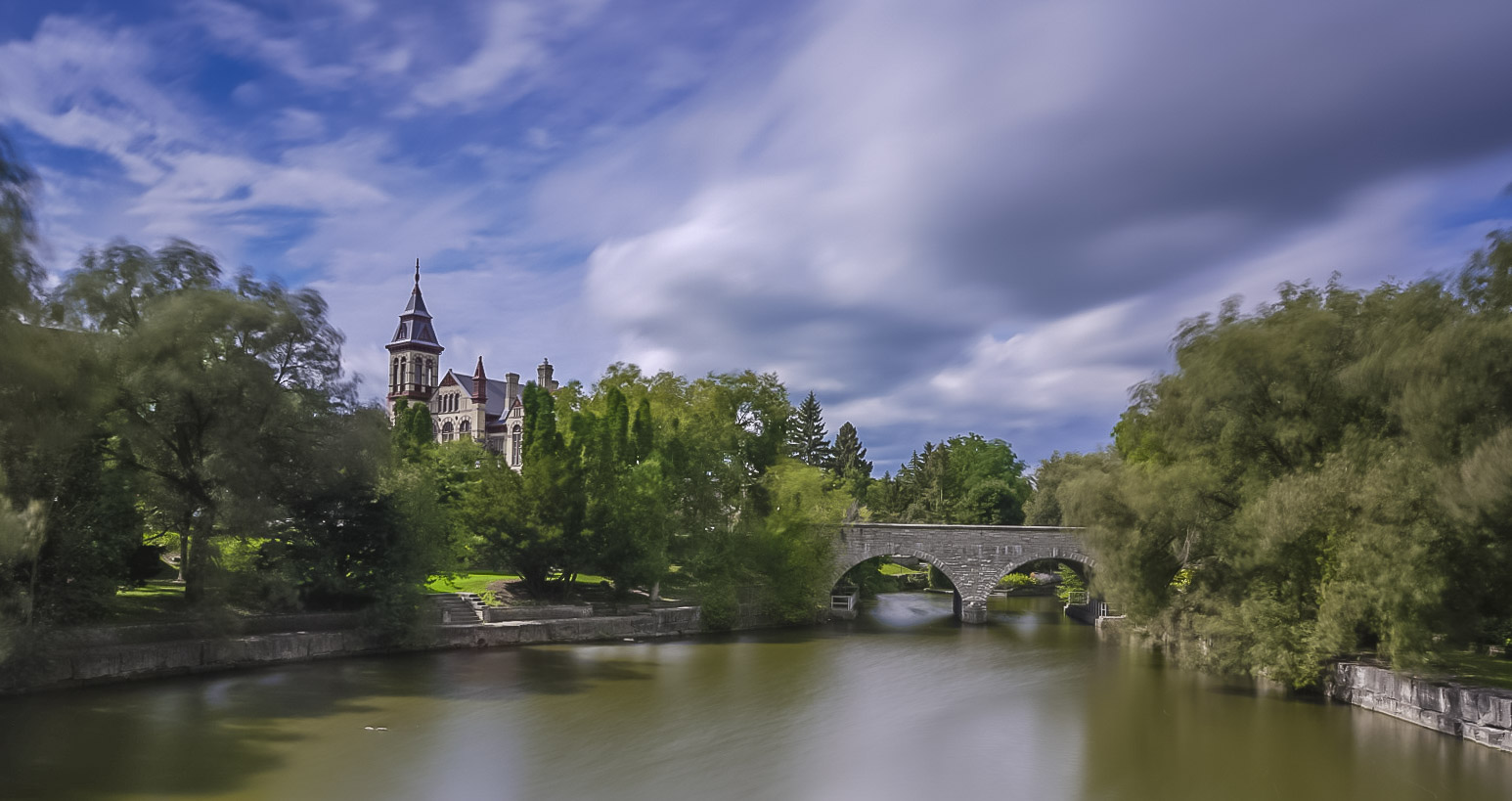 I admit I am partial to Stratford having grown up just 30 minutes from this lovely Ontario town. But Stratford is also one of the most popular weekend trips from Toronto for theatre goers.
Home to the world famous Stratford Festival it attractions theatre lovers for eight months of the year. William Shatner and Christopher Plummer acted at the Stratford Festival and it still attracts a-listers to its stages. But there is more to Stratford than the Theatre.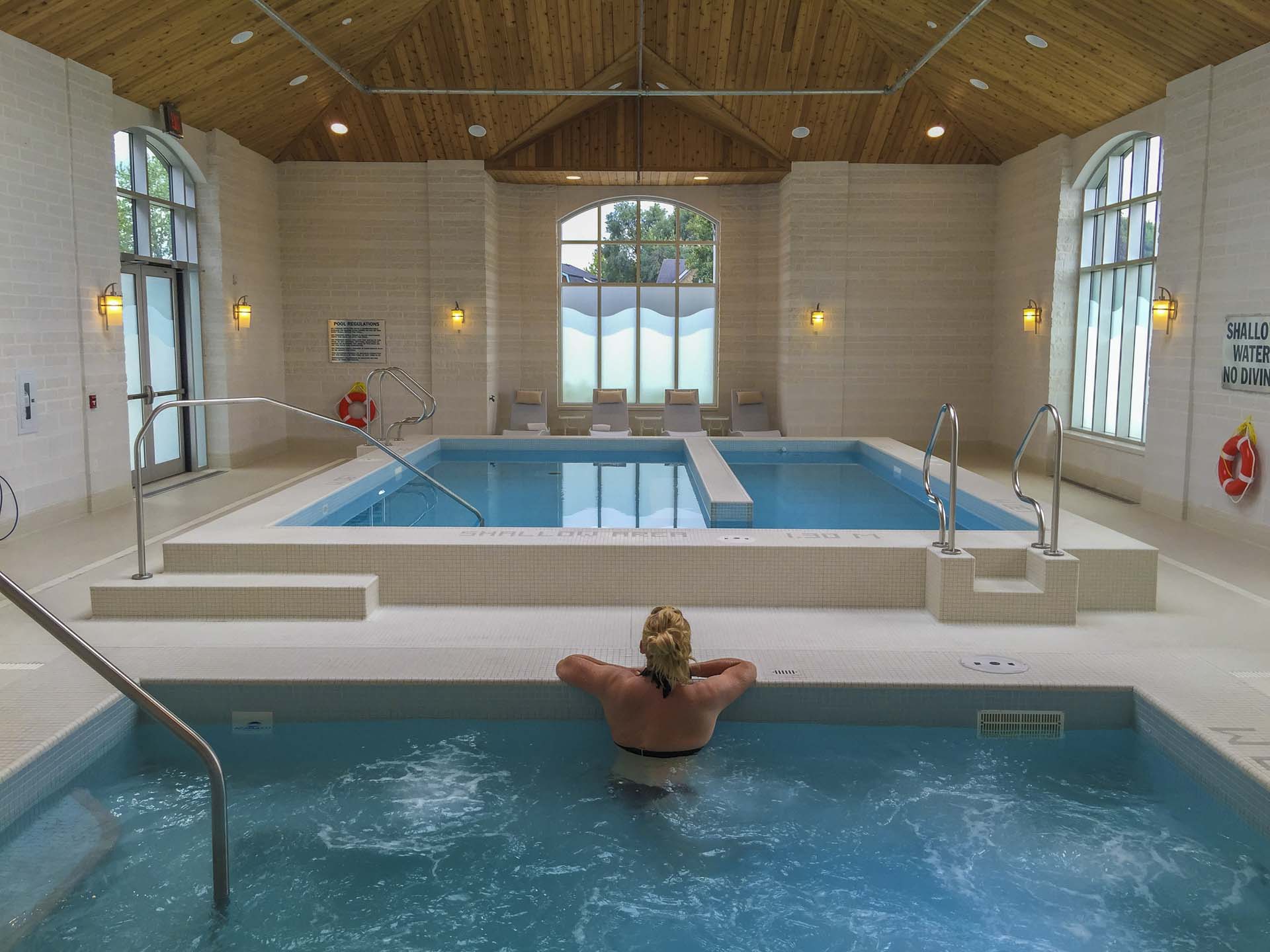 Stay at the Bruce Hotel for a romantic and luxurious getaway. Locaed within walking distance of the Festival Theatre, it's central location lets you enjoy downtown Stratford in luxury. The dining room is rated as one of best in Canada and its lap pool and therapeutic spa are to die for.
Stratford is an hour and a half drive from Toronto
Bruce Hotel – We highly recommend this for a luxury getaway.
12. Peterborough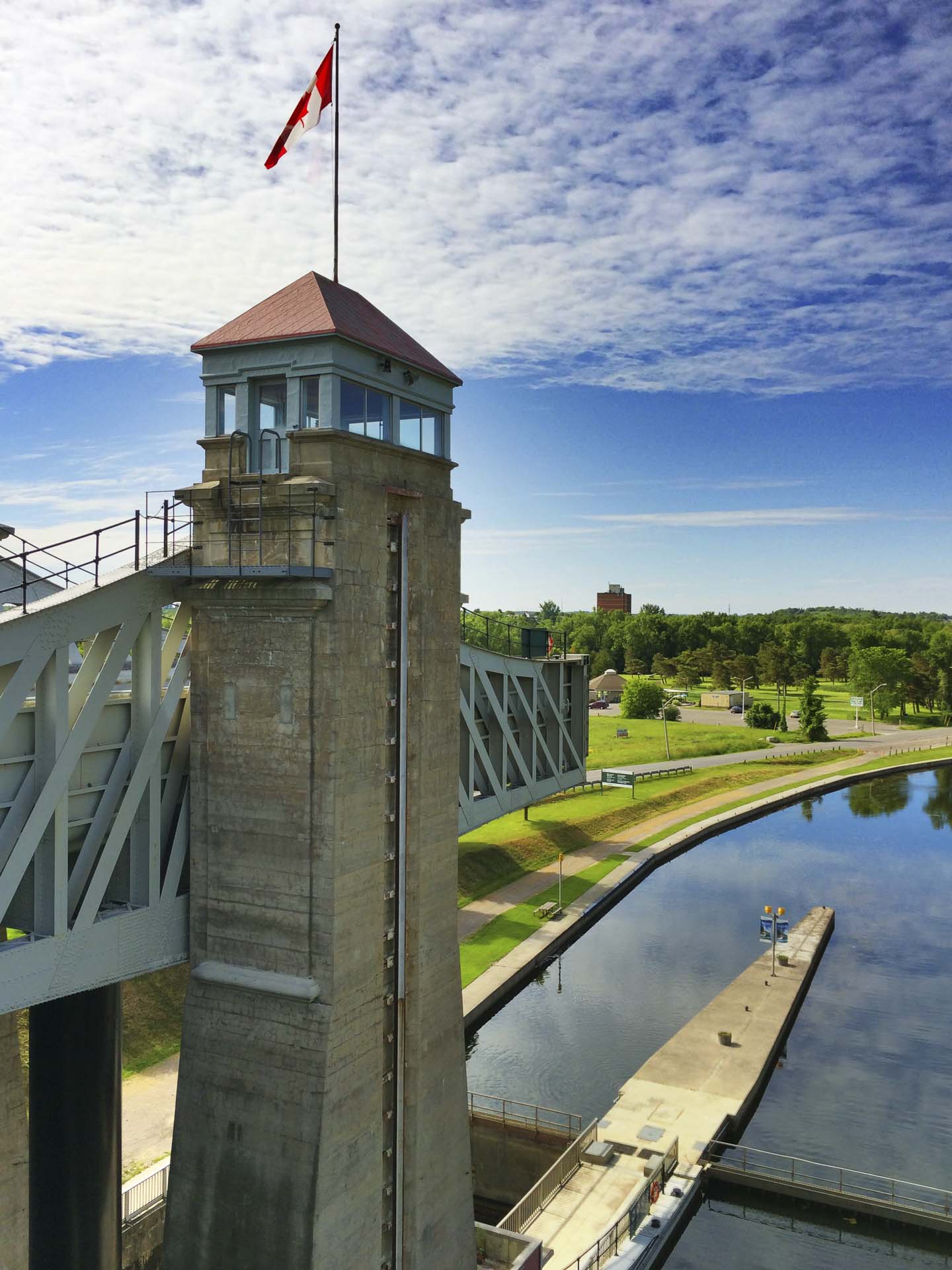 Peterborough is located directly on the Trent Severn Waterway and is home to the highest lift lock in the world. There are plenty of things to do in Peterborough to keep you busy for a weekend. Most of our favourite outdoor activities center around the Lift Lock. You definitely need to take a tour of the lock to see it from above and you can book a cruise of the lock as well.
Downtown Peterborough is a happening place with a music festival each summer, a campground right in the heart of the city with its own beach and plenty of dining options. In Peterborough you have an urban vibe in the middle of cottage country.
Peterborough is just an hour and a half drive from Toronto making it a good day trip from Toronto as well.
Look for accommodation in Peterborough on TripAdvisor
13. Kawartha Lakes
The first thing I think about when envisioning the Kawarthas is the Tragically Hip. "It was in Bobcageon, where I saw the Constellations reveal themselves one star at a time" It's such a magical lyric. The second thing I think of is its famous Kawartha Lakes Ice cream. We always had to stop on our way to cottage country for a delicious ice cream cone for the ride.
The Kawarthas blend into Peterborough and the two regions can be explored together. Both are located on the Trent Severn Waterway and both have many lakes.
The towns of Bobcaygeon, Lindsay, and Fenelon Falls are the main urban areas. Follow the butter tart tour, see the horse and Carriage Museum or or paddle the Trent Severn waterway by canoe. We love a canoe trip!
If you don't want to paddle, rent a houseboat to explore the Trent Severn Waterway and its lakes. The Kawartha Lakes is known as the houseboat capital of Ontario.
The Kawarthas are 2 hours east Toronto
Rent a houseboat for an original place to stay in the Kawarthas
13. Port Dover / Norfolk County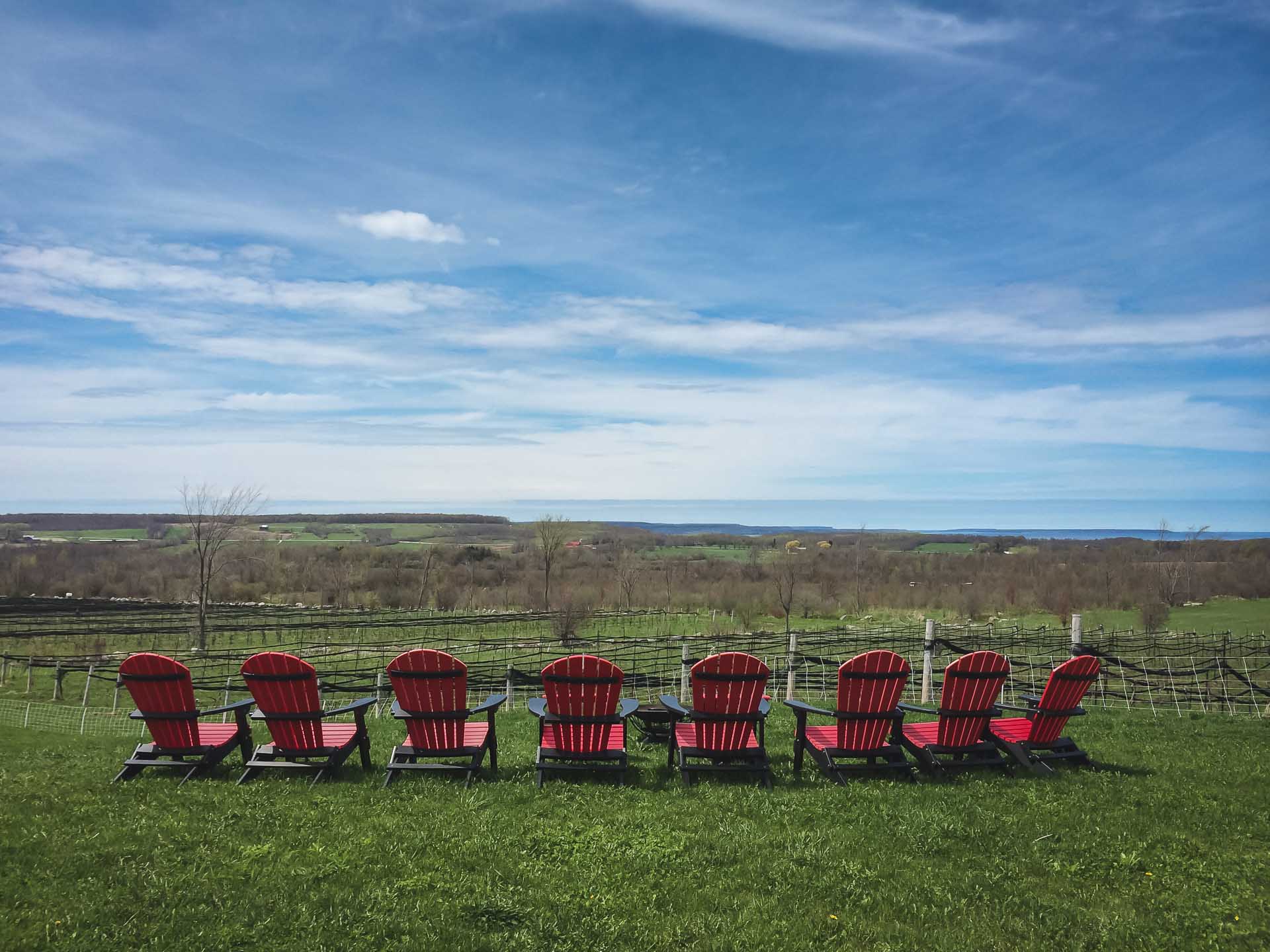 I grew up on the waters of Lake Erie. My family had boats at Turkey Point and Port Burwell. And oh how this part of Ontario has grown with people escaping Toronto for a weekend getaway to its rugged shore.
From Port Dover to Long Point, this stretch of Lake Eerie is filled with outdoor activities. The Best accommodation and amenities is in Port Dover, so we suggest making a base here and taking day trips to the other beaches. Lake Erie has some of the best sandy beaches in Ontario.
There are wineries and brew pubs and the Turkey Point Hotel is a personal favourite of mine. The lighthouse Festival Theatre in Port Dover attracts great Canadian talent and Long Point Eco Adventures offers a canope tour and glamping.
Port Dover is 1 hour and 40 minute drive from Toronto
Suggested hotel – Eirie Beach Hotel in Port Dover.
14. Langdon Hall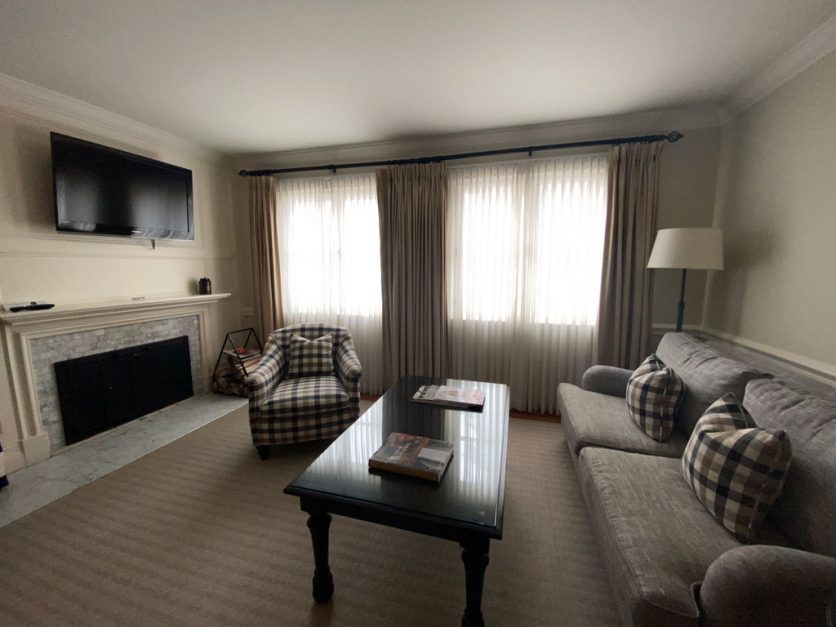 Langdon Hall is a beautiful country escape in Cambridge Ontario. The gorgeous Chateaux dates back to 1898 and was the summer house for the daughter of New York's famous Waldorf Astoria founder. It has a beautiful day spa with a steam room, sauna, and hot tub offering treatments from pedicures to hot stone massages.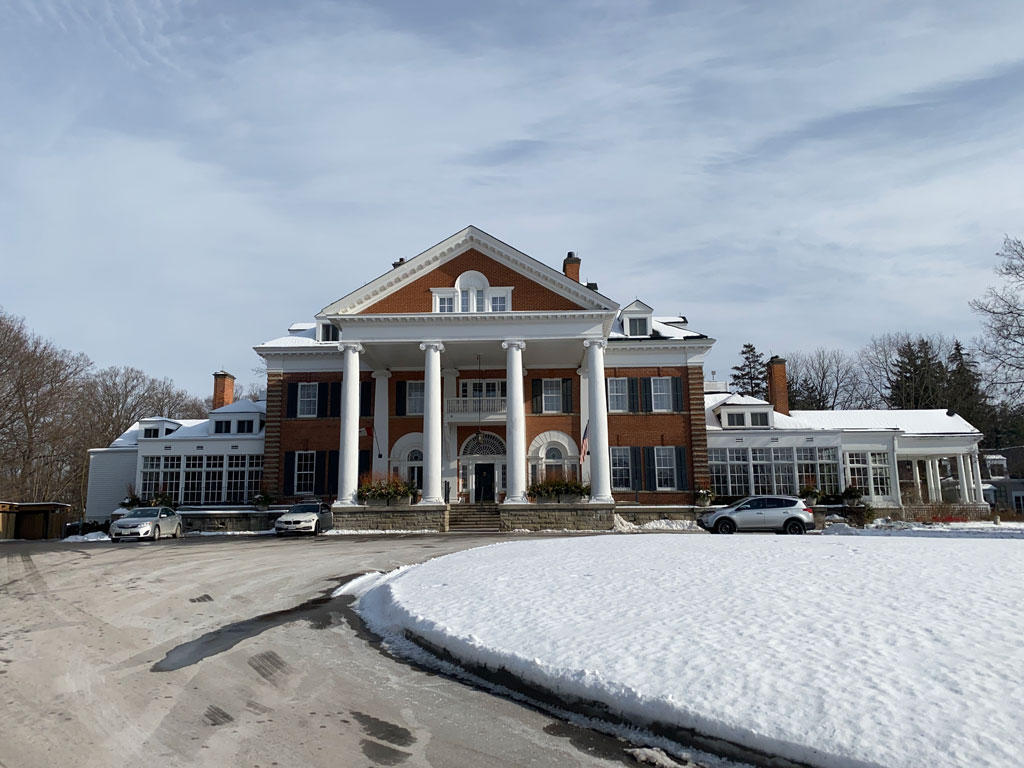 This makes for a great base to explore the Tri-City area of Cambridge, Kitchener, and Waterloo. Located near the Grand River which has rafting, kayaking, and cycling trails, a golf course nearby, and walking trails on the property, it's the ultimate romantic escape.
You really don't have to leave Langdon Hall for this weekend getaway, it's all about enjoying its 5 star amenities with afternoon tea, 5 diamond dining, and luxurious spa.
Langdon Hall is a 1 hour drive from Toronto
Check packages and availability here.
15. Prince Edward County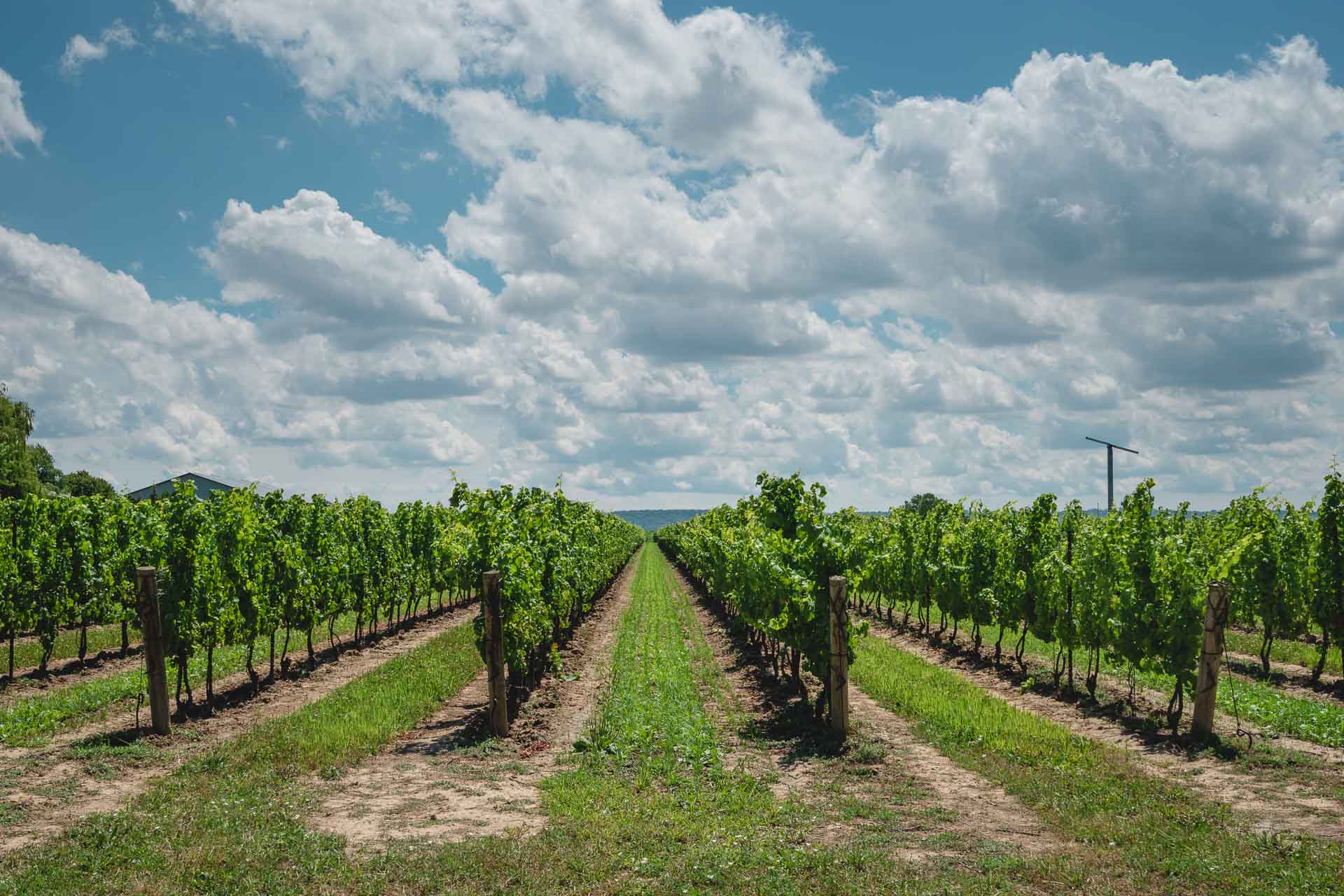 It's Ontario's other wine region outside of Niagara on the Lake. Located on an island on Lake Ontario Prince Edward County is made up of three main towns Picton, Wellington, and Bloomfield, and is fast becoming one of the best day trips from Toronto. The main attraction in Prince Edward County is Sandbanks Provincial Park made up of giant silky sand dunes sweeping 25 meters high (82 feet). If you are looking for sandy beach on your getaway, this is the place to go.
Splurge on a weekend package at the Drake Devonshire which CondeNaste named one of the most romantic hotel rooms in the world. Sip a champagne from your private balcony as you enjoy the views of Lake Ontario from your luxury escape.
Prince Edward County is a 2 hour drive from Toronto
Sandbanks Provincial Park has camping and a cottage for rent.
Stay at the Drake Devonshire
Long Weekend Getaways from Toronto
These trips from Toronto are a bit farther away from the others that are just a couple of hours from the city, but they make for a great road trip. Dave and I used to always pack up the car and drive out of the city and be back in time for work on Monday. But if you can, we highly recommend making these a long weekend trip.
16. Ottawa
We all know that Dave and I love Ottawa. Located five hours from Toronto or a short hour flight from Billy Bishop Airport, Ottawa is our favourite city getaway from Toronto. Canada's Capital City has a lot going on, but it has a completely different vibe from Toronto. It is urban chic with a small town feel.
Stay at the Fairmont Chateau Laurier located on the Rideau Canal where you are walking distance to the Parliament Buildings, the busy ByWard Market, National Gallery, and Rideau Canal cruises. It's a year-round destination with lots to do in the summer and even more in the winter when Winterlude is in full swing.
17. Montreal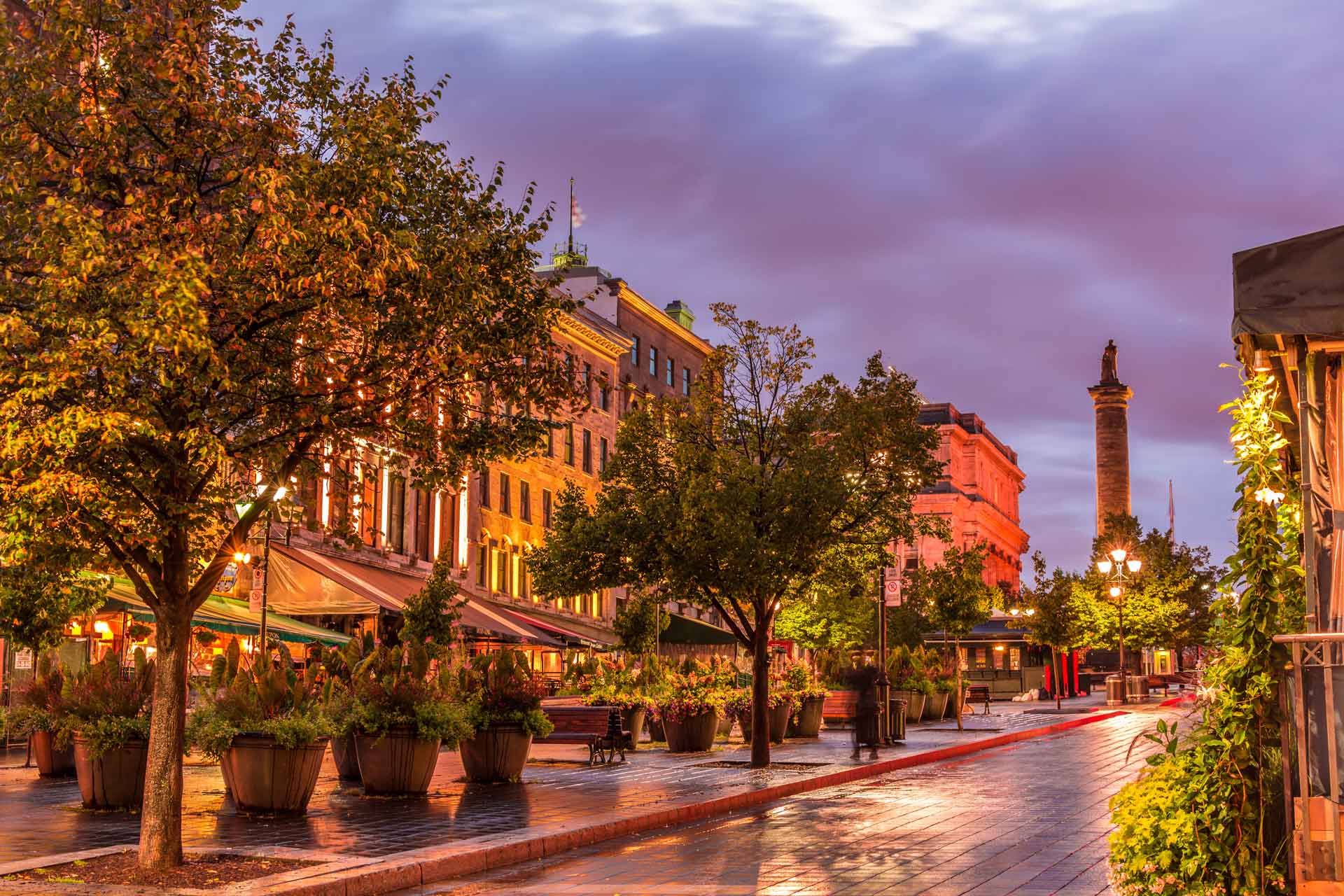 Visiting Montreal instantly transports you to a little slice of Europe. Stay at the historic Fairmont Queen Elizabeth in downtown Montreal to be within walking distance of Old Montreal and Notre Dame Basilica. Grab a bottle of wine and bring it to one of the restaurants lining its cobblestone streets of Old Montreal for some French Cuisine. Rent a bicycle to cycle along Lachine Canal or take a hike up to Mont Royal.
18. Tobermory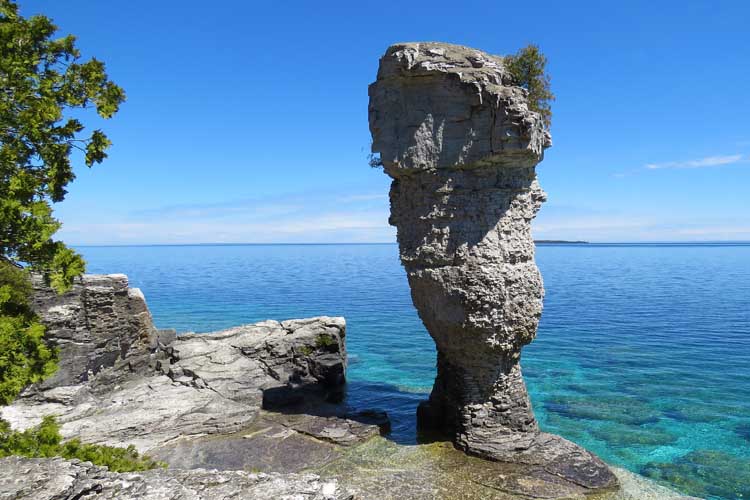 If you want to take a long weekend getaway from Toronto, head out to the Bruce Peninsula and explore Tobermory. Tobermory is one of those places that looks like the Caribbean, until you dip your toes in the water. We used to dive the Fathom Five here in our cold water diving days, and let me tell you, it's nippy.
Tobermory has gained a lot of popularity in recent years with people flocking to the Grotto and Flowerpot Rocks at Flowerpot Island. The Bruce The Bruce Trail is an 885km trail following the UNESCO World Biosphere Reserve, Niagara Escarpment and some of the best views along the trail are right here at the Bruce Peninsula National Park.
Tobermory is a 3 hour and 45-minute drive from Toronto.
We usually camp when visiting Tobermory, but there are BnBs and small hotels in the area. Check out accommodations in Tobermory here.
19. Manitoulin Island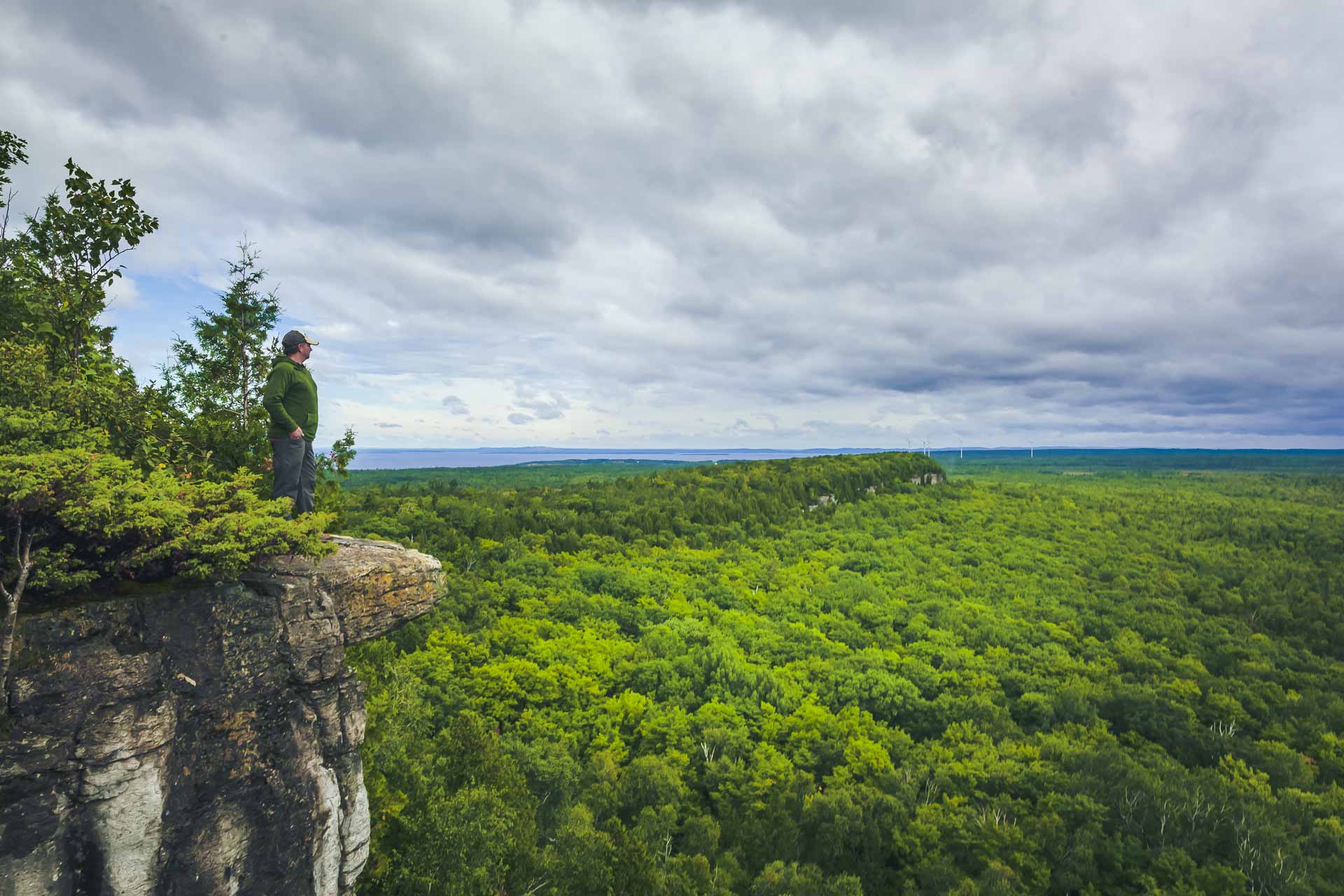 Mantoulin Island warrants a few days to visit from Toronto. Located on Lake Huron, Manitoulin is the world's largest freshwater island. Mantioulin is the ultimate outdoor lovers' long weekend from Toronto. Stay at the Manitoulin Hotel and Conference Centre in Little Current and spend the weekend exploring the Great Sprit Circle Trail and the amazing natural environment.
The Cup and Saucer Trail is one of the great day hikes in Canada, the Indigenous Cultural experiences are some of the best you'll get in the country and not only are there natural wonders, there is also fantastic dining options.
And these are our choices for popular weekend getaways from Toronto. This summer is a great time to start exploring your own backyard. Let us know what getaway you choose.
Read more about Ontario Travel and Toronto