A summer vacation in Nova Scotia is like no other. It is one of the best road trip destinations in the world with so many things to see and adventures to be had. We've had the pleasure of traveling all of Nova Scotia from North to South and everywhere in between. From our several visits to the East Coast, we've compiled the ultimate list of things to do in Nova Scotia to help you plan your trip.
With vaccines rolling it, there is light and hope at the end of the tunnel and as we dream of planning for our travels this summer, Nova Scotia is at the top of our list.
Things to do in Nova Scotia, Canada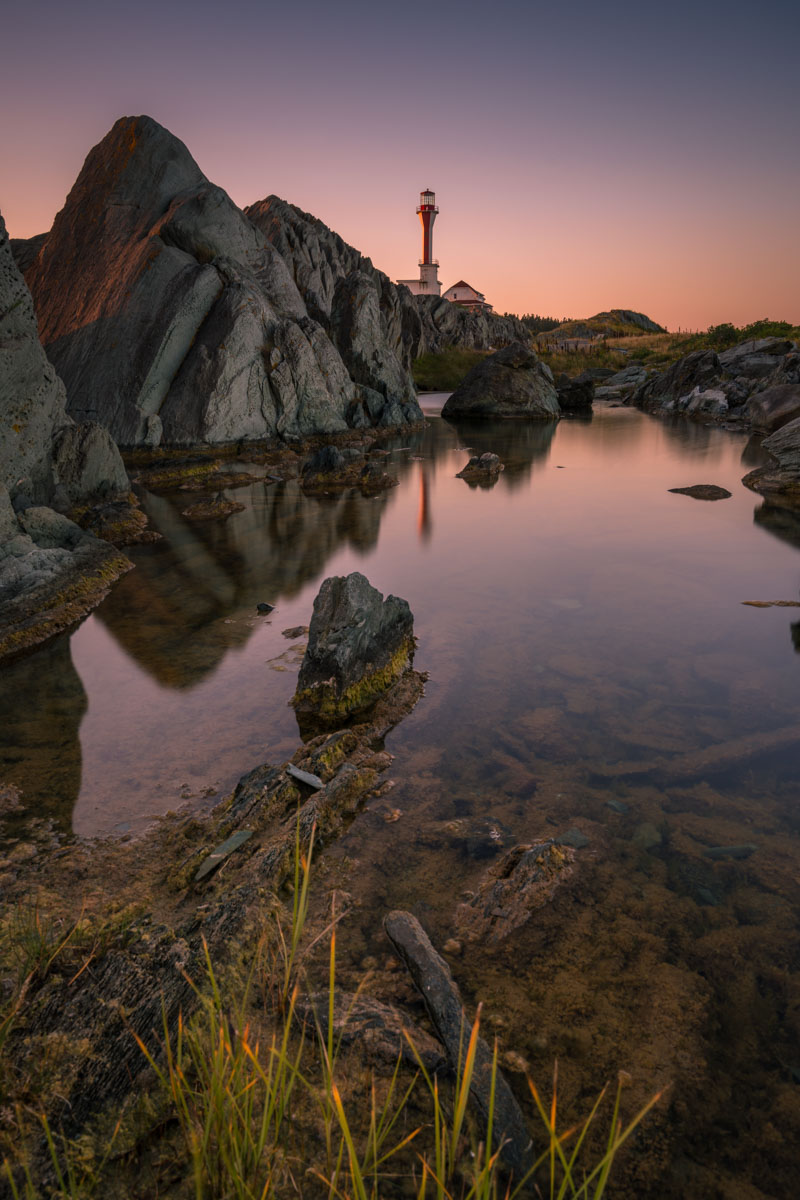 When you visit Nova Scotia give yourself at least a week. But if you have two weeks, even better. We have a complete two-week Nova Scotia road trip itinerary here that breaks down how long to stay in each place.
Nova Scotia may not be the largest Canadian province, but it certainly packs a big punch, so let's get started!
Bay of Fundy – Part 1
Home to the highest tides in the world, the Bay of Fundy should be at the top of your list of things to do in Nova Scotia. Located between Nova Scotia and New Brunswick, it is famous for its flowerpot rock formations on the New Brunswick side of the bay, but Nova Scotia has extraordinary formations as well. It tops the list of our favorite attractions in Nova Scotia.
1. Kayak to the Three Sisters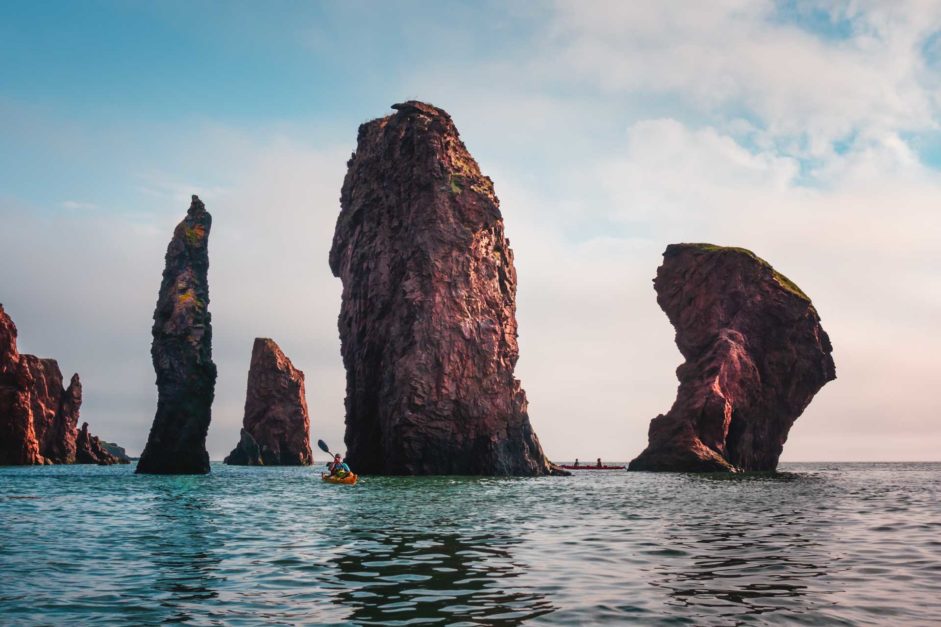 Kayaking to the Three sisters tops our list of adventures in Nova Scotia. The Three sisters are magnificent rock formations standing proud in the Bay of Fundy that can be seen by land and sea. Local Mi'kmaq legend says that the God Glooscap turned his three sisters into stone and they have been standing guard ever since waiting for his return.
Having the opportunity to kayak out to Seal Cove out to the Three sisters at both high and low tides is the ultimate Nova Scotia bucket list adventure. The tides change dramatically allowing you the chance to kayaking through sea arches one minute and then the next walking right inside the sea caves.
For Kayaking trips on the Bay of Fundy Nova Scotia visit: Nova Shores Adventures – NovaShores
2. Cape Chignecto Provincial Park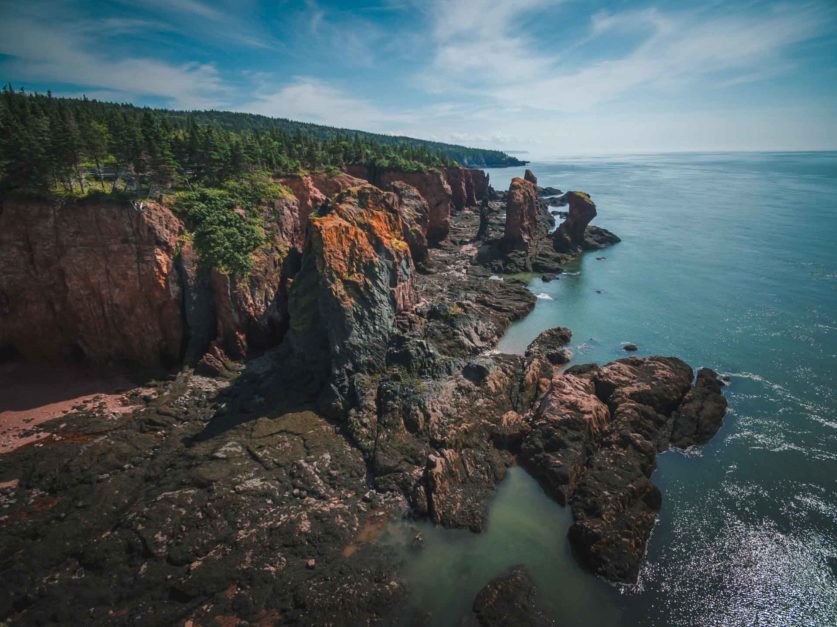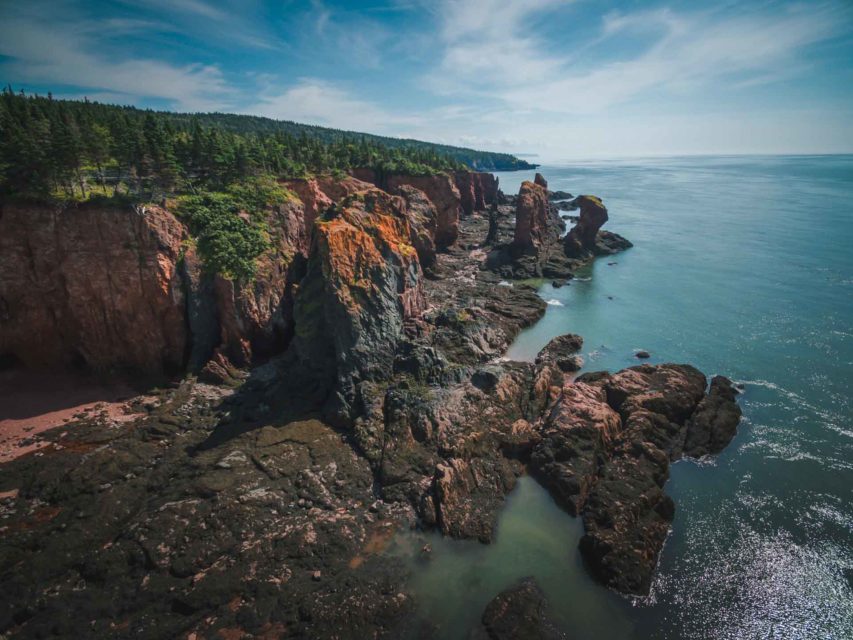 If you don't want to go kayaking, you can see the Three Sisters from the hiking trail of Cape Chignecto Provincial Park. This easy hike over a boardwalk trail comes out to wooden platforms showing magnificent views of sea cliffs and the Three Sisters.
Watch our video kayaking the Bay of Fundy
3. Burntcoat Head Park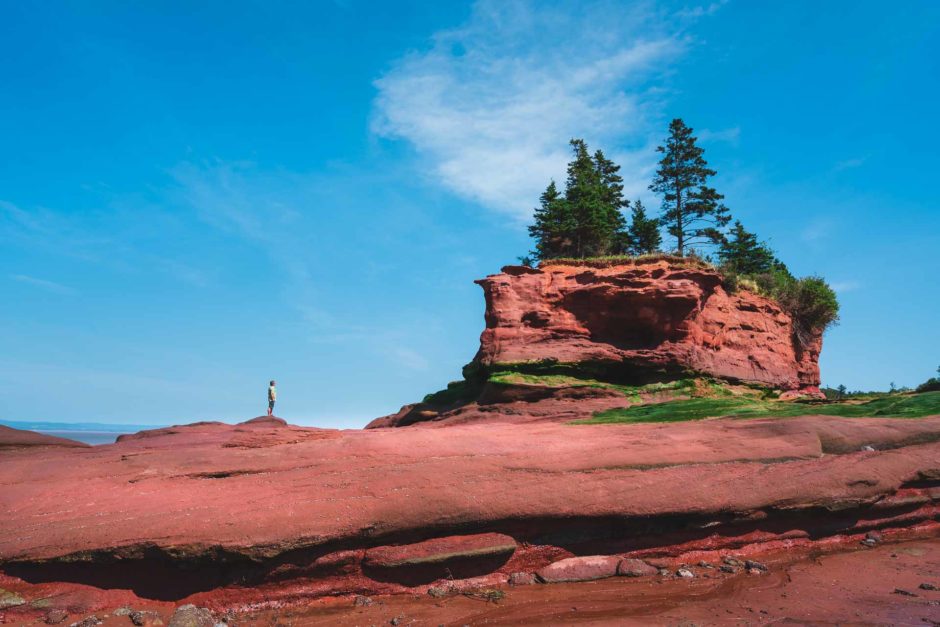 At Burntcoat Head Park, you have the chance to walk on the Bay of Fundy. If you don't kayak to the Three Sisters, this is the next best thing! The tides range from 35 to 55 feet exposing the ocean floor for miles when they go out. For three hours on either side of the tides, visitors can walk on the ocean floor exposing natural formations and the seabed.
See our complete guide to the Bay of Fundy here.
4. Go Tidal Bore Rafting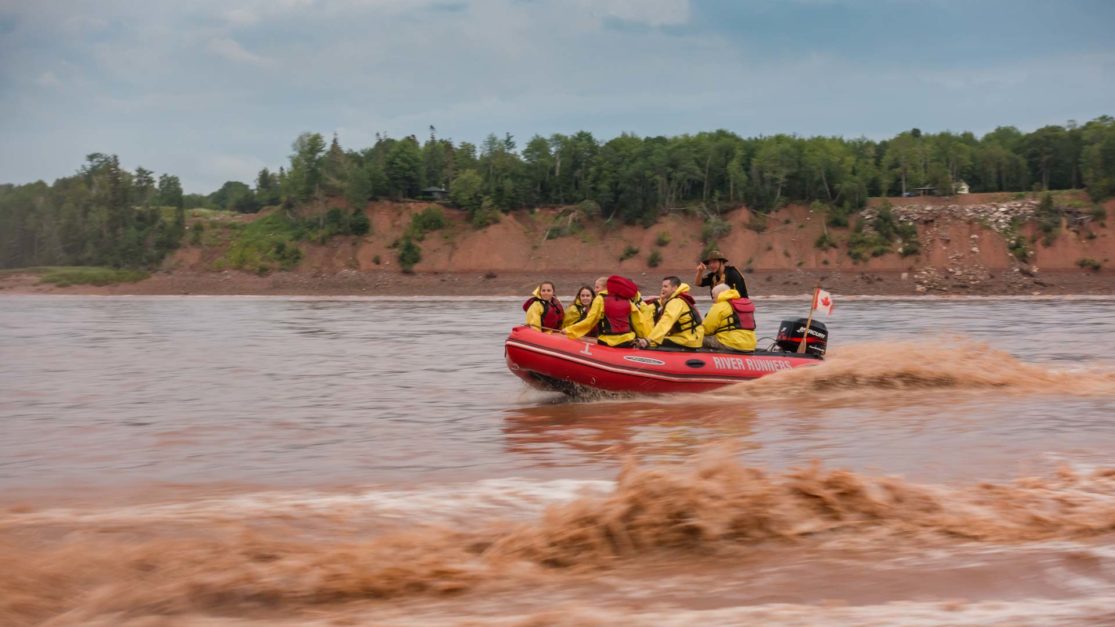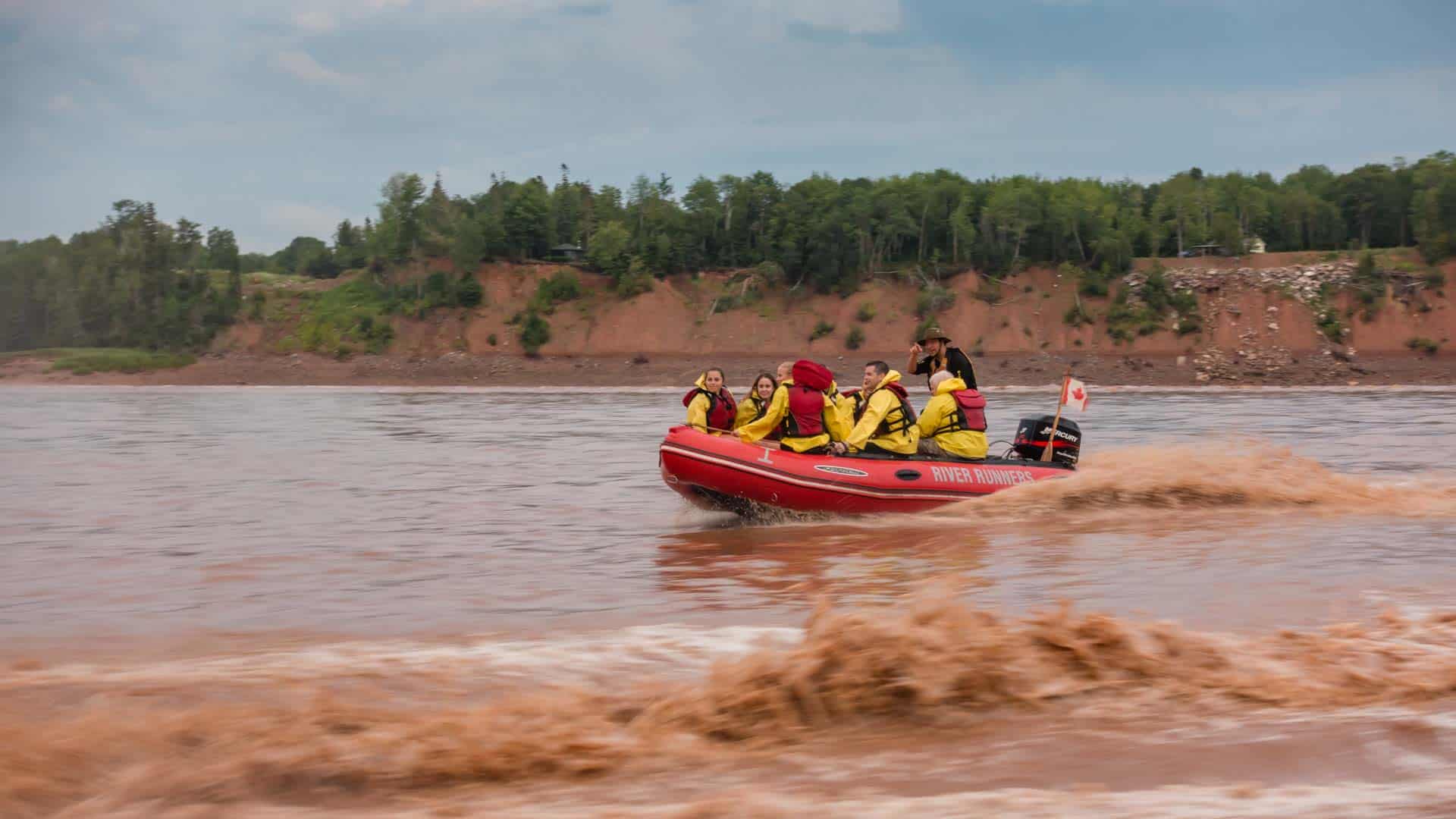 For the ultimate adventure, Tidal Bore Rafting is the most thrilling of things to do in Nova Scotia. At the mouth of the Shubenacadie River, the world's highest tides come rushing in. The Bay of Fundy moves more than 100 billion tons of water twice a day every six hours and thirteen minutes. As it squeezes into the river bed, you ride the waves on a whitewater adventure like no other.
5. Joggins Fossil Cliffs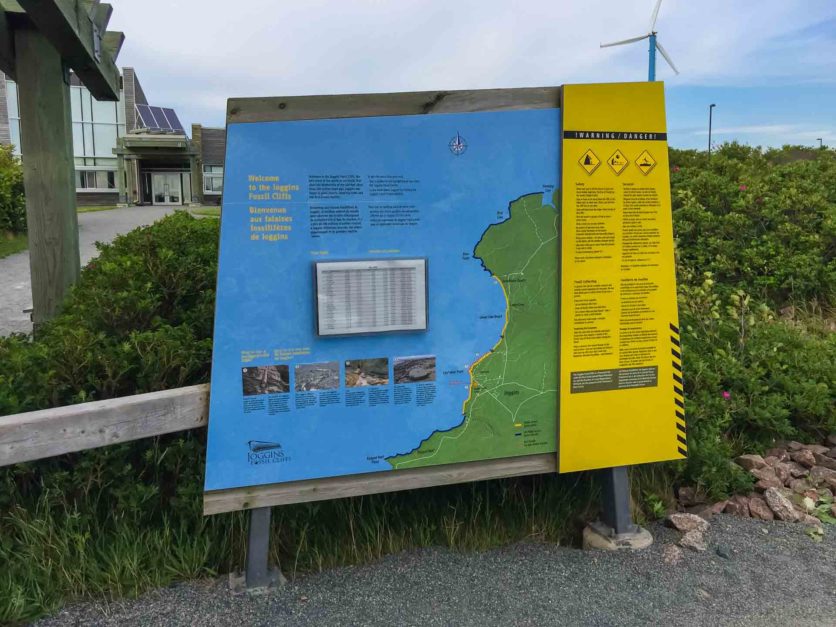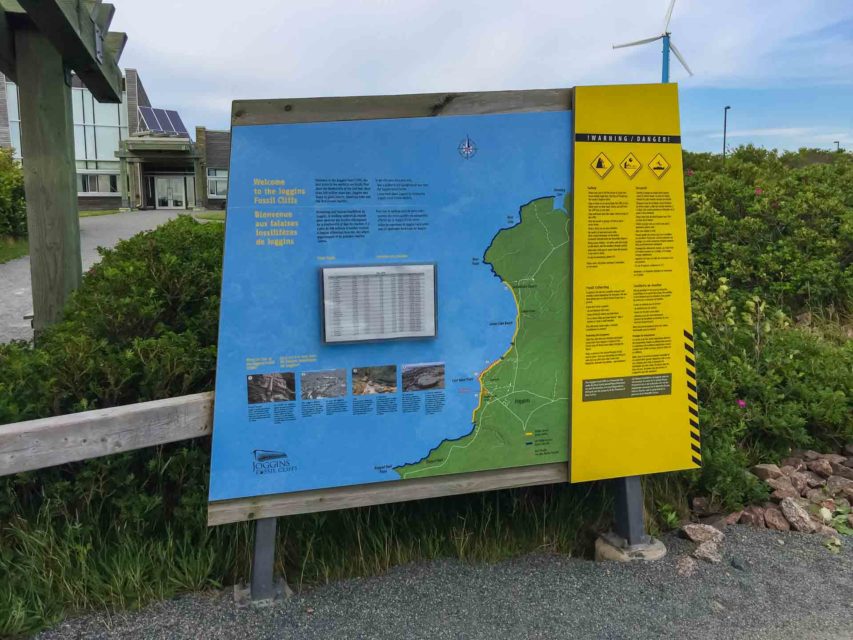 Joggins Fossil Cliffs is a UNESCO World Heritage Site is 15 km of coastal cliffs revealing massive amounts of organic matter created from coal deposits 300 million years ago. The interpretive centre offers guided tours where guides will point out fossils along the way that you may otherwise miss if going on your own.
Cape Breton – Part 2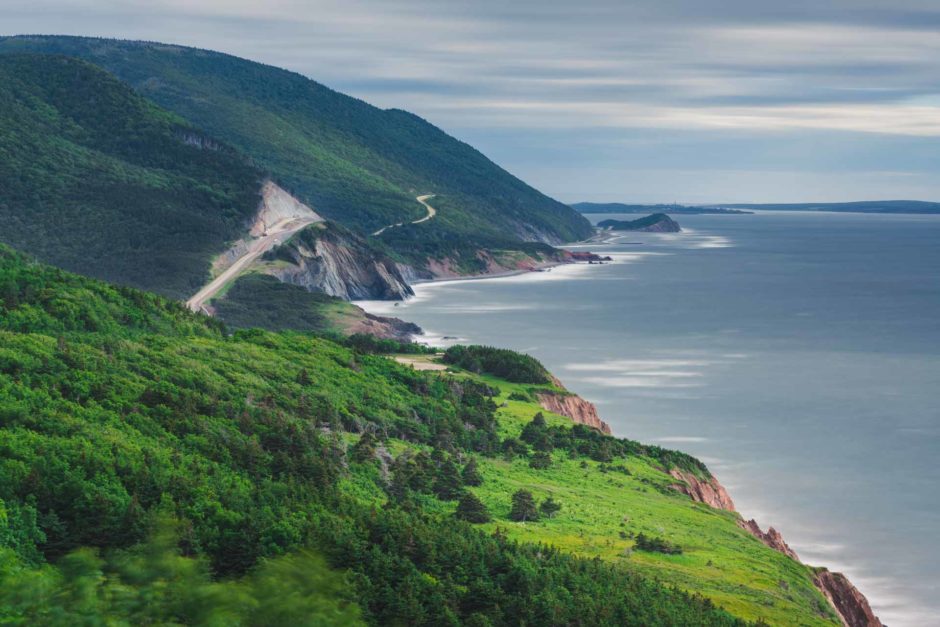 Cape Breton Island is a popular tourist attraction in Nova Scotia with most people making a b-line from Halifax to the island on a Nova Scotia Road Trip and with good reason. Cape Breton houses the Cape Breton Highlands National Park where you plenty of Nova Scotia's top attractions on this scenic drive.
6. Drive the Cabot Trail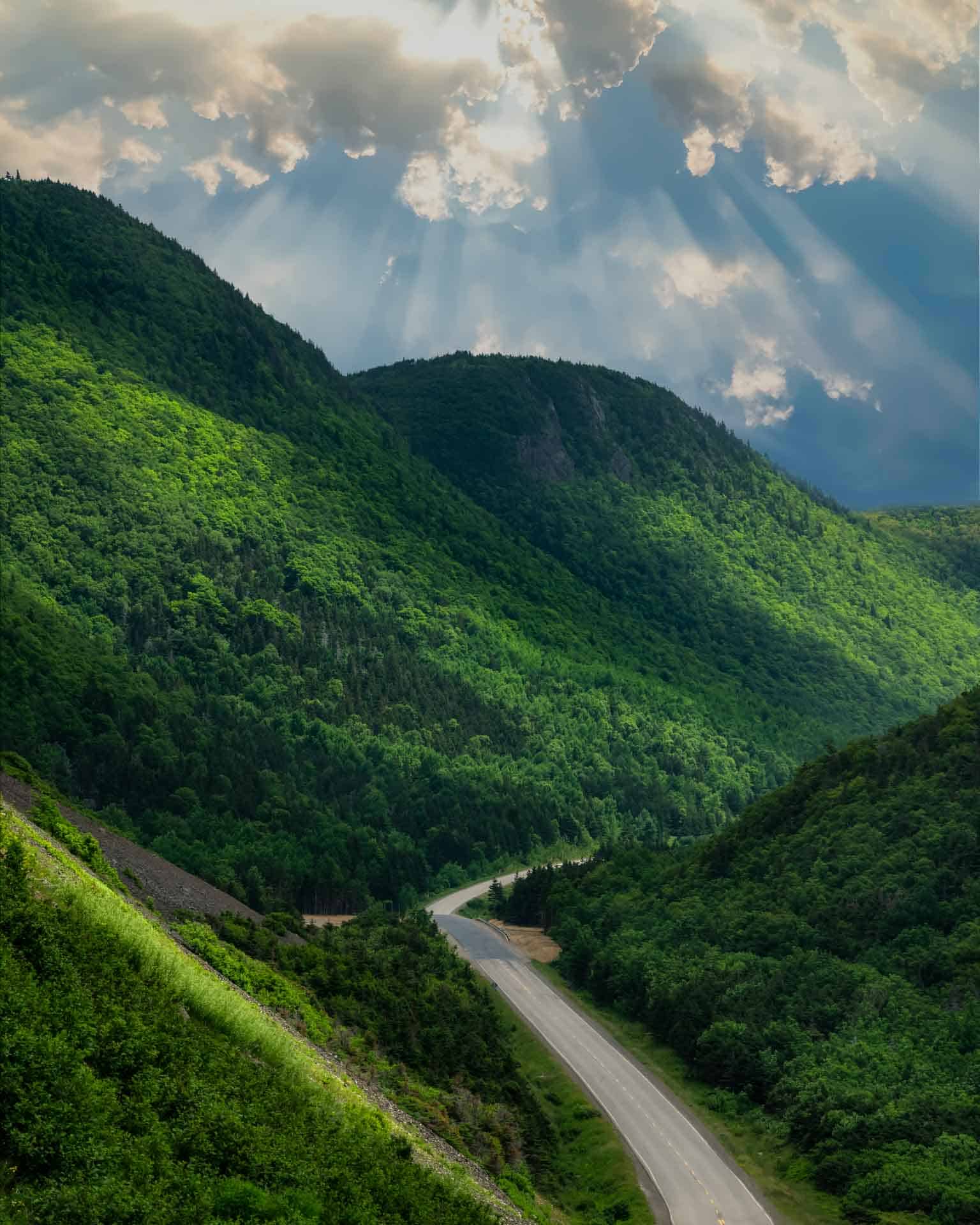 Cape Breton Island is home to one of the greatest scenic drives on earth. The Cabot Trail is a 185 km coastal route taking you through some of Nova Scotia's star attractions.
There are several things to keep you occupied for days. Make sure to go whale watching and get out of your car to explore its hiking trails out to waterfalls and gorgeous scenic views. Cape Breton Highlands National Park is within the Cabot Trail and it certainly tops the list Nova Scotia attractions list.
7. Hike the Skyline Trail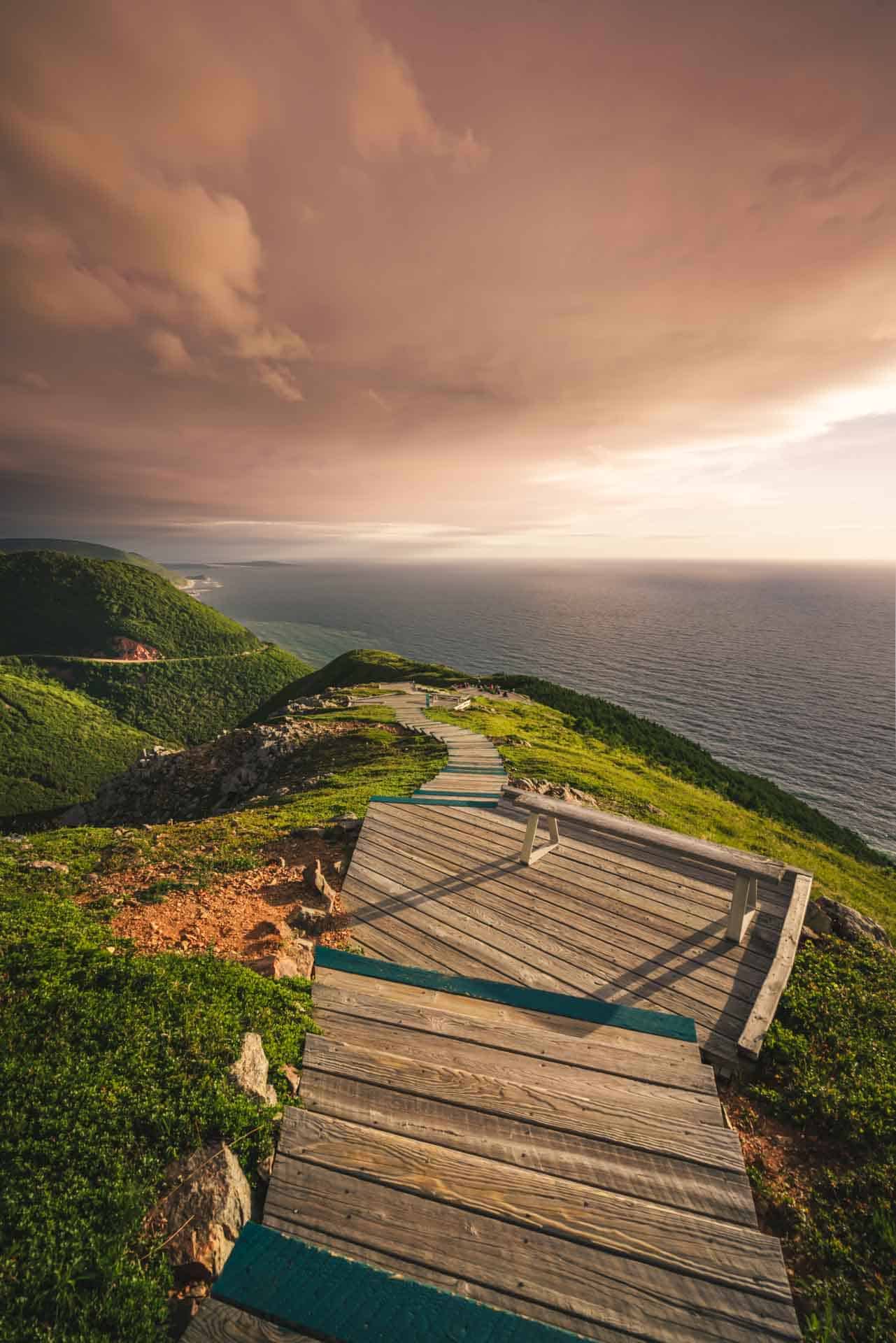 If there is one stop on the Cabot Trail that you cannot miss, it is hiking the Skyline Trail. It is the most beautiful of all the hiking trails in Cape Breton Highlands National Park. This 6.5 km return walk takes you along a wooden boardwalk overlooking the magnificent west coast of Cape Breton Island for the best sunset view in Nova Scotia. It's an easy walk and make sure to keep an eye out for moose that roam the area.
8. Go on a Lobster Safari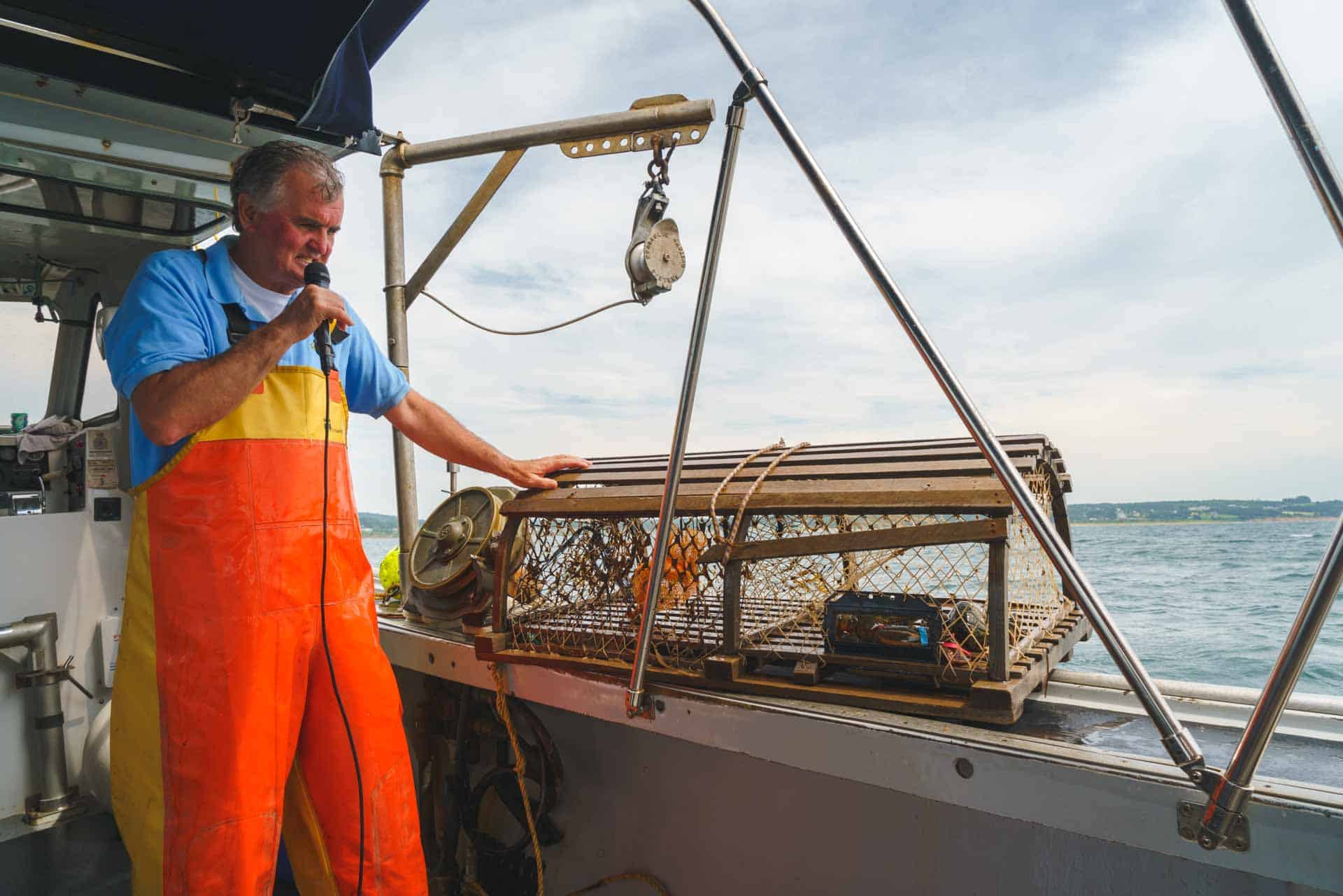 Fishing is an important part of the culture and history of Nova Scotia and it is a large part of Nova Scotia's economy. East Coast lobsters are considered the best in the world, and a great way to learn of the fishing industry is to go on a lobster safari. Off the coast of Cape Breton, we joined Gillis Lobster Tours where local fishermen showed us how lobsters are caught and what goes into conservation efforts to keep the lobster stock healthy.
9. Go Fishing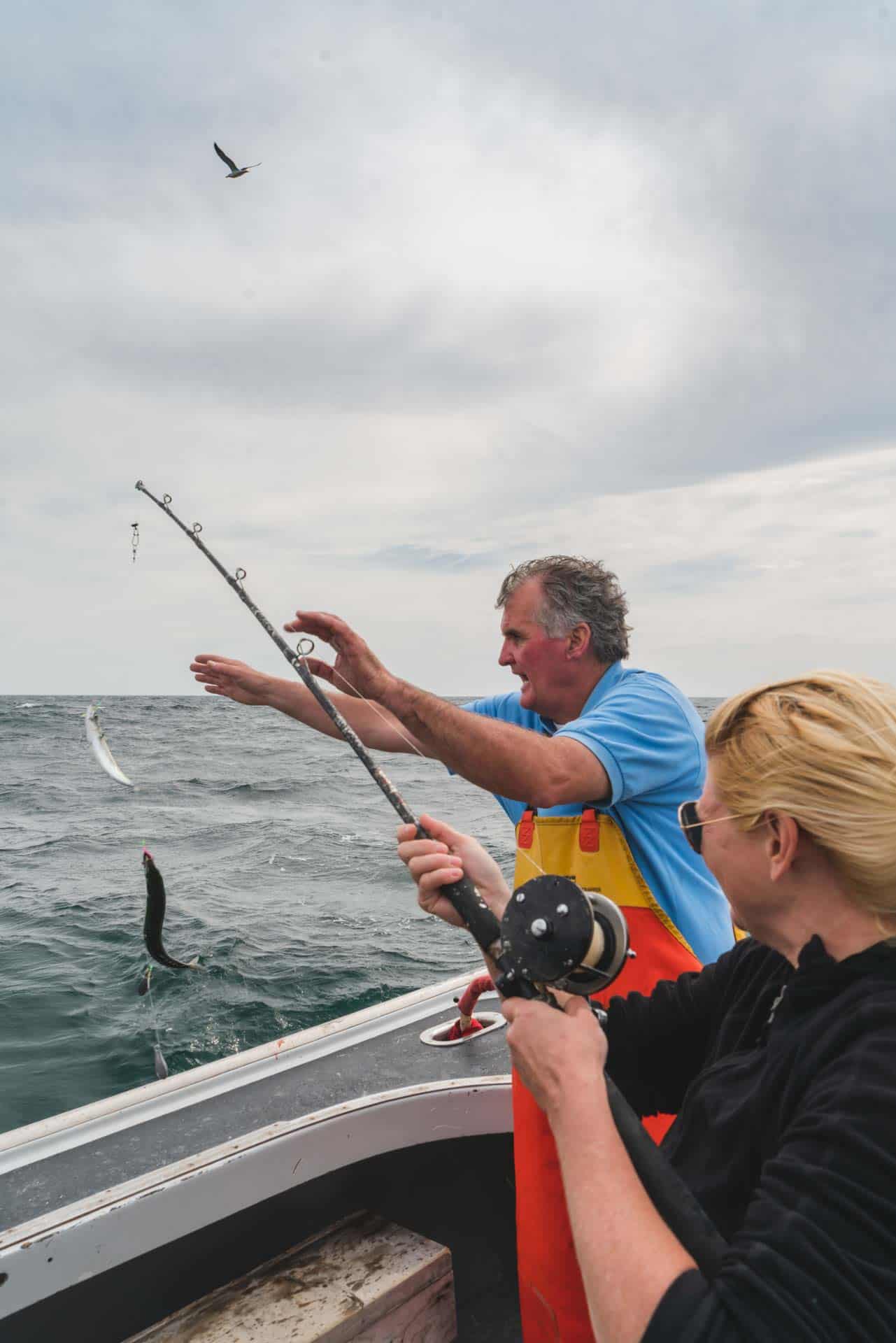 During the tour, try your hand at mackerel fishing. It's the most fun you'll have on the water in Nova Scotia. Don't worry, you can throw the mackerel back to live another day.
10. Indulge in Nova Scotia Seafood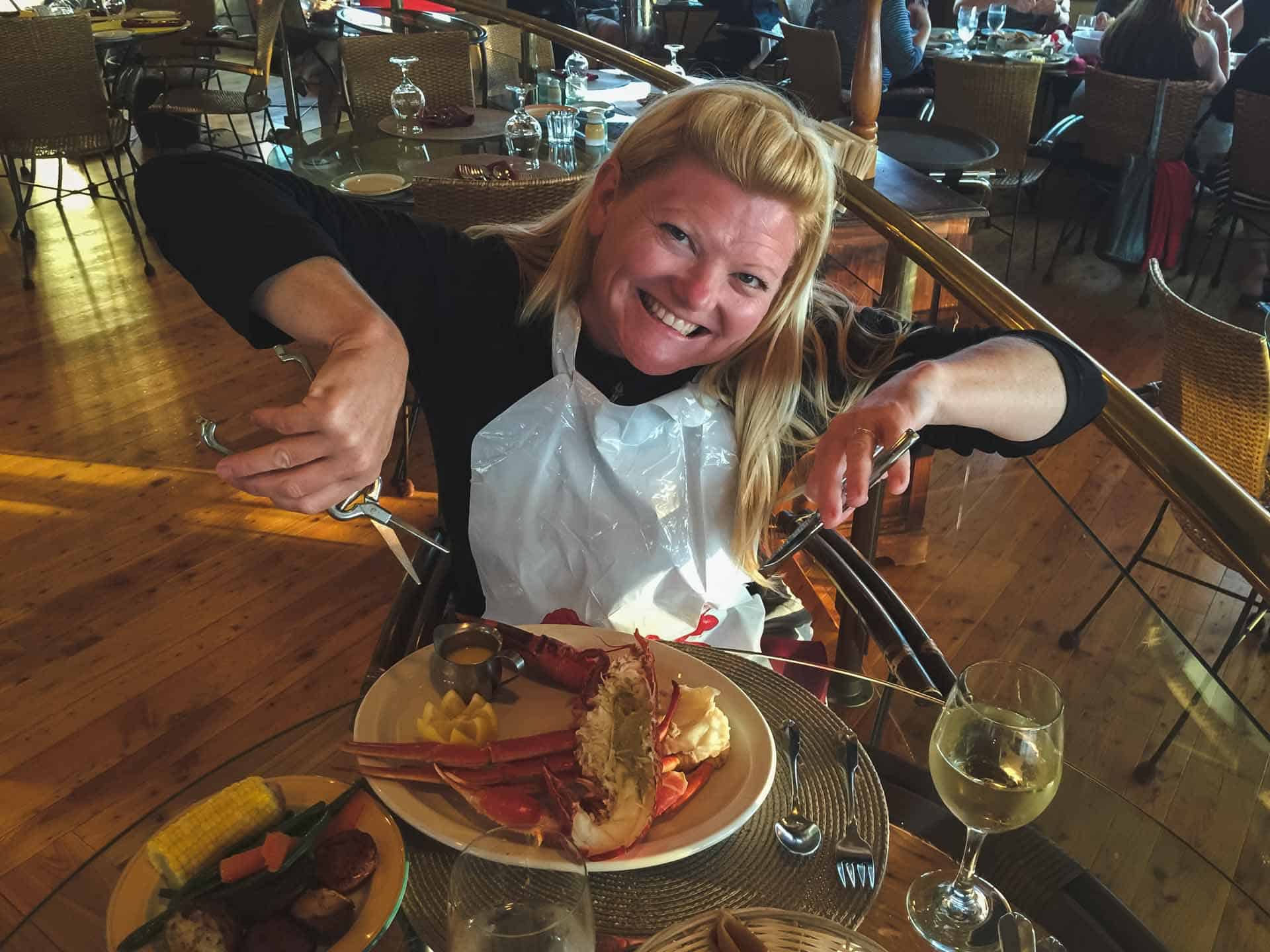 Now that you've learned how important the seafood industry is to Nova Scotia, stop anywhere along your route to enjoy freshly caught local seafood. Lobster is the main menu item and Nova Scotia Lobster is so delicious, you won't need anything fancy to put on it. Plain and fresh is the best. Although you might want to try Lobster poutine in Argyle at the Old Argyler Inn!
Where to Stay in Cape Breton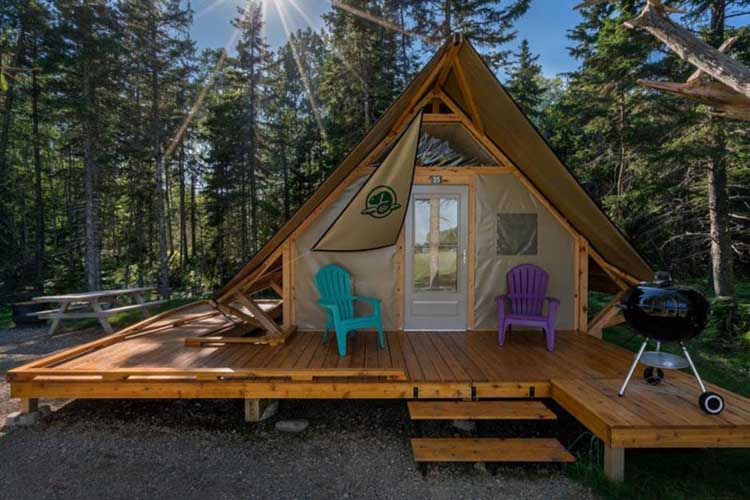 Otentik through Park's Canada – Do something different and book a luxury tent through Park's Canada. An Otentik offers you a true Canadian experience without needing any camping experience. They give you everything you need right down to cooking utensils and sleeping bags.
The South Shore – Part 3
The South Shore is often overlooked but many of the top attractions are found on the South Shore of Halifax. It is also one of the beautiful scenic drives in Canada taking you through the Lighthouse Route with the North Atlantic ocean on one side and the Bay of Fundy on the other. You'll be missing out if you don't include the South Shore of Nova Scotia on your itinerary.
11. Peggy's Cove Lighthouse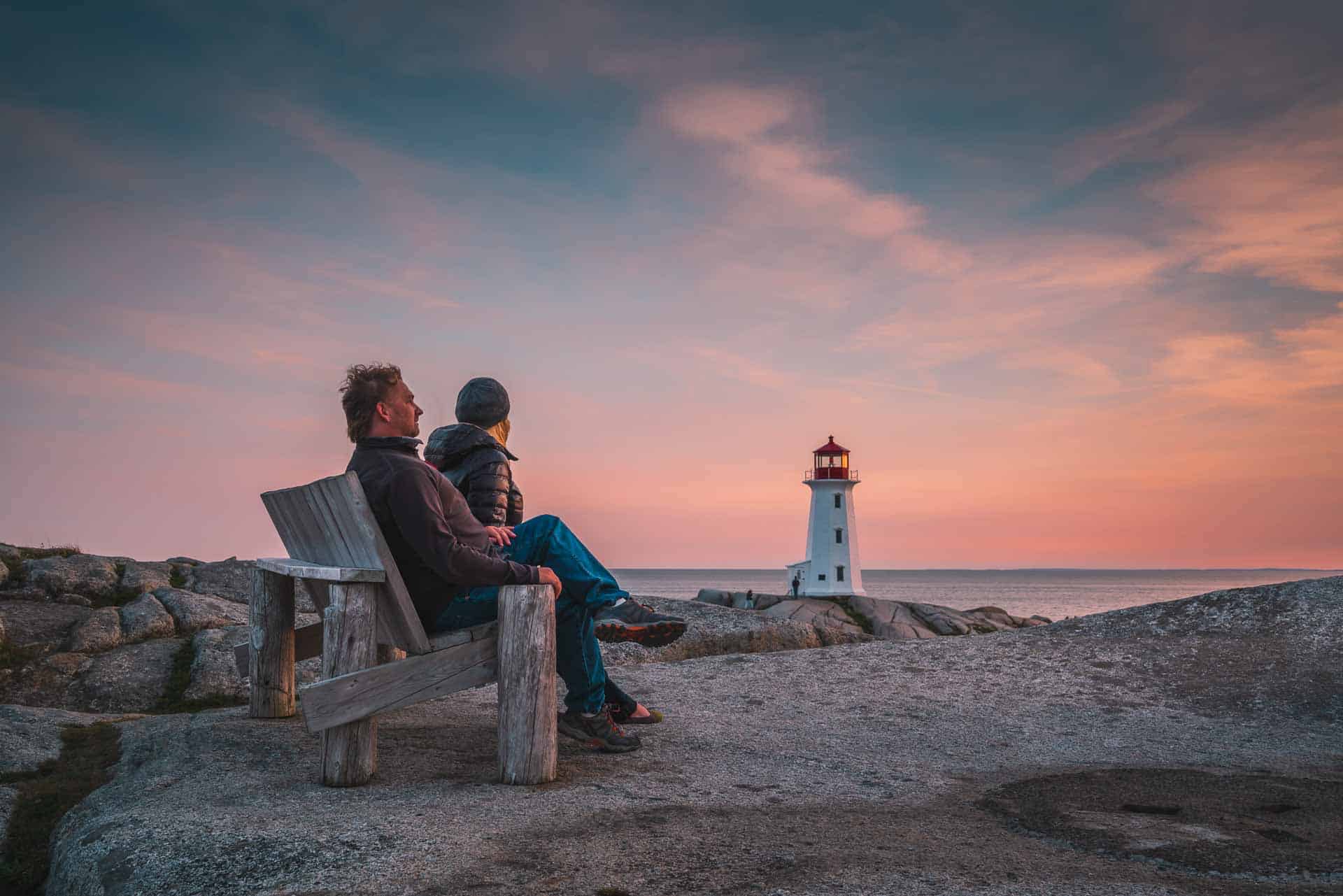 Peggy's Cove lighthouse is one of the most iconic attractions in Nova Scotia. Built in 1915, it has been the guiding light for fishermen for more than 100 years. The setting alone is what attracts travelers from Halifax, but it is worth spending a day or two to really explore it.
Its one of a kind coastline was carved over thousands of years from retreating glaciers and ocean tides and the lighthouse stands proud overlooking the rocks.
12. Peggy's Cove Boat Tour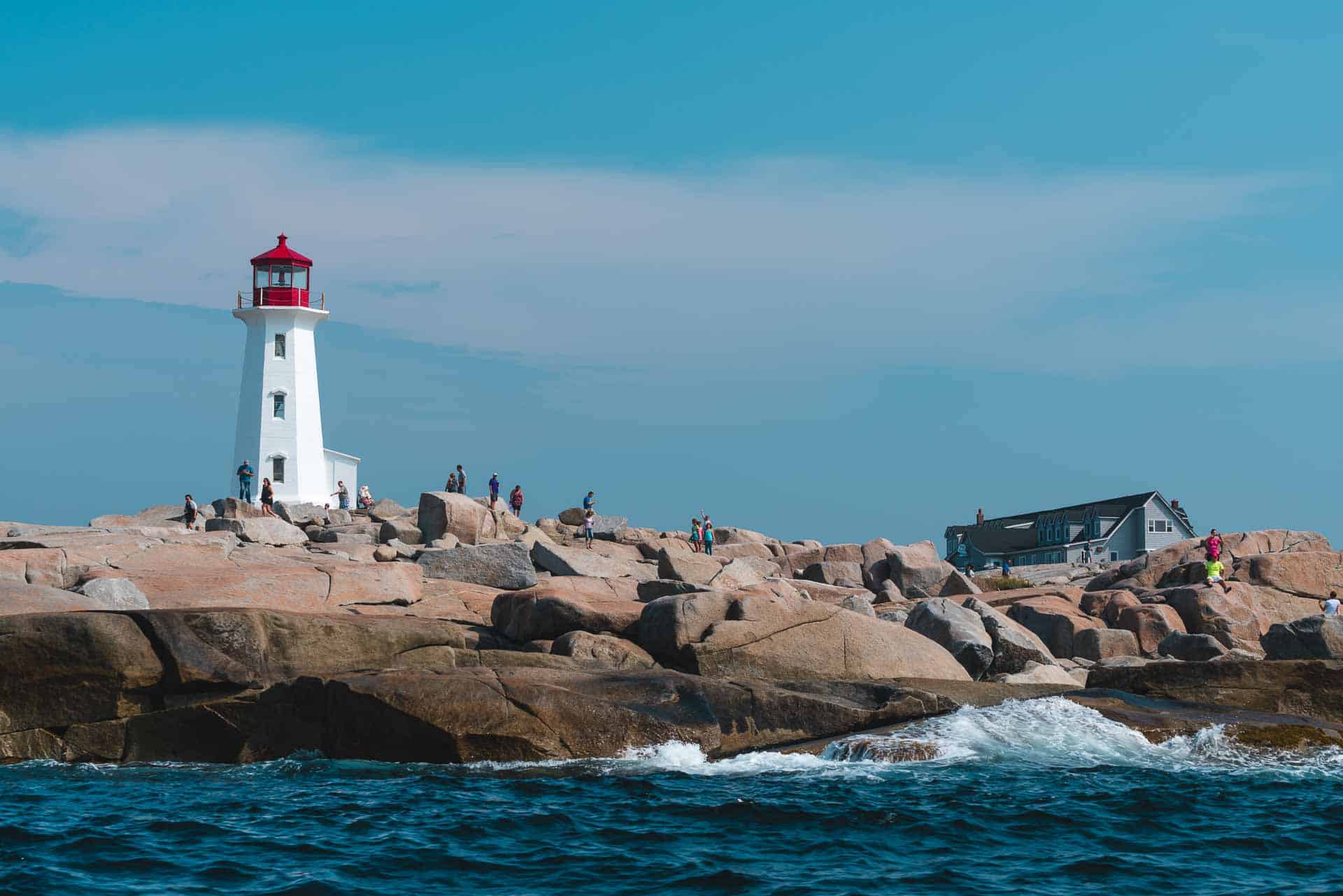 The best way to take in this view is on a boat tour. Afterward, take your time to explore the picturesque fishing village of Peggy's Cove that dates back to 1811. There are boutique shops, restaurants and coffee shops to enjoy in this charming fishing village.
It is located just a 50 minute drive from Halifax, so if you only have a short time, it's an easy day trip from the city.
Where to Stay
Oceanstone Resort – Just five minutes from Peggy's Cove, this was a great base for exploring the area. With private cabins located directly on the shore, it was a beautiful places to unwind and relax.
13. Marvel at the Beauty of Lunenburg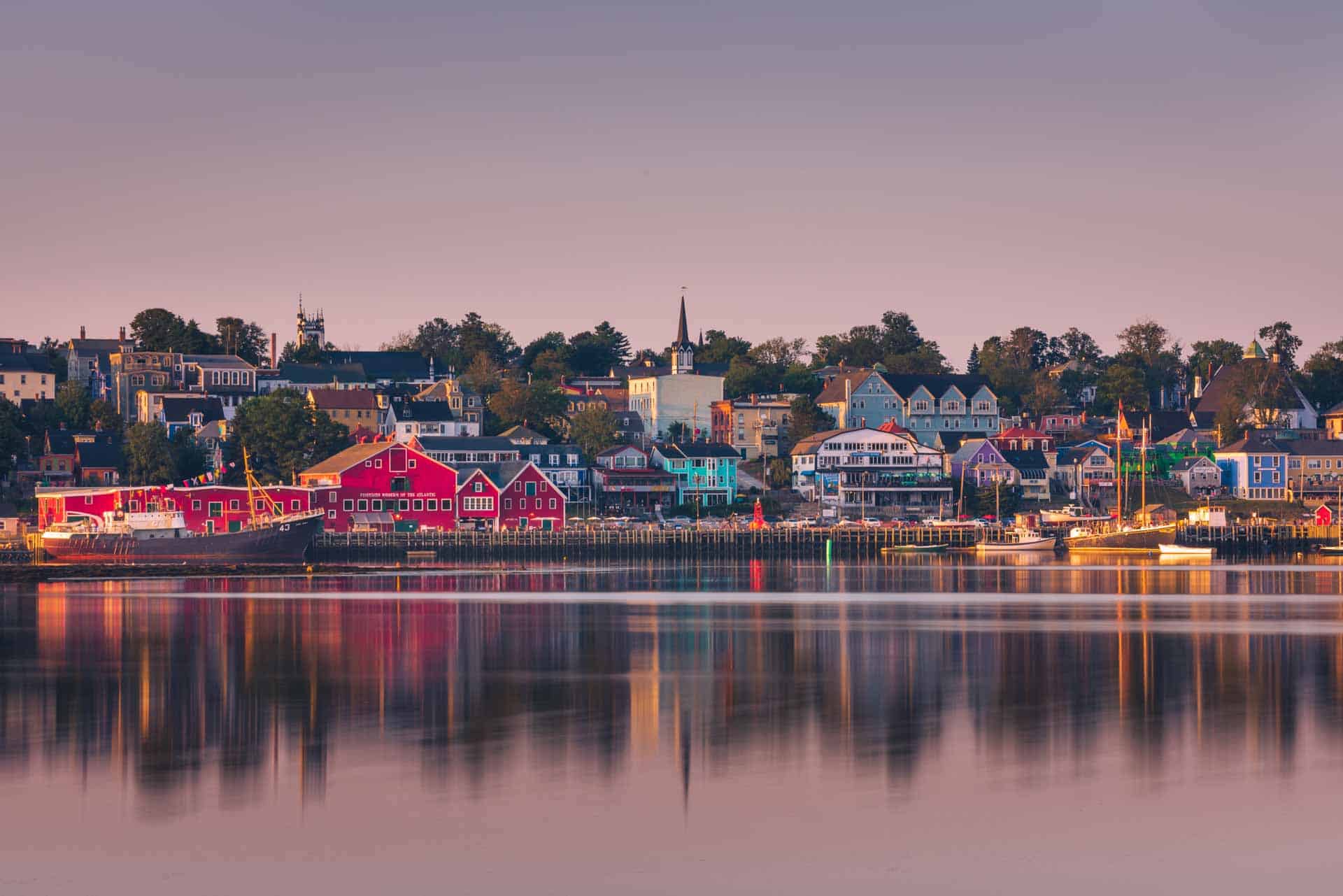 It just may be the most picturesque town in the world. Located just an hour and fifteen minutes south of Halifax, Lunenburg is one of the top attractions in Nova Scotia. Travelers to Nova Scotia flock to see this UNESCO World Heritage Site, one of only two urban centres in all of North America to hold that title.
Where to Stay in Lunenburg
Lunenburg Arms hotel – Located downtown Lunenburg Arms hotel was the perfect location for exploring Lunenburg. Make sure to eat at the Fleur de Sal Restaurant for dinner. You can also book whale watching tours from Lunenburg.
14. Mahone Bay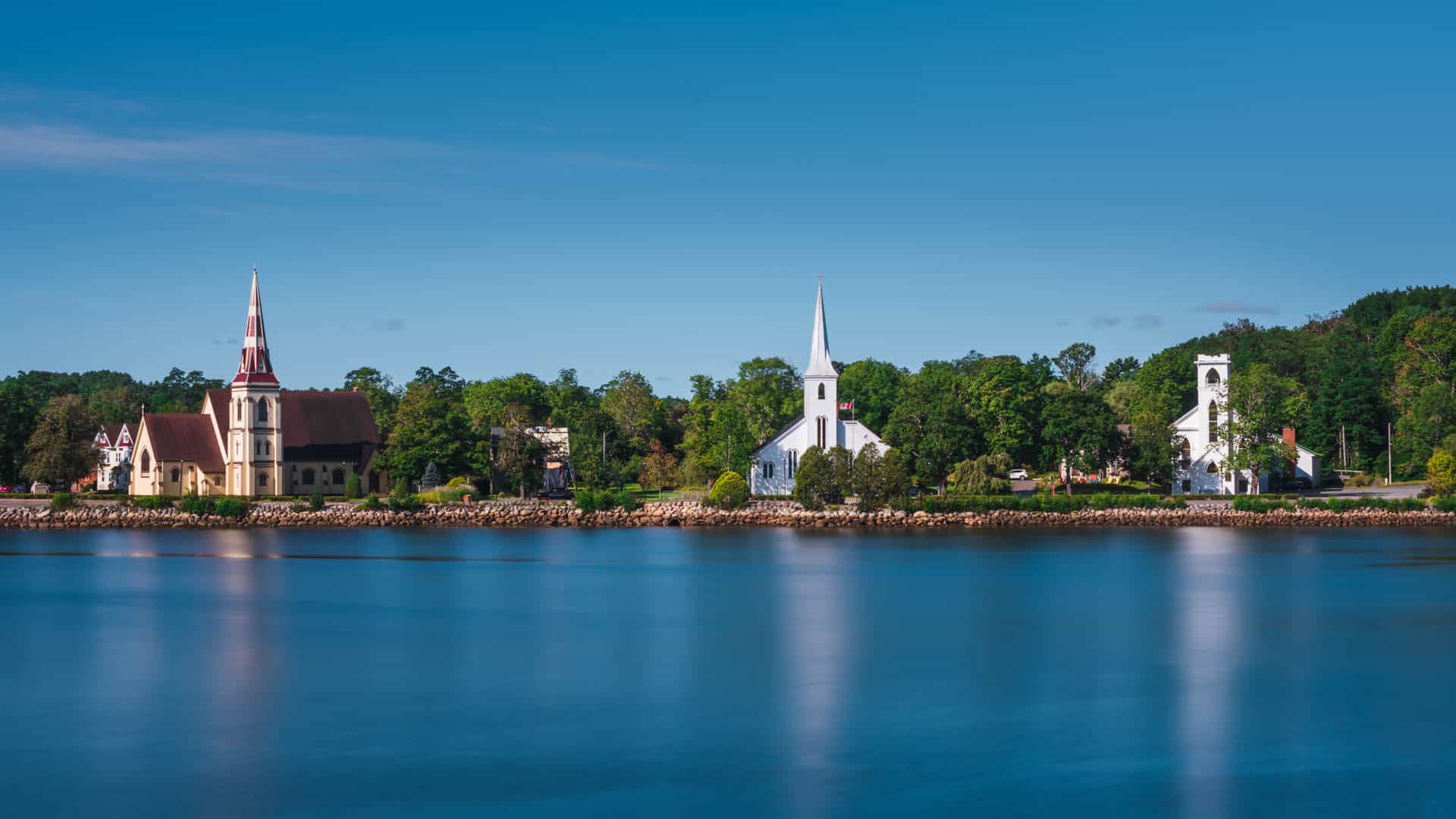 Named the prettiest small town in Canada, it's easy to understand why Mahone Bay attracts so many photography lovers. The Three churches that line the waterfront are one of the most photographed places in Nova Scotia. Located between Peggy's Cove and Lunenburg, this is a great places to stop for a snack, do some shopping and try some locally distilled gin at the Haskapa Berry Retail Store.
15. Hall's Harbour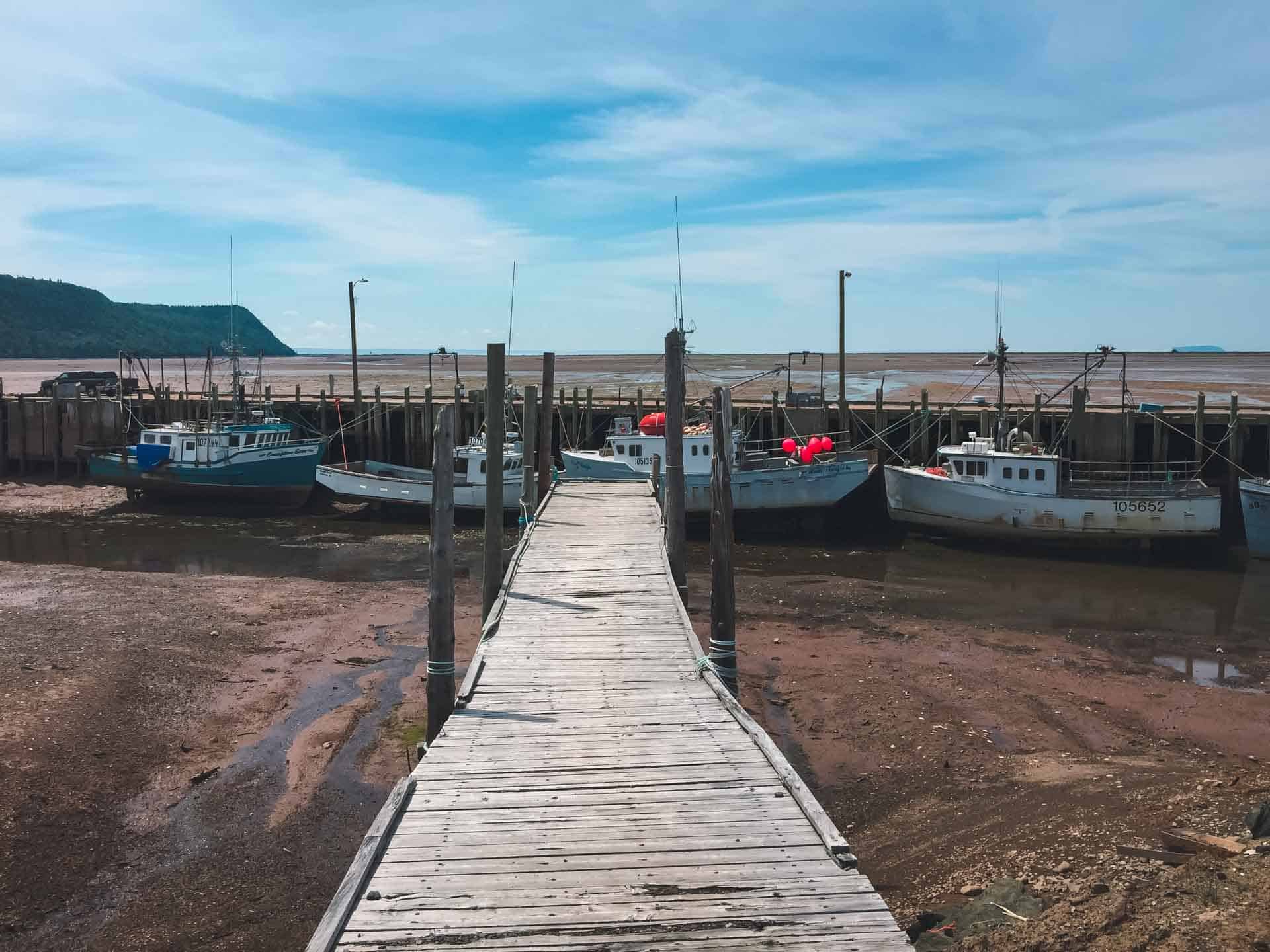 Hall's Harbour is worth visiting alone to see the fishing boats sitting on the dry seabed at low tide. The fishing village dates back to 1779 the Hall's Harbour Lobster Pound Restaurant is the star attraction where you pick your own lobster and enjoy a Nova Scotia tradition as you overlook the picturesque harbor. Note: When in Nova Scotia, take every chance to try the lobster. It's delicious!
Where to Stay
Blomidon Inn, Wolfville – The enchanting Blomidon Inn was the perfect grand house to make a base to explore the Annapolis Valley, Hall's Harbour, and the Acadian Coast.
Explore Halifax – Part 4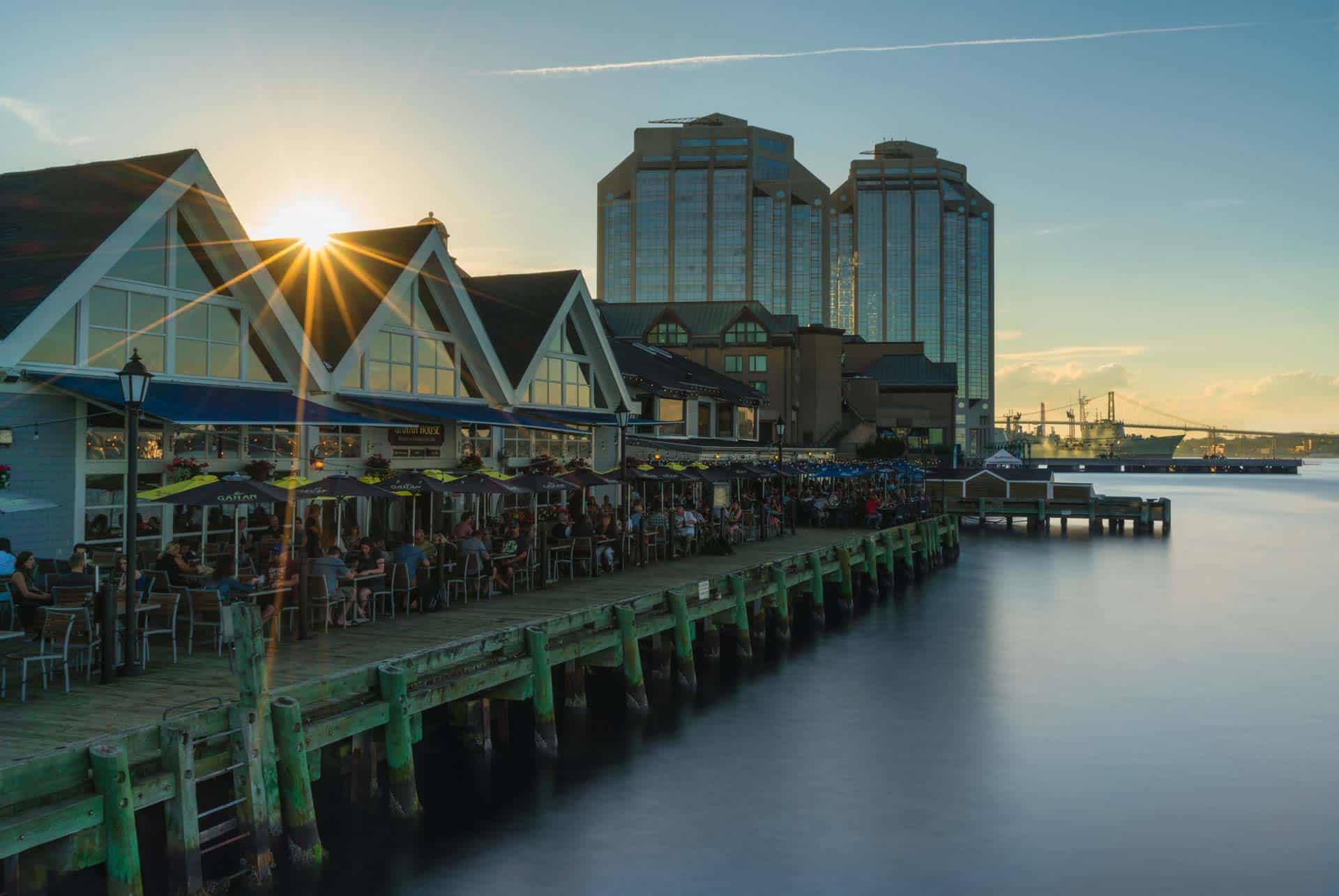 No visit to Nova Scotia would be complete without spending a couple of days in the capital city of Halifax. This lively town is home to six universities and colleges attracting students from around the world making it one of the hippest downtowns in Canada. Halifax deserves its own article but here are a few not to miss Halifax tourist attractions to keep an eye out for as you walk along the wooden boardwalk of the Halifax Harbour.
16. Maritime Museum of the Atlantic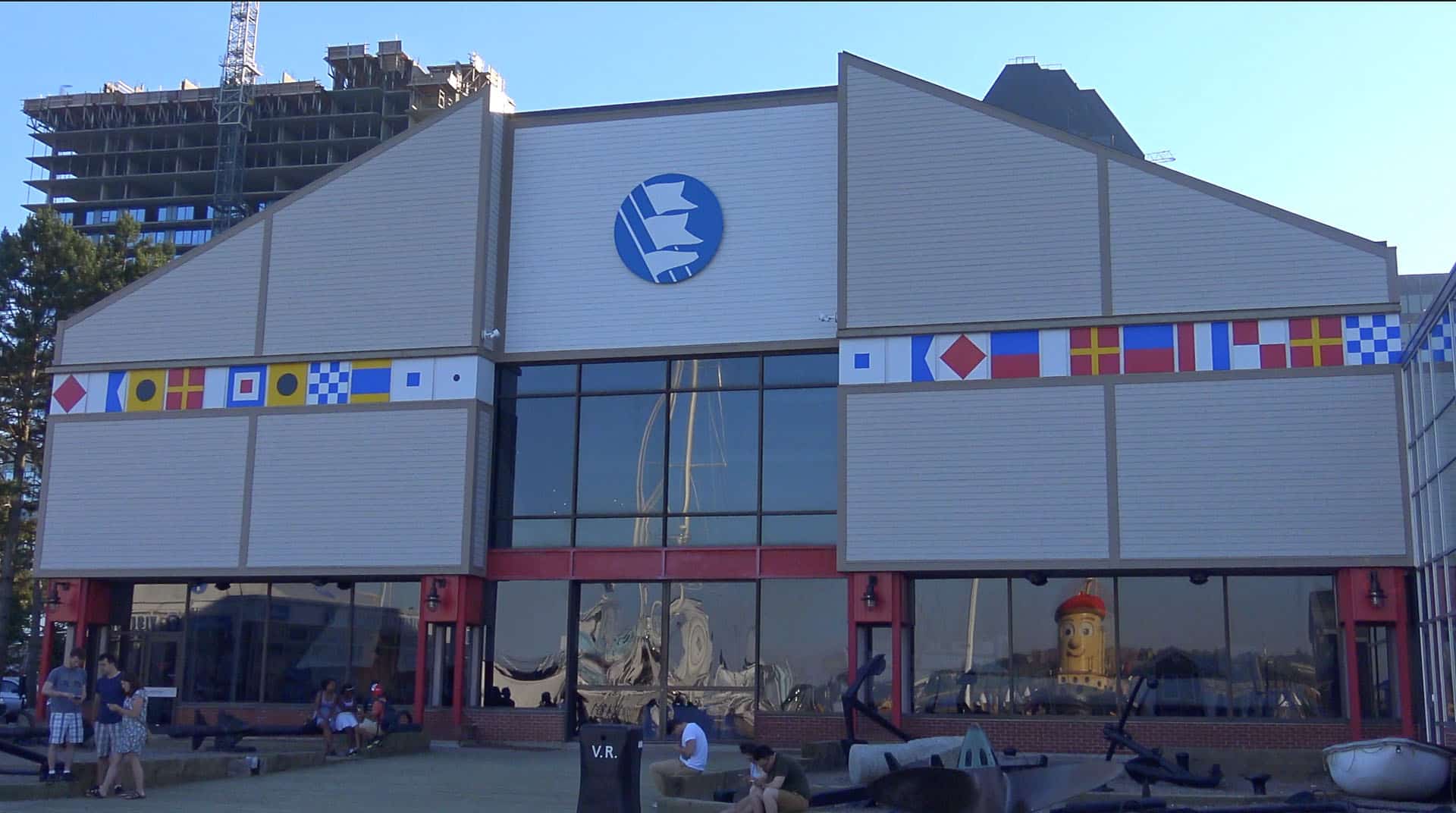 After visiting all those beautiful fishing villages of Nova Scotia, learn of the culture and heritage of Nova Scotians at the Maritime Museum of the Atlantic. Located on the historic Halifax waterfront, this interactive museum is very entertaining. It showcases the history of maritime living and boat building. The maritime museum also highlights the tragedies of the Halifax explosion in 1917 and the sinking of the Titanic that went down just off the coast of Newfoundland.
17. CSS Acadia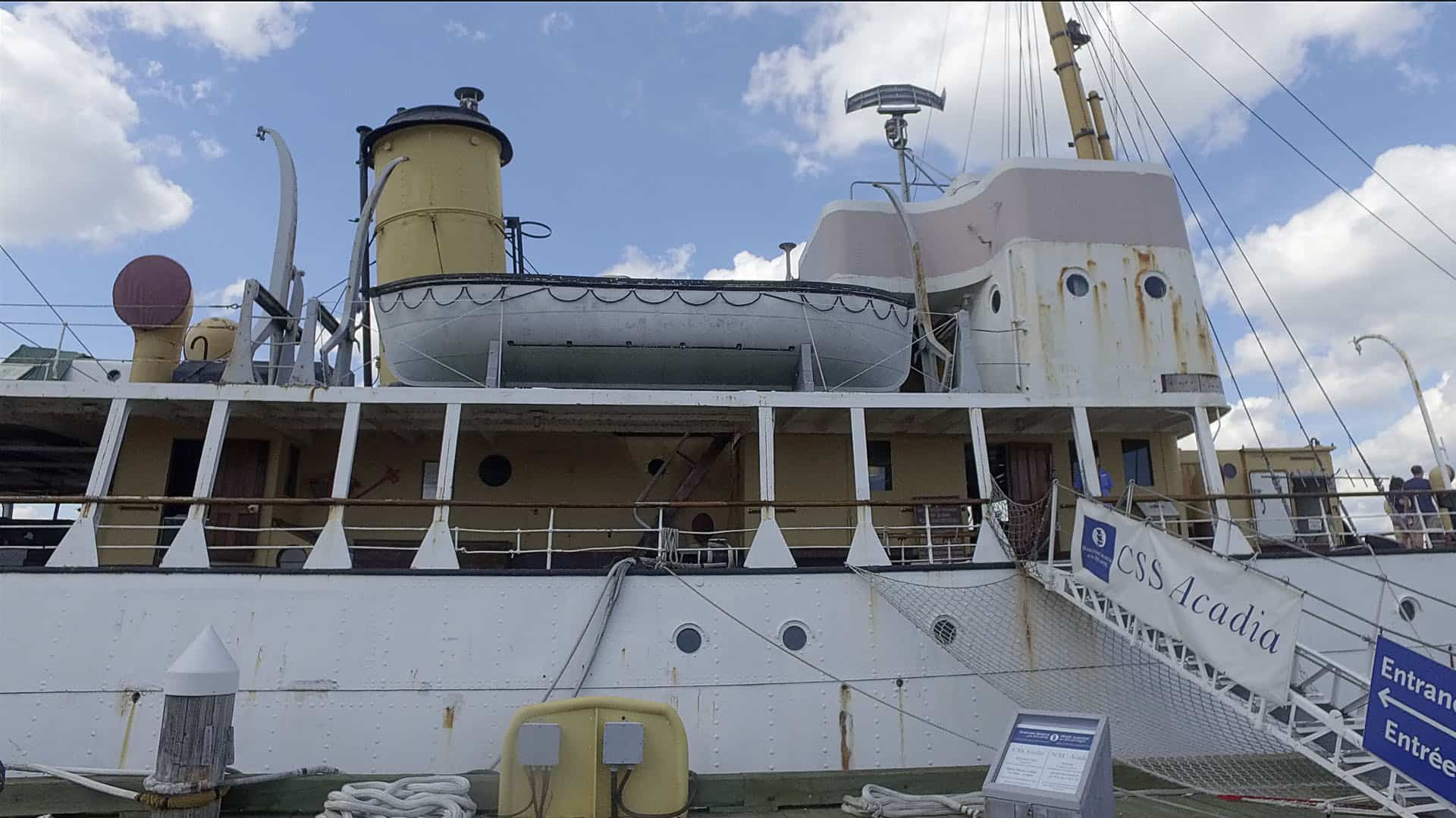 While you are there make a tour of the CSS Acadia floating right out front of the Maritime Museum of the Atlantic in Halifax Harbour. This historic ship is the only surviving ship to have served the Royal Canadian Navy during both world wars. Nova Scotia is home to two historic Canadian ships. The Bluenose II also calls Nova Scotia home. This undefeated tall ship is docked in Lunenburg when it is not sailing around the high seas
18. Canadian Museum of Immigration at Pier 21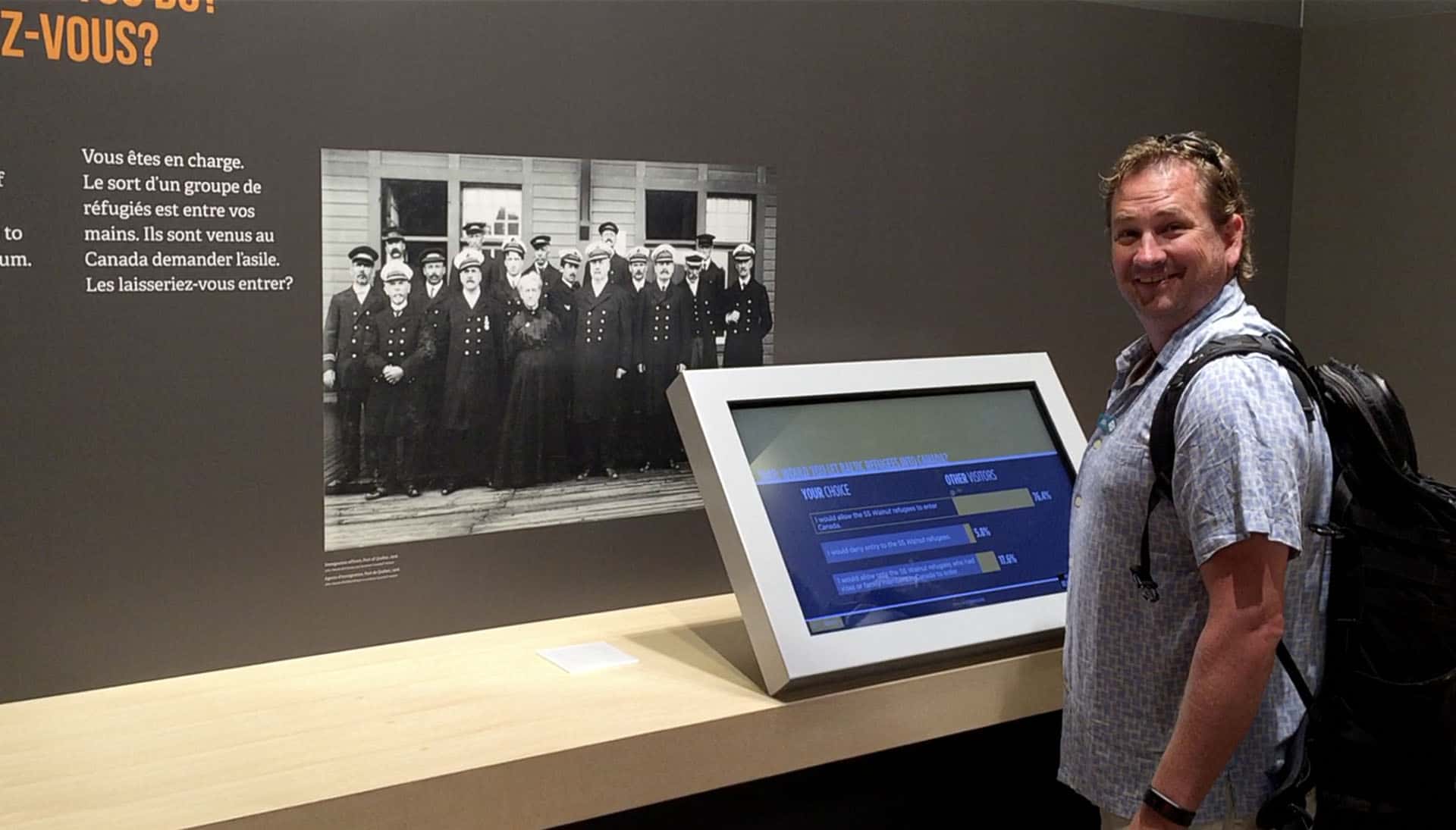 One of the most interesting stops during your stroll along the waterfront is to stop at the Canadian Museum of Immigration at Pier 21 in Halifax. It is an interactive museum that lets you immerse in the experience of being an immigration officer and it helps you trace your own ancestry roots. It also showcases the history of Canada from the first settlement of Acadia by Samuel de Champlain in 1604.
19. The Halifax Citadel National Historic Site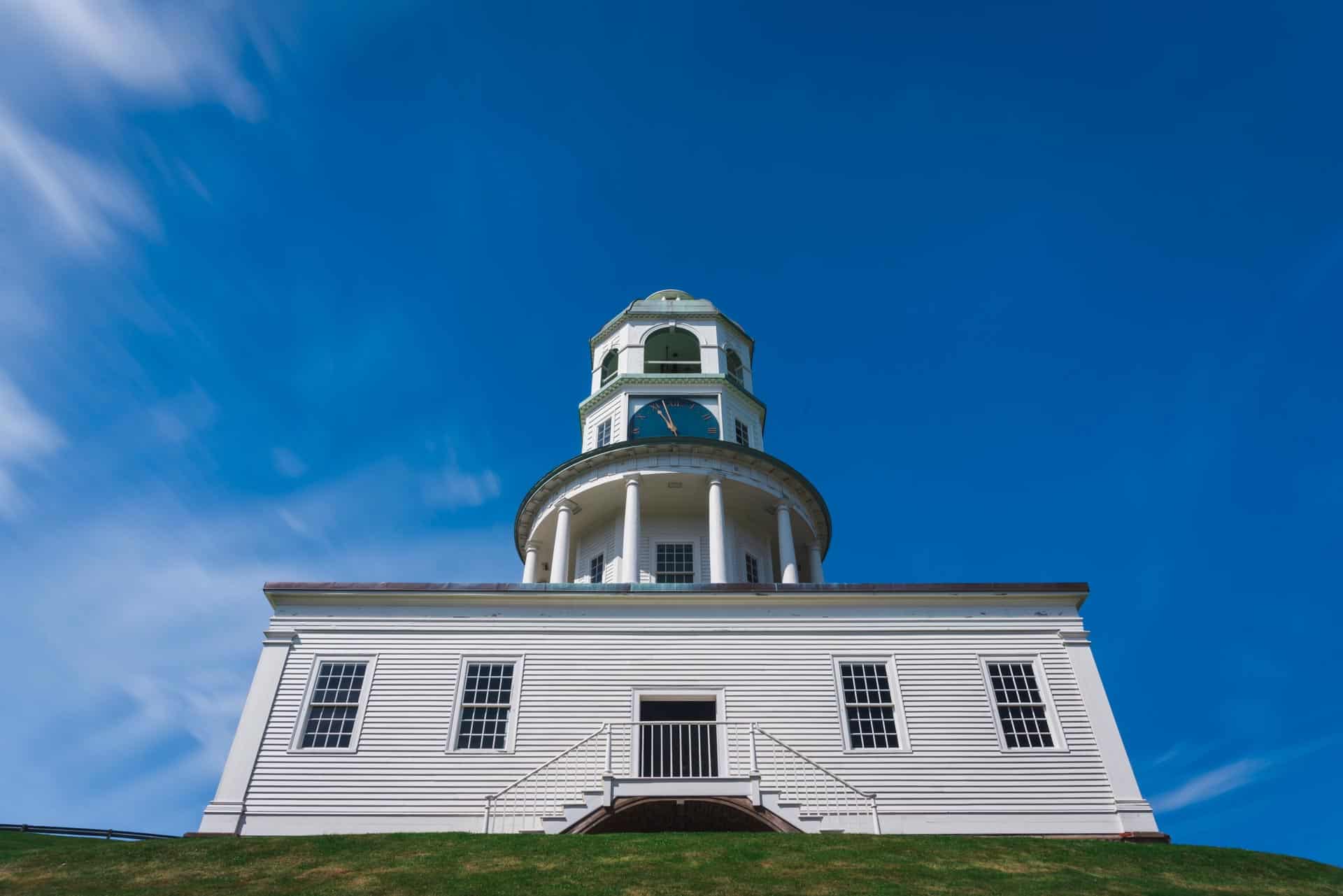 The Halifax Citadel National Historic Site and Old Town Clock Tower offers beautiful views of downtown Halifax and Halifax harbour from its hilltop location. Dating back to 1749, this historic fort was built to protect Halifax from invasion. You can take a tour of the national historic site to learn what life was like for soldiers in the 19th century. The main focus of the tour showcases the 78th Highland Regiment.
20. Enjoy a Brewery Tour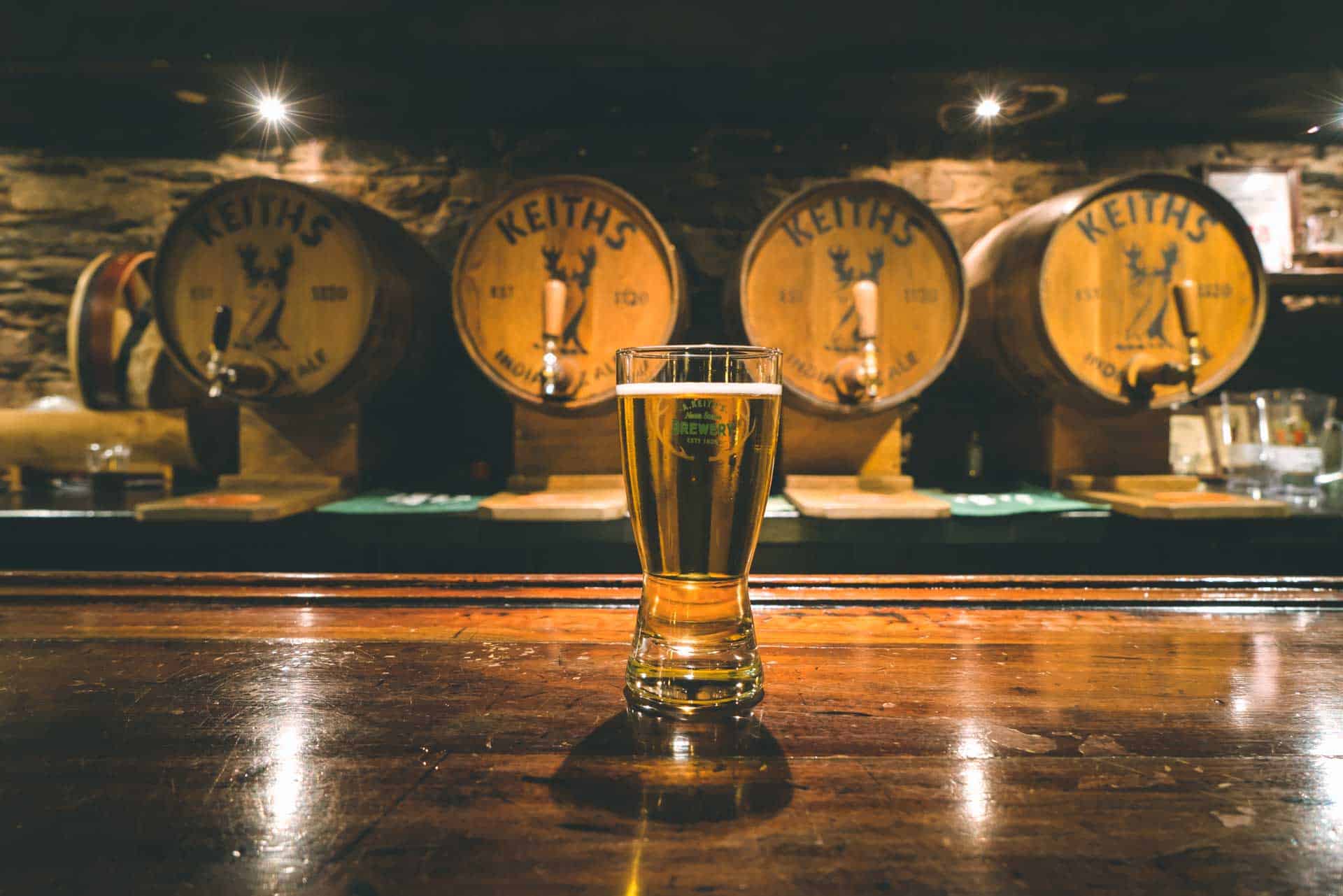 Craft Breweries are all the rage in Nova Scotia, but Alexander Keith's is the original. After seeing the national historic sites and museums of Halifax, enjoy a fun brewery tour to learn about Alexander Keith, the man who created the popular lager that bears his name. The tour is has a festive party vibe, typical of brewery tours and it ends with an ice-cold pint of beer. Do it late in the day so you can continue the party downtown Halifax into the night.
Where to Stay in Halifax
Halifax has several options for places to stay from BnBs to luxury accommodation. We have stayed at the Lord Nelson Hotel is the Grand Dame of accommodations in Halifax. A Halifax Landmark it dates back nearly a century. We also enjoyed the Haliburton Hotel a lovely boutique hotel in downtown Halifax.
Tips for Visiting Nova Scotia Canada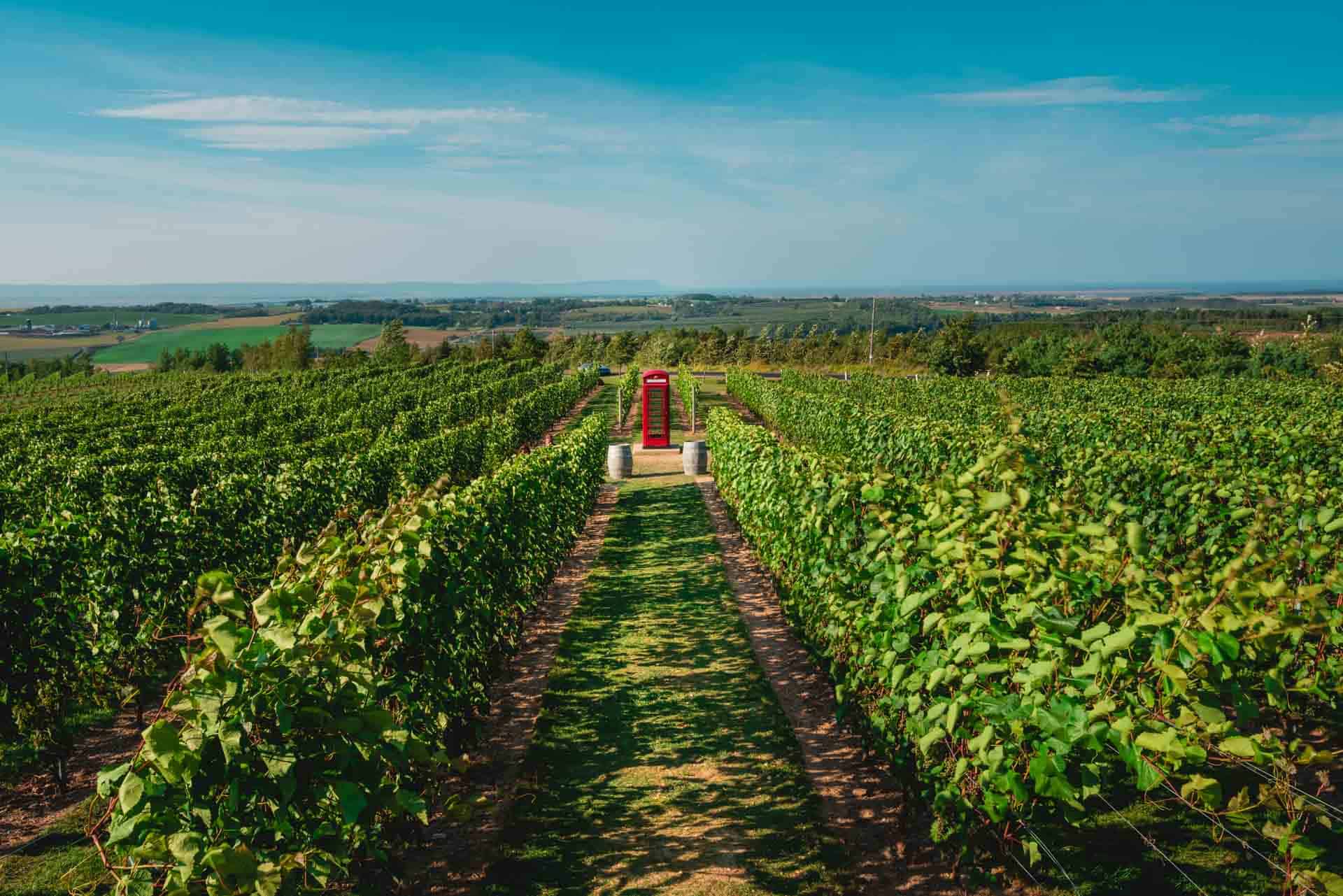 Nova Scotia is located on the East Coast of Canada. The Capital City is Halifax and you will be flying into Halifax Stanfield International Airport. It is an international hub and flights arrive from several destinations around the world.
Getting Around Nova Scotia
The best way to get around Halifax is by rental car. Halifax airport has several rental car companies where you can pick up your car when you land. We've use Thrifty Rental car on our visits and it has always been seamless.
The top attractions in Halifax can be reached by foot but there is also a hop on hop off tours bus, Uber, and taxis to get help you get around the city with ease.
What to Pack for Nova Scotia
Nova Scotia has a temperate climate and weather conditions can change quickly. Daytime temperatures in the range of 18-28C (64 – 82 Fahrenheit) with evening lows going to 15C (59 Fahrenheit).
Make sure to pack in layers with a windproof and rainproof outer shell.
There are plenty of hiking trails around the province at nearly every attraction, so good walking shoes are a must.
Hiking boots are highly recommended. We like wearing Merryl lightweight hiking boots that go above the ankles for support.
Watershoes are recommended as well. You'll be in the water a lot if you are looking for adventures and beaches and shorelines can by rocky.
Halifax, Dartmouth and other cities in Nova Scotia are urban and hip so pack some smart clothes for going out at night.
And these are the best things to do in Nova Scotia. Have you been to the East Coast of Canada? What's your favourite memory and where should we go next? 2021 just might be the year to head back to our favorite Canadian province.
This post is in partnership with Tourism Nova Scotia, for more information on traveling to Nova Scotia check out their website for details.
Read next: