Alberta's Icefields Parkway is one of the most beautiful drives in Canada. Starting in Banff National Park and ending in Jasper National Park, the Icefields Parkway is only 293 km (182 miles) and can be done in a day, but it will be the busiest day you've ever had. If you can, make a base in Jasper or Banff to take your time to explore all of these amazing stops on the Icefields Parkway, do it!
This road trip is in order of stops from Lake Louise in Banff National Park and working our way North to Jasper National Park. I hope this helps you when planning your Icefields Parkway Adventure!
Stops on the Icefields Parkway
There may be some restrictions as Canada slowly opens up to tourism, so be sure to check to see what is open before starting your road trip from Banff to Jasper.
The Icefields Parkway starts in Lake Louise, a small town in the middle of Banff National park. It is 2 hours from the Calgary airport to Lake Louise. We always book a car rental to be ready when we land in Calgary starting our Alberta adventure immediately once we leave the airport.
Quick tips to Drive from Banff to Jasper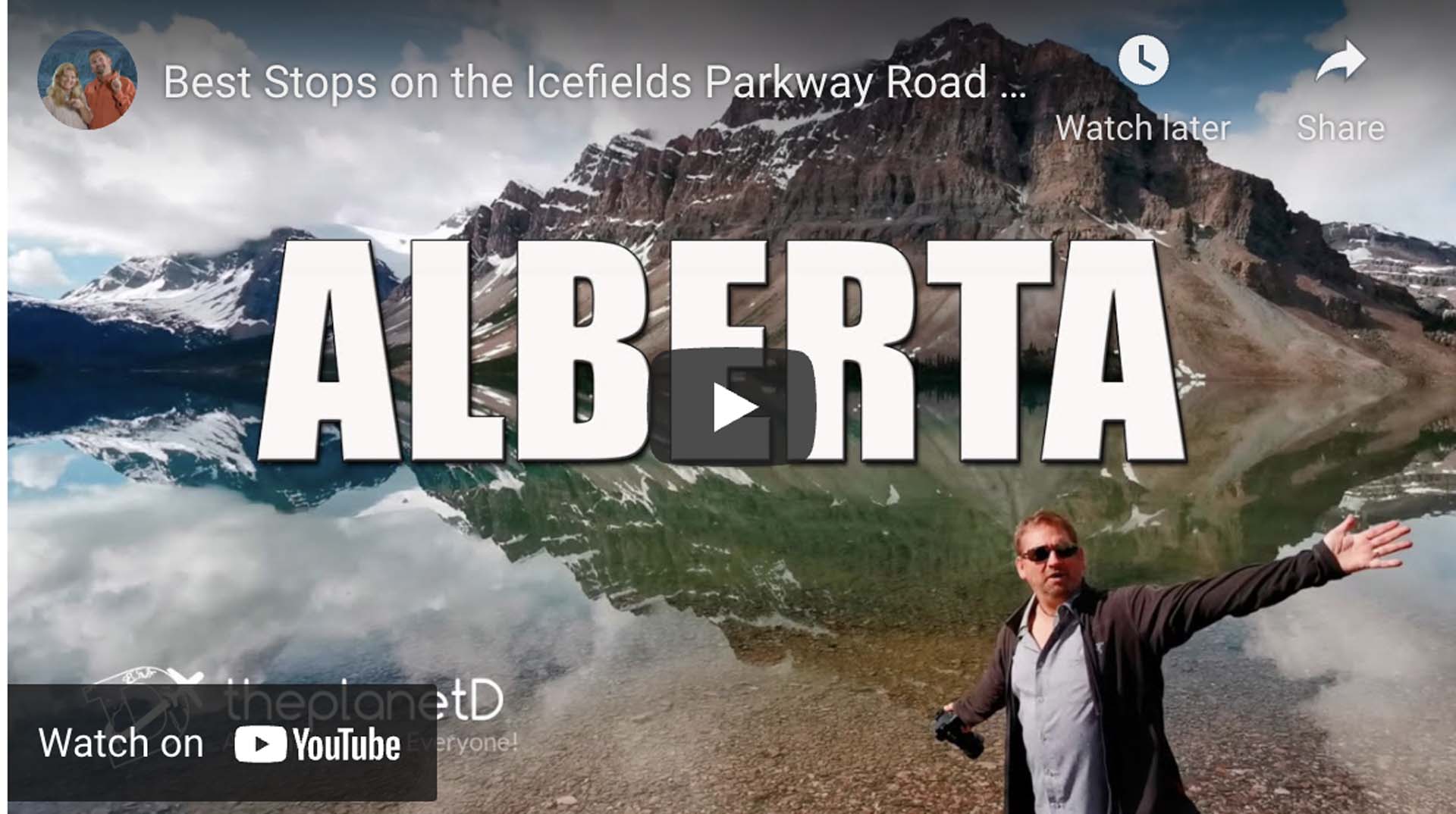 When driving to Lake Louise, you will need to purchase an entrance pass to the National Park which is $10 per person per day. If you are going to be spending a few days in the parks, it is worth it to buy a Parks Discovery Pass that costs $139 for a family or $69 per person. This gives unlimited access to Canada's national parks from coast to coast for 12 months! You can purchase this online here.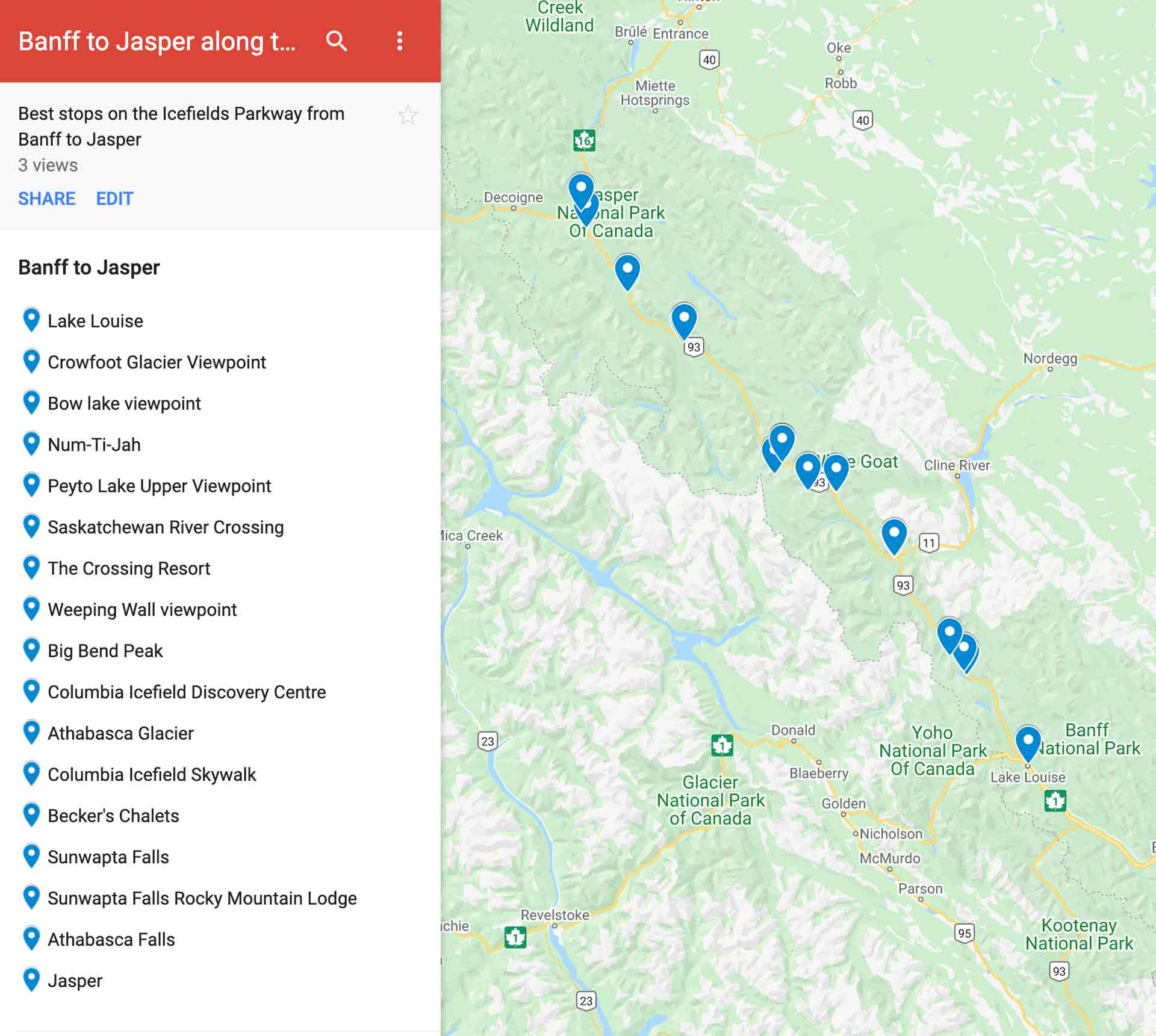 If you are just going for a day or two, you can buy your pass at the entrance on the highway when entering Banff National Park from Calgary. Okay, now that we have the logistics of getting to Banff ready, let's start our Icefields Parkway road trip!
Lake Louise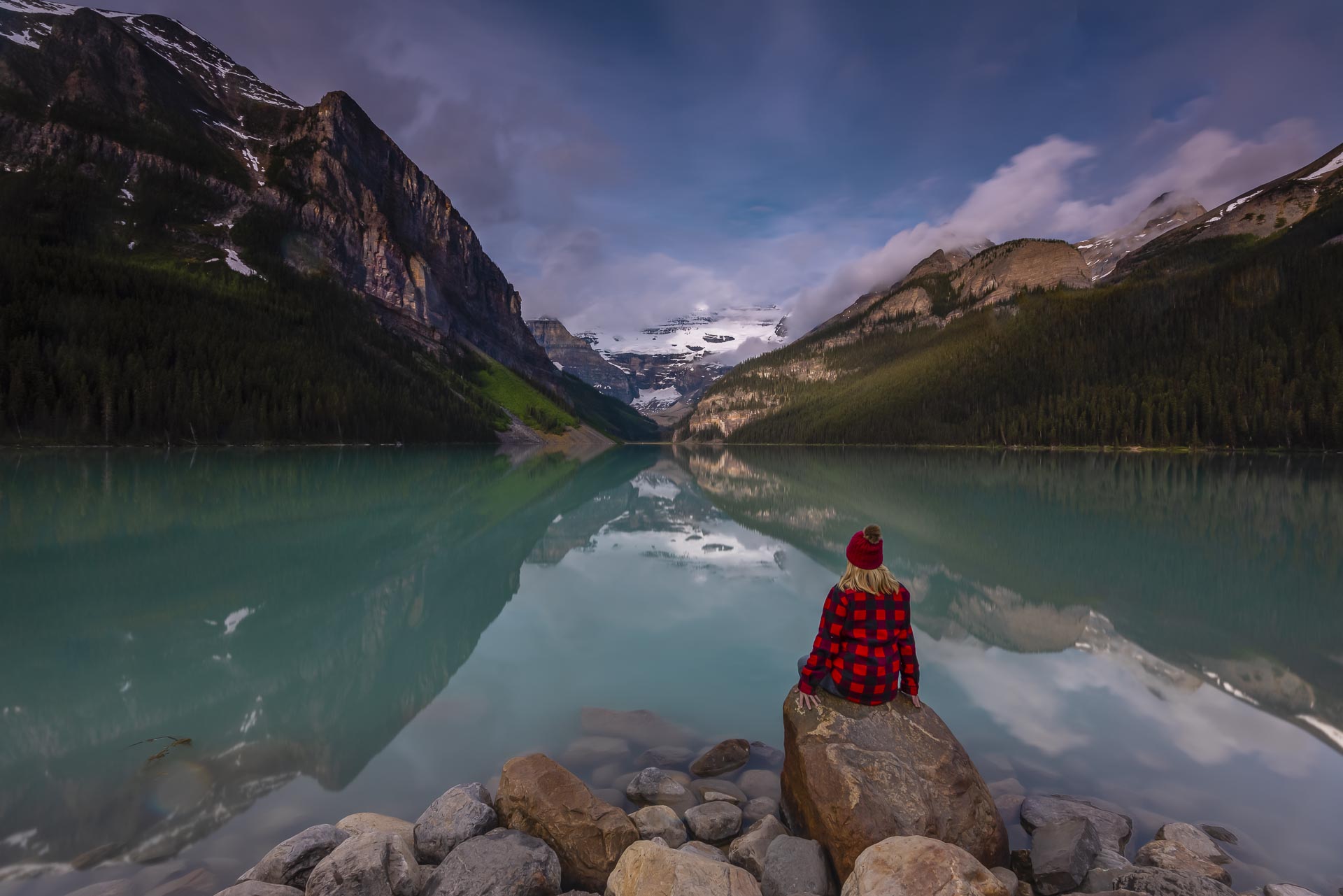 Located within Banff National Park, Lake Louise is one of the most famous stops in all of Canada (let alone Alberta). The beautiful turquoise waters of Lake Louise sit below the imposing Victoria Glacier looming overhead. Located directly in front of the Fairmont Chateau Lake Louise hotel, there are hiking trails to take in the view from all directions and you can canoe on Lake Louise. (A bucket list item for Canada travels)
When taking your drive along the Icefield's Parkway, we suggest leaving Lake Louise at sunrise so you can get to the iconic lakes along the drive in the morning before the crowds and while the reflections are best.
If you can spend a day or two in Banff National Park or Lake Louise, do it! There are so many things to see and do here. We recommend the Fairmont Chateau Louise or Deer Lodge for accommodations in Lake Louise.
You can read more information about Banff Lake Louise here:
Crowfoot Glacier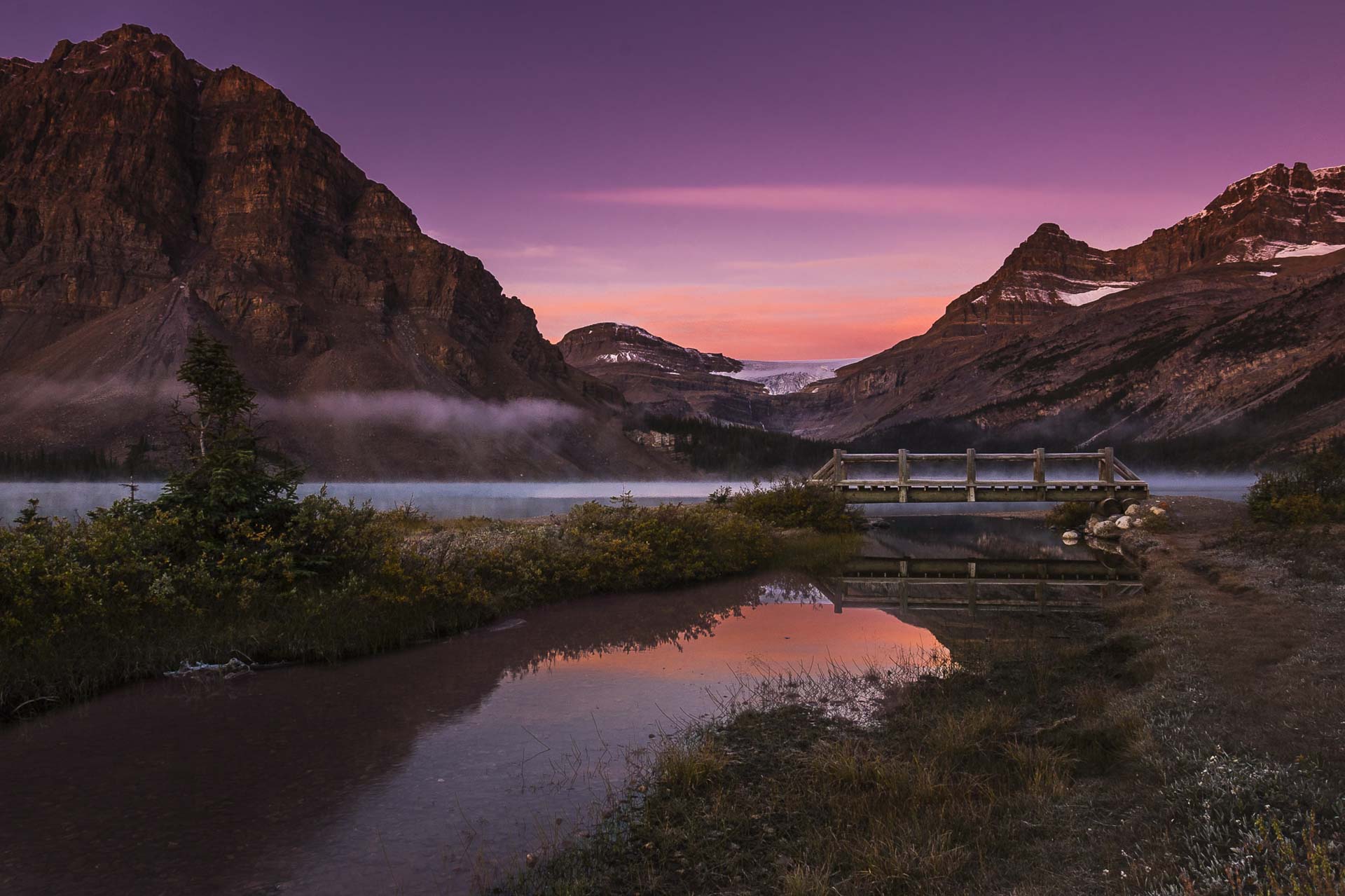 30 Minutes – 32 km (21 Miles) from Lake Louise
The first stop you'll come two out of Lake Louise is the Crowfoot Glacier lookout. Crowfoot Glacier got its name from the fact that it is shaped like three claws of a crow. Located on Crowfoot Mountain, it looks over Bow Lake. Don't take too long here at Crowfoot Glacier, because you are going to want to get to your next stop. Bow Lake
Bow Lake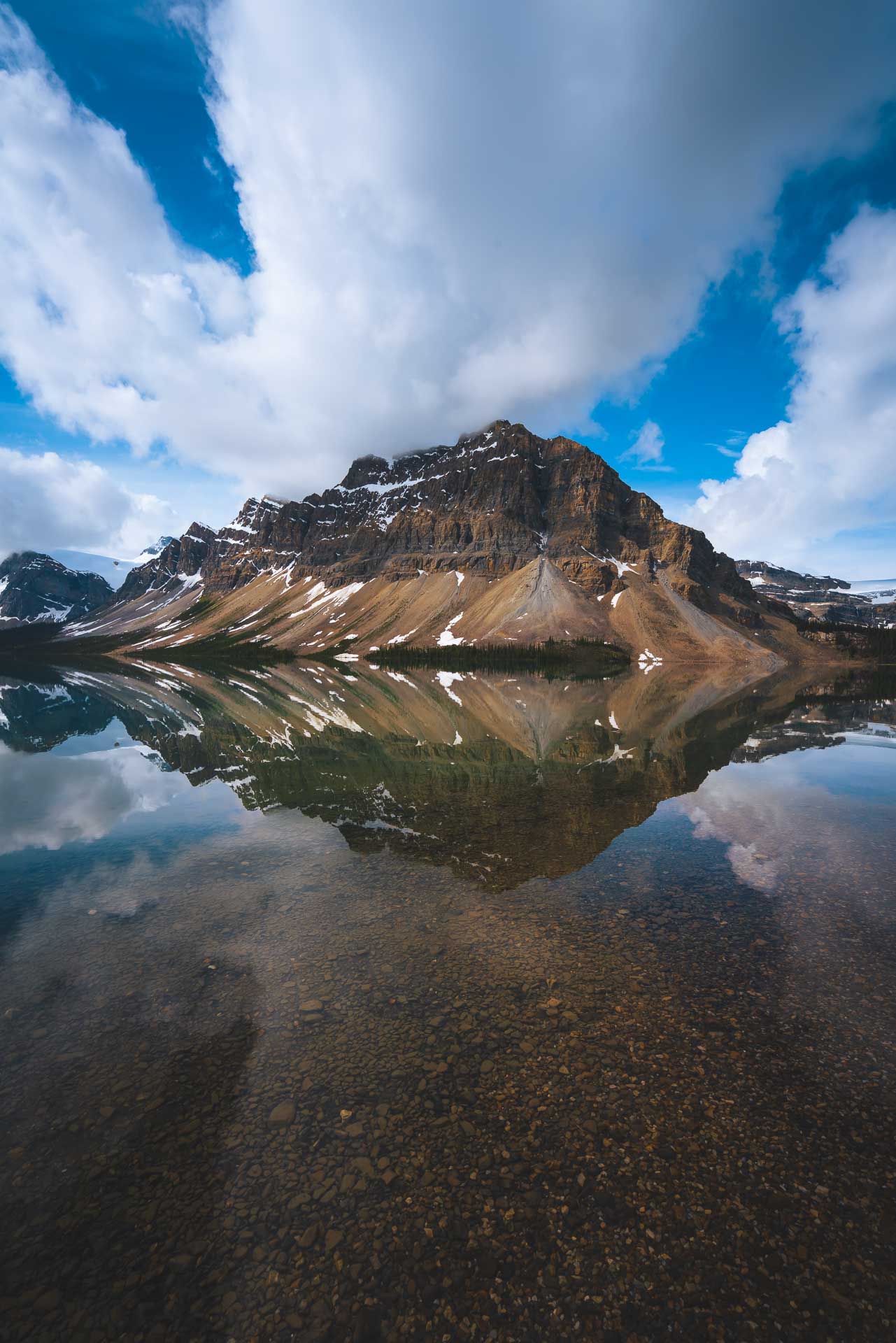 30 minutes from Lake Louise 39 km (24 miles)
The next stop you come to is the spectacular viewpoint of Bow Lake. Just 30 minutes up Highway 93 from the Trans Canada Highway in Lake Louise, you'll want to time your drive to arrive here when the sun is up. Bow Lake is located at the foot the Bow Summit which reflects perfectly in the still waters of Bow Lake. There are trails along the shores of the lake for better views, so be sure to get out of your car and venture out to see it.
Num Ti Jah Lodge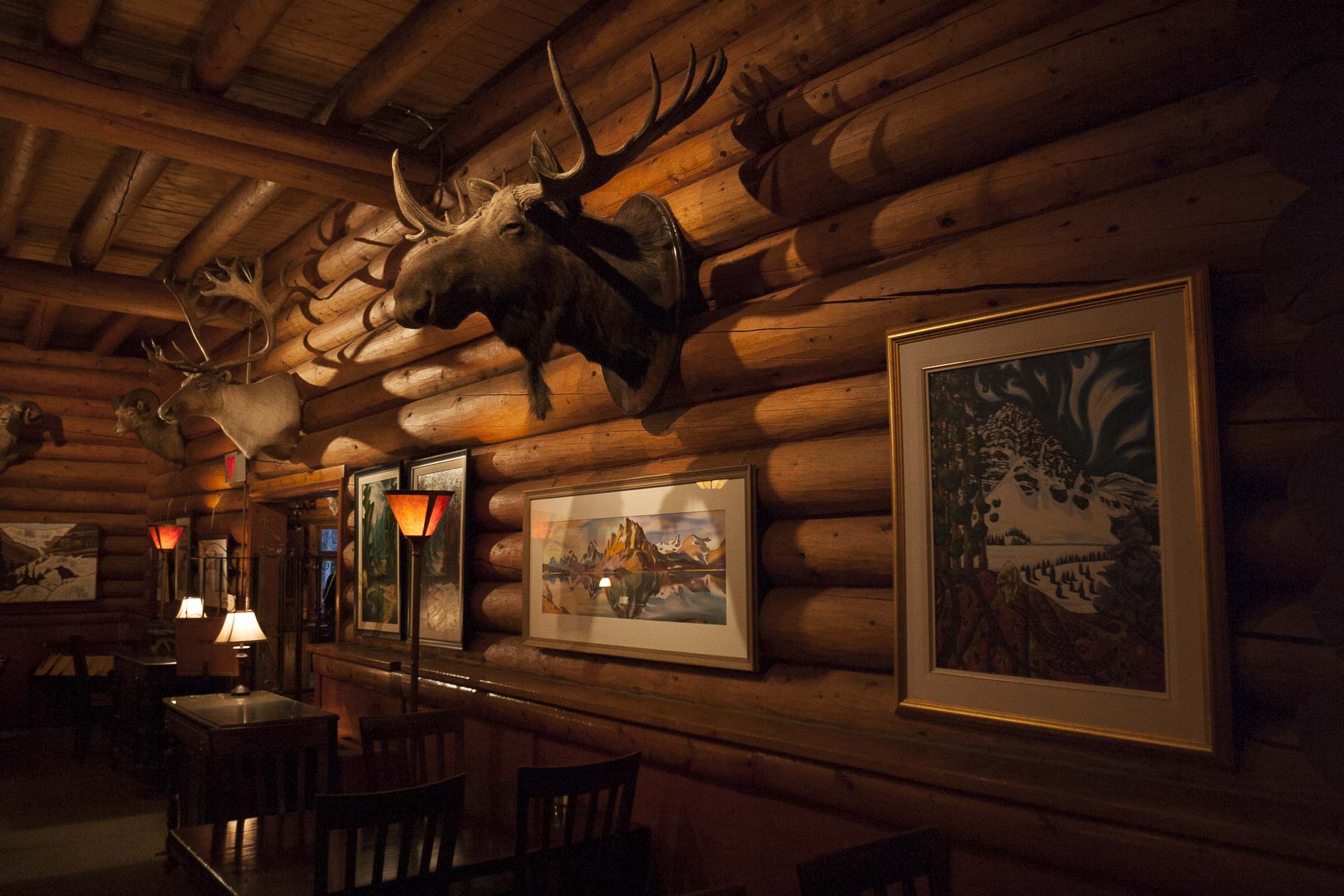 Located directly at Bow Lake, this historic lodge is a good place to spend the nigh if you want to really spend time photographing Bow Lake in the morning or evening. The historic lodge dates back to the 1920s. It's a rustic experience and the dining room is filled with old taxidermy heads of wildlife in the Elk Lodge. Choose it for an interesting stay in Alberta and an early start on the Icefields Parkway.
Check out the accommodations here.
See our choices for where to stay in Banff here.
Peyto Lake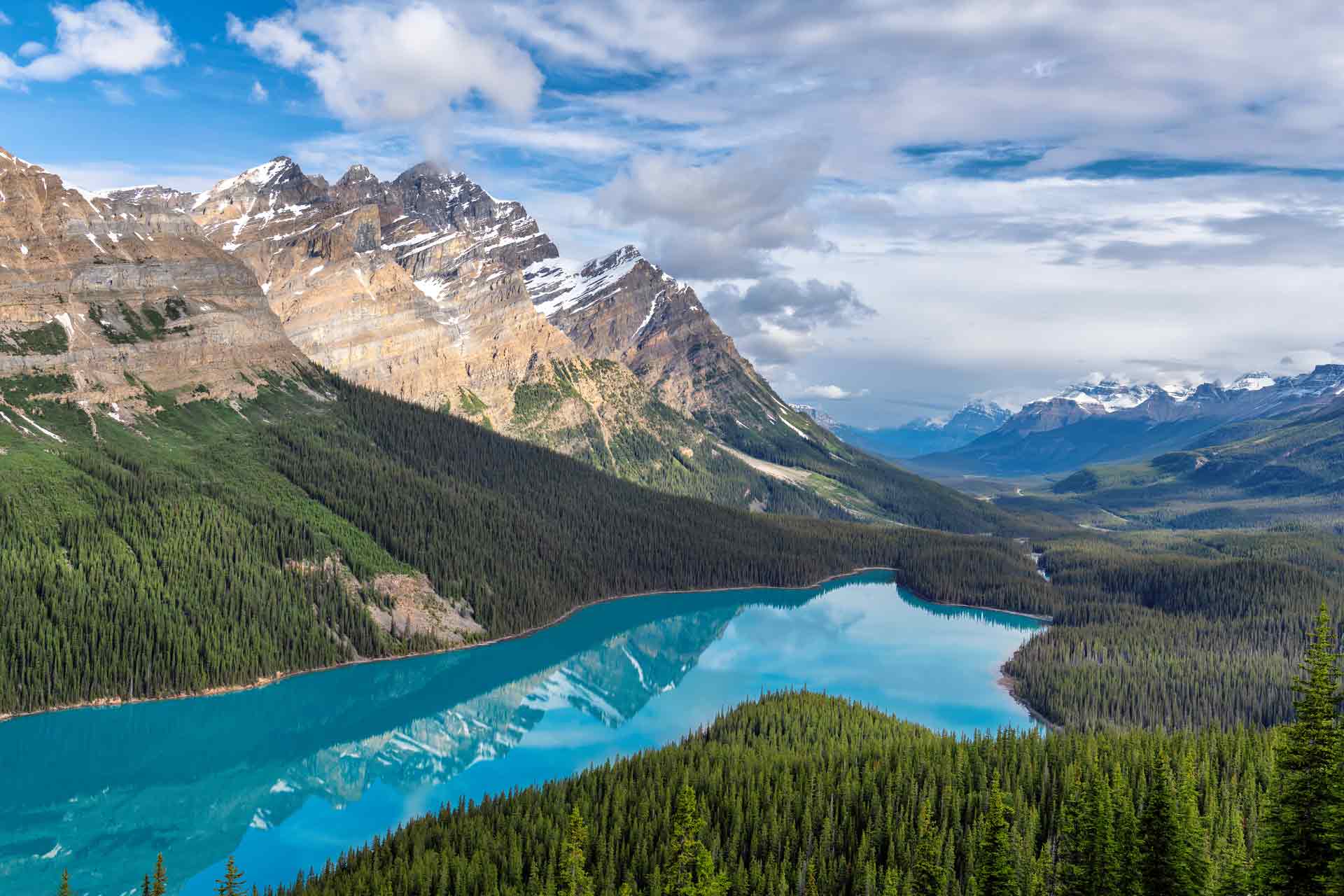 44 km (27 miles) from Lake Louise
Peyto Lake is the most popular lake stop along the Icefields Parkway. From the parking lot, hike up to the Peyto Lake Viewpoint up to the Bow Summit. At 2,088 metres (6,800 feet) for the best views of the vivid turqouise colours of this glacier lake. Cool fact, this is the highest elevation on the drive and it's the highest elevation crossed by a public road in Canada. (it really doesn't feel that high when you are there though.
Saskatchewan River Crossing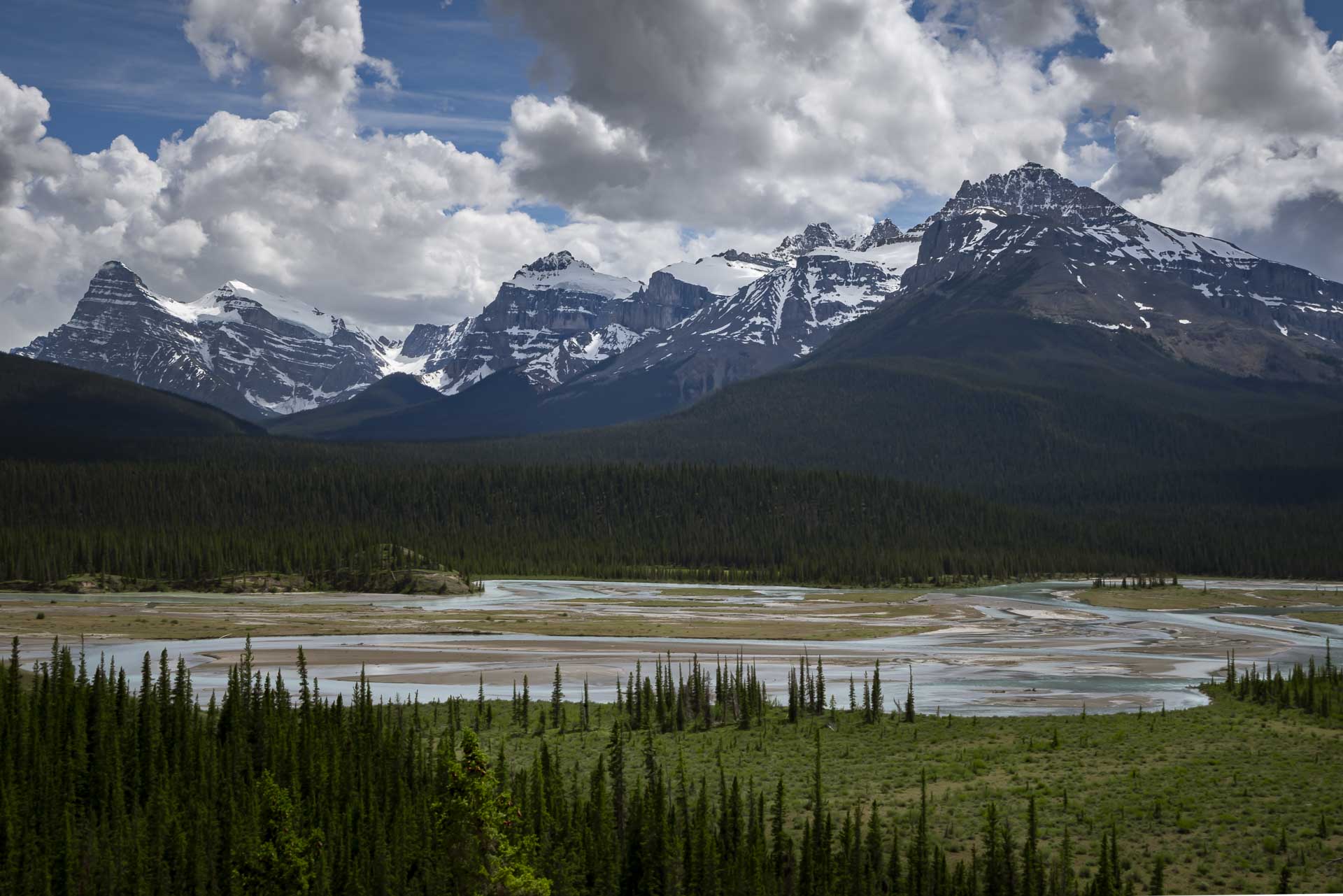 79 km from Lake Louise
After viewing the lake, our next place to see is the Saskatchewan River Crossing. This is a significant stop not only for its beautiful view, but it is also where the North Saskatchewan River, Mistaya River and the Howse Rivers meet. If you need to go to the bathroom, this is the place to do it as there are facilities here with a restaurant and gas station. '
Weeping Wall
106 km from Lake Louise
The Weeping Wall is most impressive in the winter when the waterfalls are frozen. It is also a popular places (obviously) for ice climbing. Stop here to see this 100 meter high (330 feet) rock cliff that is known for its waterfalls that resemble tears as they cascade down the mountain. Naturally, the main waterfall is called, Teardrop.
Big Bend Peak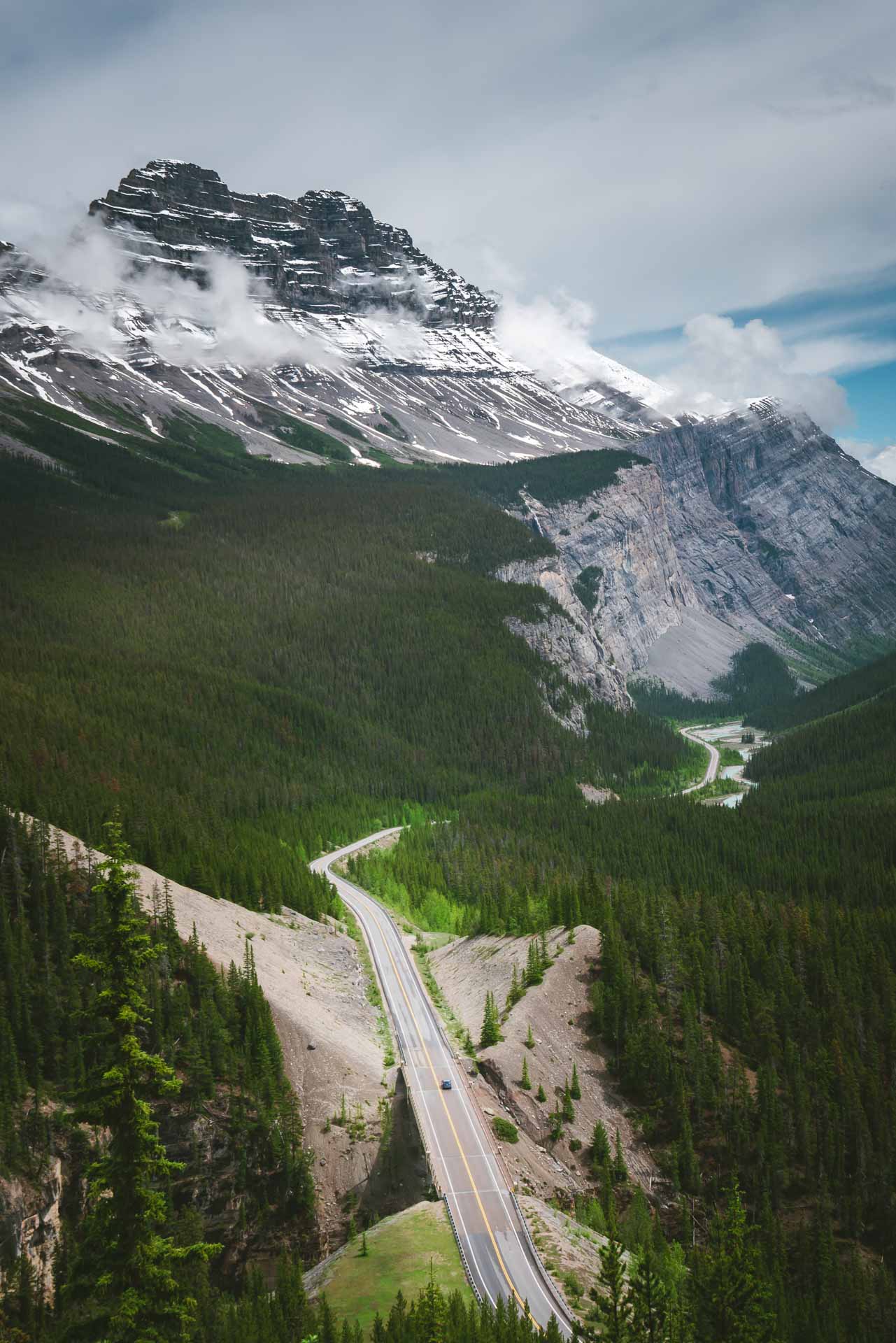 115 km from Lake Louise
You can't miss our next stop. When you look out your window, you are going to want to get out of the car for this view! This turn along the drive has a pull off where you can get out and look at the vast valley surrounded by jagged peaks. It is our favourite viewpoint on the Icefields parkway.
Columbia Icefield Discovery Centre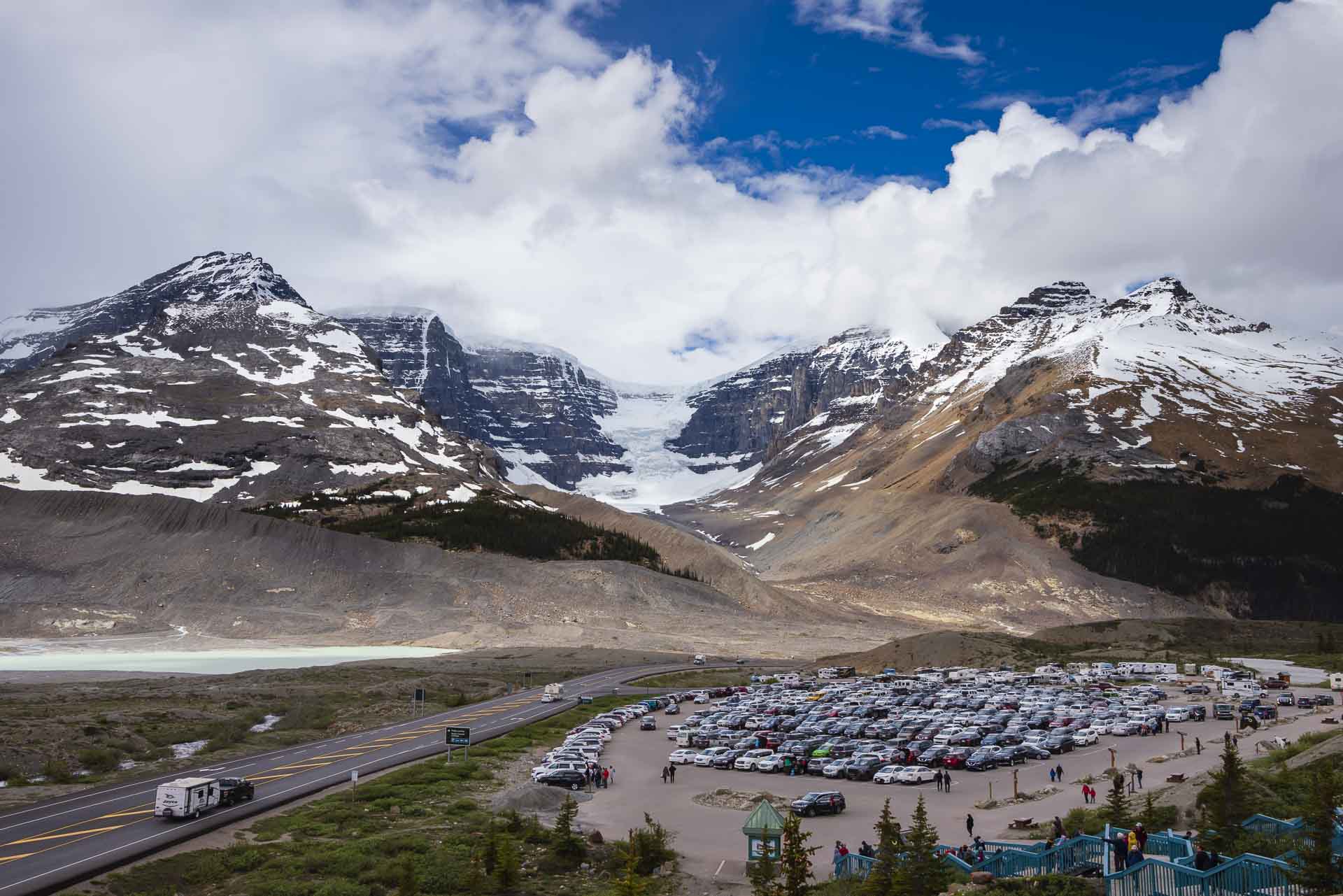 128 km from Lake Louise
This is the stop you've all been waiting for! Columbia Icefield is the main attraction on the Icefields Parkway. The visitors centre is located where Banff National Park and Jasper National Park meet. In the Columbia Icefield Visitor Center you can go to the museum, grab some lunch (food is expensive though so be prepared) and take in the views of the Columbia Icefield and Athabasca Glacier. You can book tours here as well.
Tours fill up quickly, so you may want to book in advance, but you can get on them (if you are lucky at the last minute.
Athabasca Glacier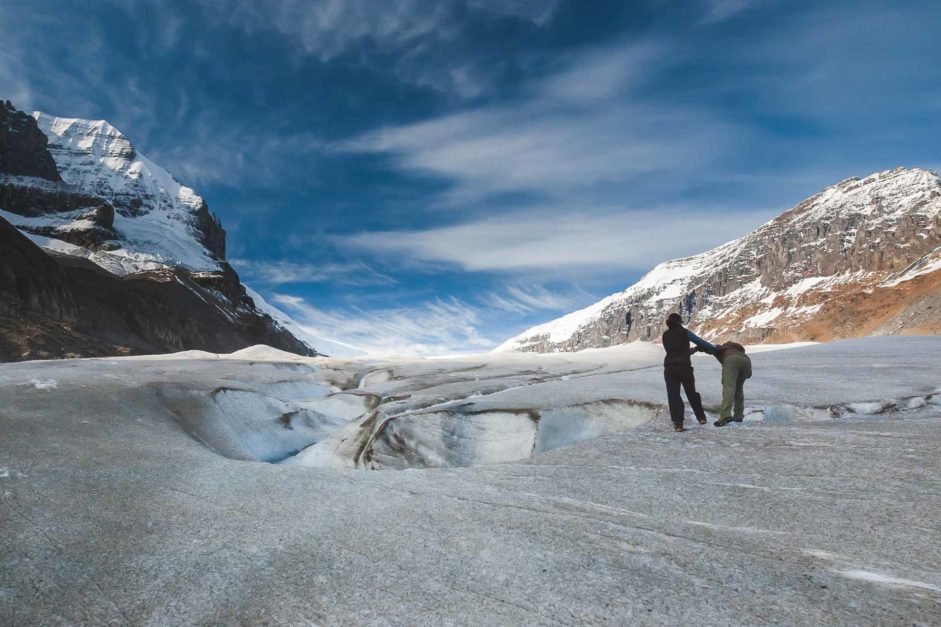 One of the best adventures we ever had was heading out on to the Athabasca Glacier. You can book a snowcat tour to take you out to see the crevasses and ice caves. The Icefield are the largest non polar ice fields in the world, and when you are out on the glacier, you really feel how massive it is.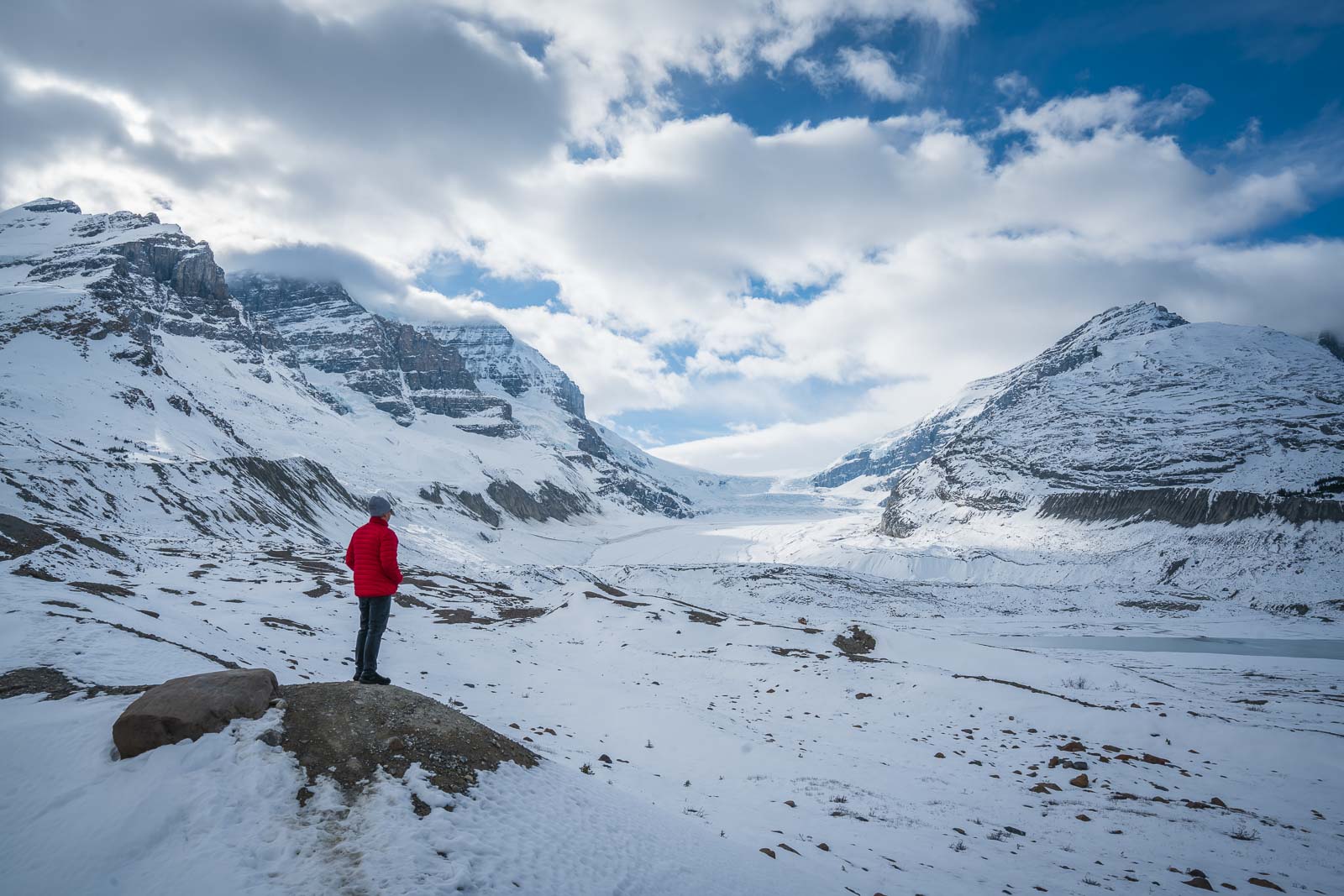 You can walk out on some trails for a closer view of the glacier, but don't ever venture out on it alone without a guide. This is the scariest glacier we've ever been on. Looking into a crevasse (while on a tour) was scary.
Book this Columbia Icefield Half Day Tour here from Jasper. It includes transportation from Jasper, photo stops at Athabasca Falls and Stutfield Glacier, Ice Cat tour of the Athabasca Glacier and the Icefield Skywalk with lunch!
Glacier Skywalk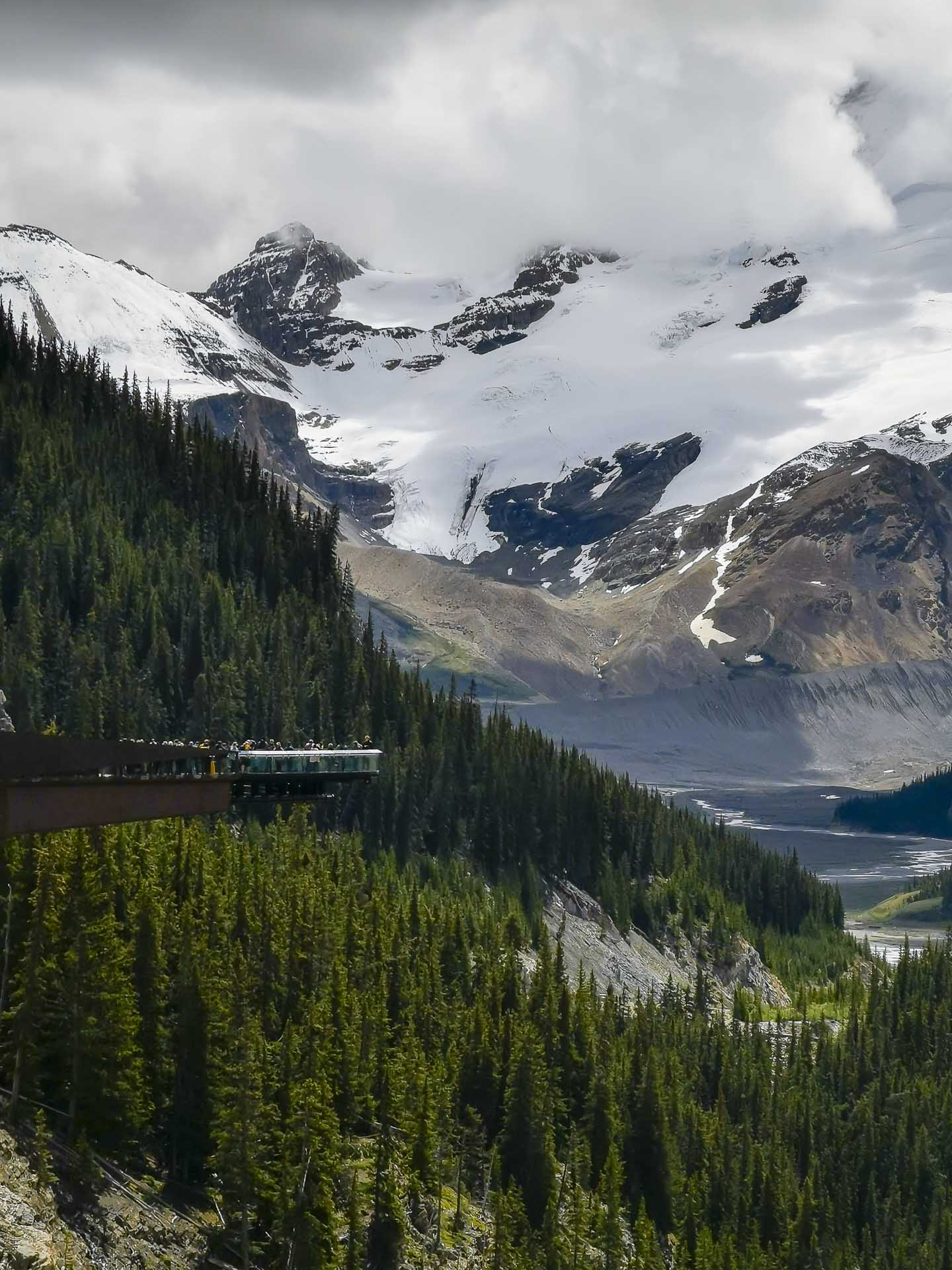 I'll admit, I thought the glacier Skywalk was going to be a bit cheesy, but it was fantastic! It's the newest attraction on the Icefields Parkway where a glass floor juts out over the Sunwapta Valley. It's high at 280 metres (918 feet) above the valley, so people afraid of heights might be a little nervous. The 1km walkway has some interperative stops along the way and guides are available to answer your questions, but the piece de resistance, is the glass walkway offering spectacular views of the valley.
You can book tickets directly at the Visitors Centre and buses leave from there.
Sunwapta Falls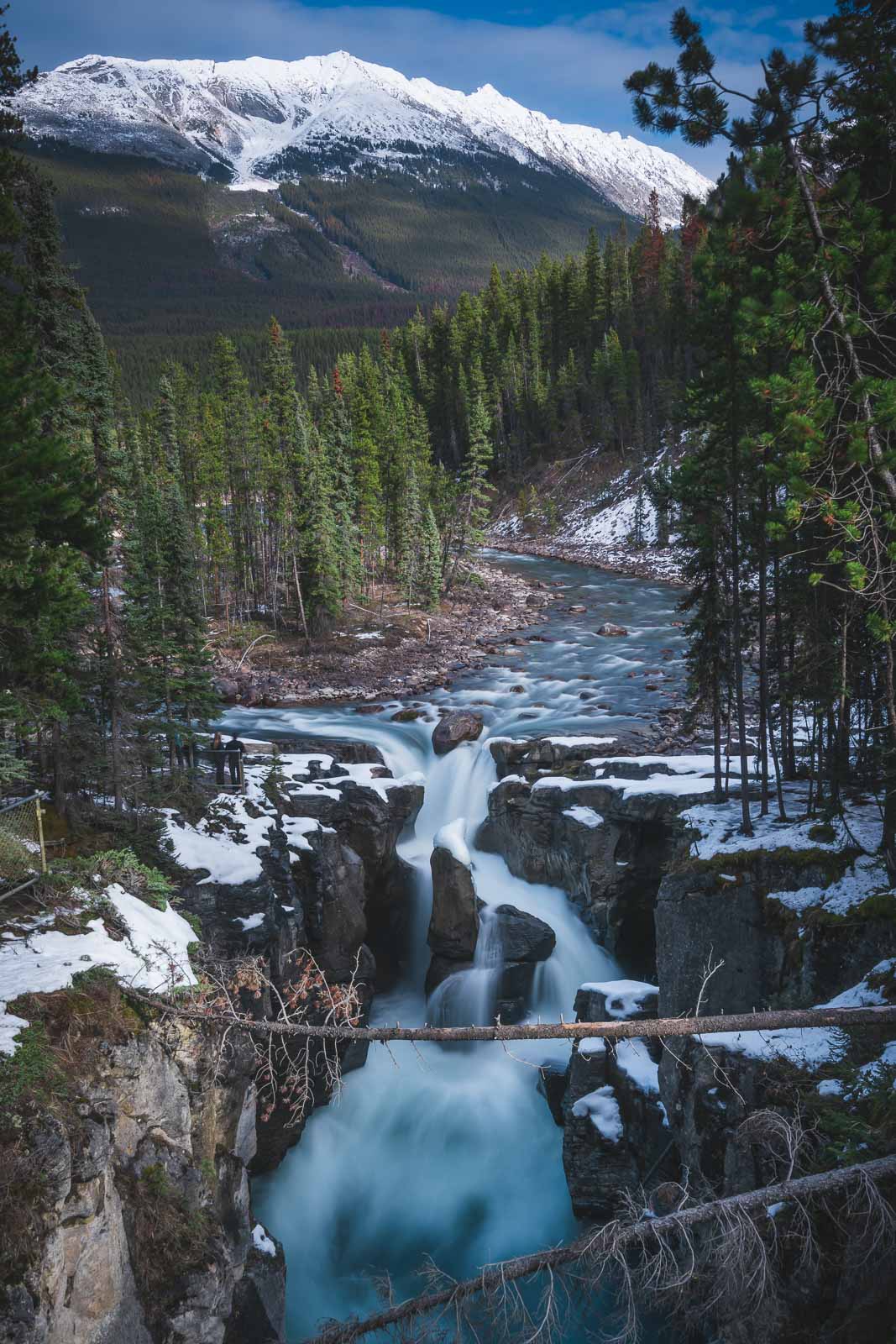 177 km from Lake Louse
Congratulations, you have now entered Jasper National Park. Another Canadian treasure. Since you've had a lot of adventures at the Glacier Skywalk and visitor's center you have a bit of time to relax on your drive. Get a cappuccino to go before leaving the visitor's centre to enjoy along the way before you stop at the next beautiful viewpoint.
Sunwapta Falls has walking trails and a bridge to see the 18 metres (60 foot) cascade from different viewpoints. It's an impressive and loud waterfall indeed!
Athabasca Falls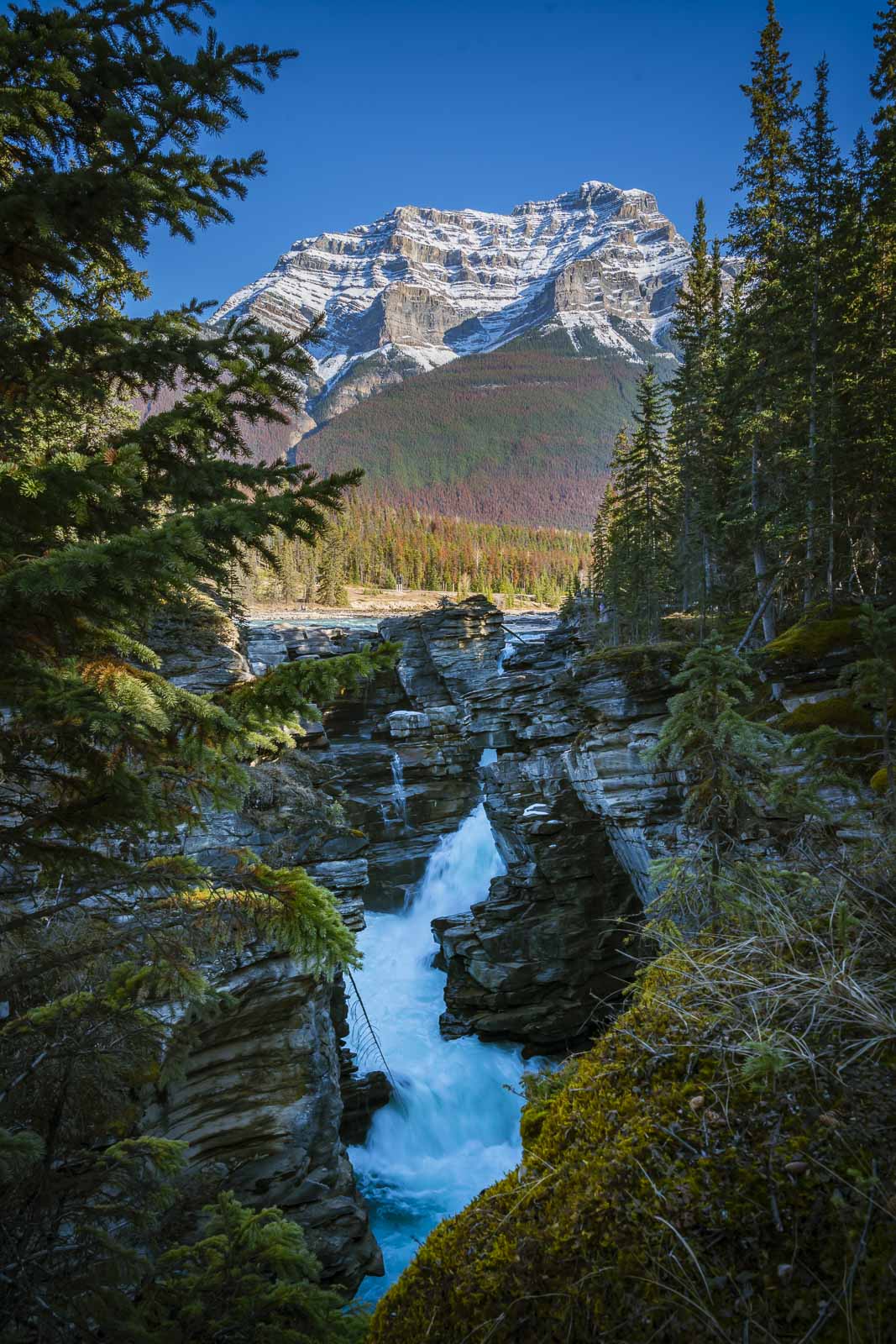 200 km from Lake Louse
Athabasca Falls is another gorgeous view and is your last stop on the Icefields Parkway before reaching the town of Jasper. Like many of the stops on the parkway, there are walking trails to offer different viewpoints. The massive volume of water from the Athabasca River is forced through a narrow gorge creating an immense flow of water over the 23 meter (75 feet) waterfalls. Impressive indeed.
Town of Jasper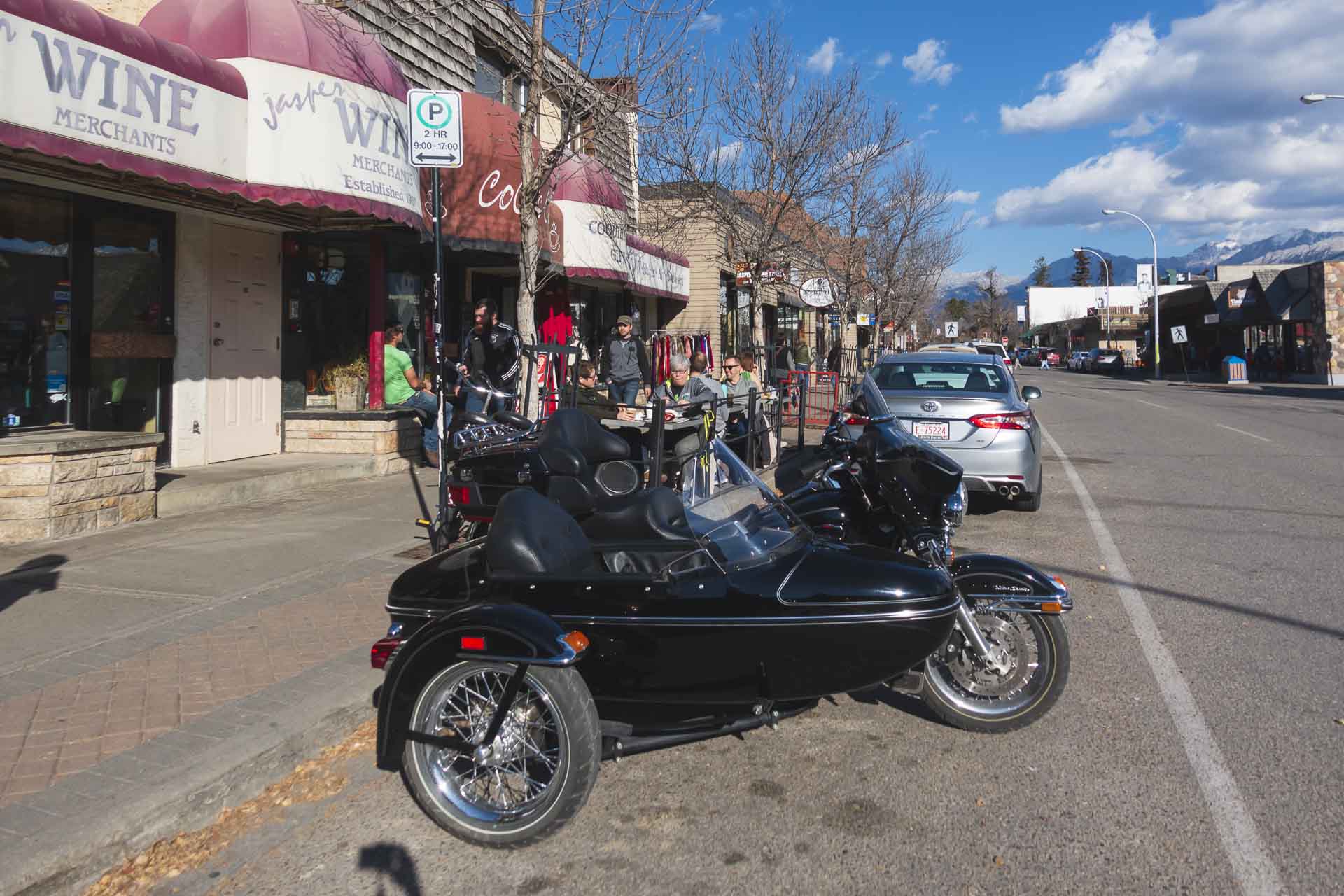 The last stop on the Icefield's Parkway is the town of Jasper. This is a superb places to make a home base for a couple of days. Jasper National Park has an abundance of things to do. (stay tuned tomorrow when we tell you what!) So, book a room at the Fairmont Jasper Park Lodge and stay awhile.
Tips for Driving the Icefields Parkway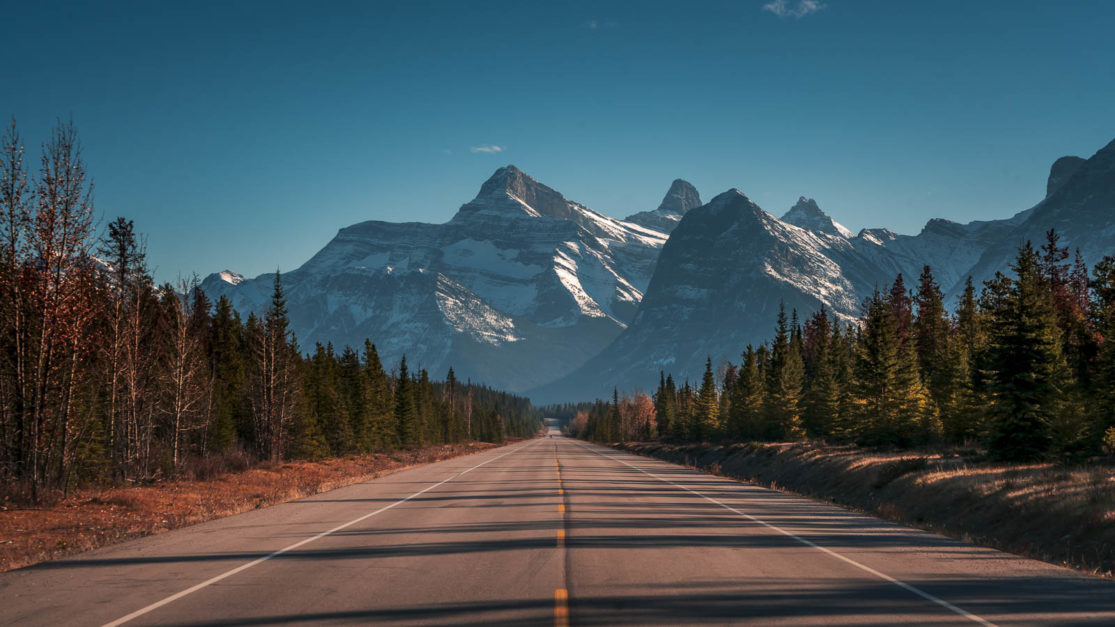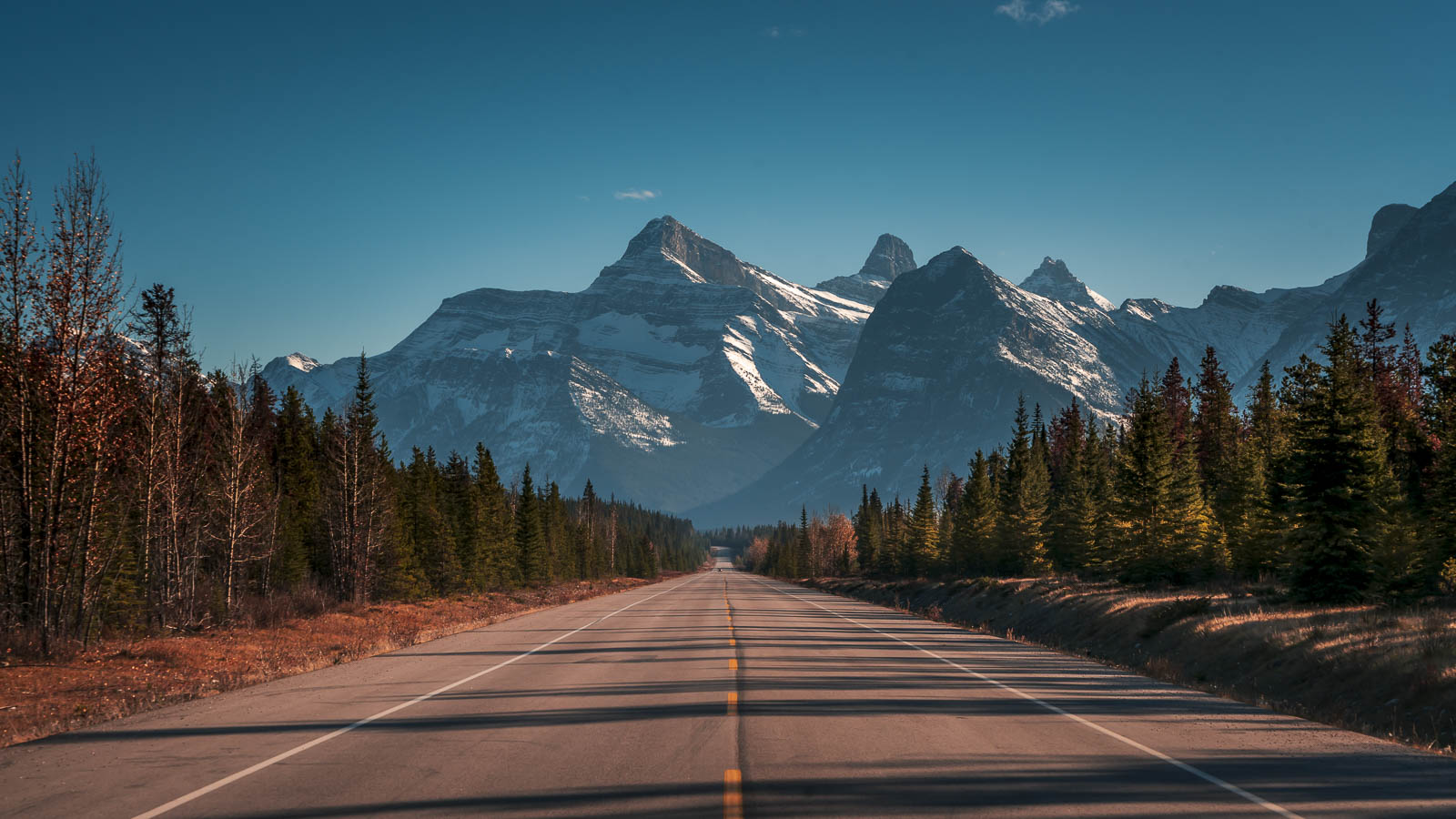 It is best to drive the Icefields Parkway in the summer months. Winter driving can be treacherous and trails are not maintained.
There is only one gas station on the Icefields Parkway at the Saskatchewan River Crossing so make sure you fill up before leaving Lake Louise or Jasper.
The Icefields Parkway Visitors Centre is Close from late October to mid April. Meaning, there are no glacier tours, or Glacier Skywalk.
The Icefield's Parkway can be driven from Lake Louise to Jasper in 3 hours, straight shot. But it can take a couple of days to explore everythign listed above. Especially if you are going to book an Athabasca Glacier tour and the Glacier Skywalk visit.
Where to Stay on the Icefields Parkway
There are a few places to stay on the Icefields Parkway. It is limited and you can easily do day trips from Banff and Jasper. Also resorts are closed for the winter with them opening at various times between March and May. If you want to stay right in the thick of things to make the most out of exploring, here are the hotels located directly on the Icefields Parkway.
Camping on the Icefields Parkway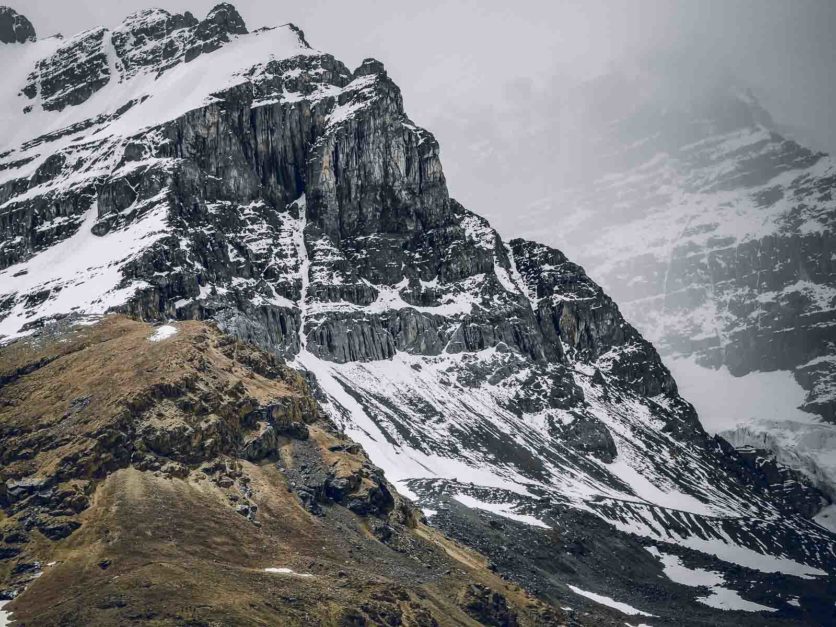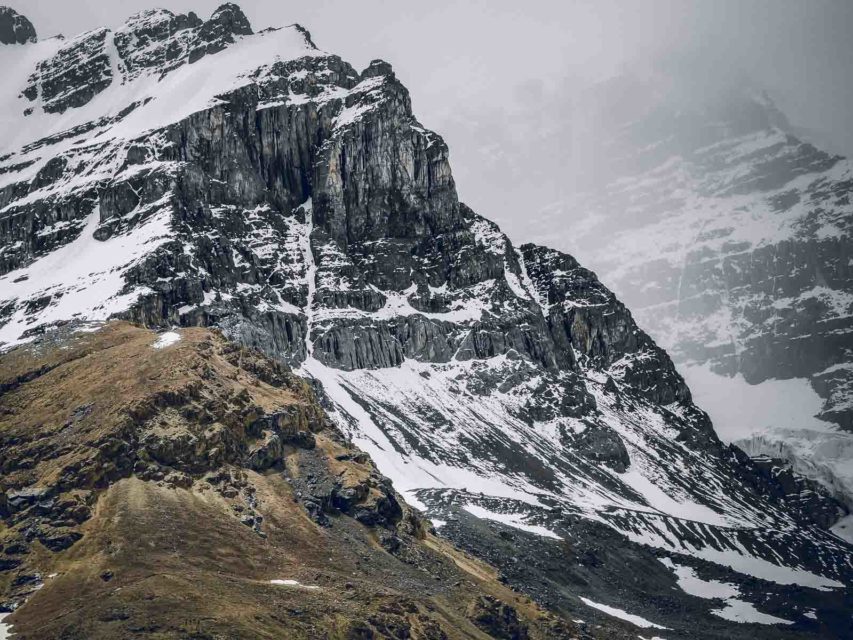 There are 11 Campgrounds on the Icefields Parkway. Rates start at $16 per day. Check with Banff National Park and Jasper National Park for details on what campgrounds are open.
Camping along the Icefields Parkway is on a first come first serve basis so if you want to camp, we recommend getting to your campground of choice at 3 pm sharp. (that is the earliest check-in). Check out is 11 am
The closest camping to Lake Louise on the Glacier Parkway is Mosquito Creek Campground in Banff National Park.
The closest campgrounds to Jasper are Wapiti Campground and Whistlers Campground. Both are just a few km from the town of Jasper.
Where to Eat on the Icefields Parkway
Num Ti Jah Lodge has a dining room and cafe.
The Crossing has a general store to pick up snacks. There's also the Parkway Pub offering views of  Mt. Sarbach and Mt. Murchison and you can grab lunch at the Crossing Café.
The Visitors Centre at the Columbia Icefield has a cafeteria to buy meals, coffee for takeaway and snacks.
Sunwapta Falls Rocky Mountain Lodge also has a restaurant.
And these are the most amazing stops on your road trip from Banff to Jasper. You can also drive from Jasper to Banff, (we've done both!) and it is amazing to see the views from each end of the Icefields Parkway.
For more travel tips for Alberta check out the posts below.