I think Dave and I have stayed in nearly every hotel in Niagara Falls. We have definitely stayed in all areas of Niagara Falls. Having visited the city almost every year since the 1990s, Dave and I love it. We have it on our list of the best weekend getaway in Ontario, best romantic getaway in Ontario, and on our list of Bucket list destinations, you must visit.
Needless to say, Niagara Falls Canada is one of our favorite destinations and we consider ourselves Niagara Falls experts. So when looking for where to stay in Niagara Falls, we've got you covered.
We've put together a guide to the best places to stay in Niagara Falls, Canada that includes things to do and where to eat in each area to help you decide the best hotel and location for your Niagara Falls Vacation.
Note: Ontario is slowly opening up after COVID-19 some restrictions may apply so be sure to check when attractions will open before booking any accommodation.
Where to Stay in Niagara Falls
There are three main areas to stay in Niagara Falls, Canada. We've broken the best places to stay depending on your preference as well as our favourite hotels in all of them. We have stayed at all of these Niagara Hotels at one point over the years. In the few that we haven't, we say so.
So are you ready to start planning your Niagara Falls getaway? Let's go.
The Fallsview Tourist Area is located at the top of the falls around the Fallsview Casino
The Clifton Hill Area is located down on the Niagara Parkway and near the Niagara Casino
Lundy's Lane located at the top of Clifton Hill it's further away from the falls and Clifton Hill midway, but it is still within walking distance to most attractions.
Niagara Falls Downtown is downtown Niagara Falls and is a bit far from most tourist attractions in Niagara Falls, but it has budget-friendly and family-friendly options.
Niagara on the Lake – Located 20 minutes outside of Niagara Falls, Niagara on the Lake is a lovely romantic retreat for couples in wine country. There are air bnbs walking trails.
Best Hotels and Air BnBs in Niagara Falls
In a hurry, browse this map to find the best Niagara Falls hotels and AirBnBs.
Are you ready to start planning your stay in Niagara Falls? Bookmark these Niagara Falls Travel guides to help you out.
1. Fallsview Tourist Area – Best Views of Niagara Falls and Nightlife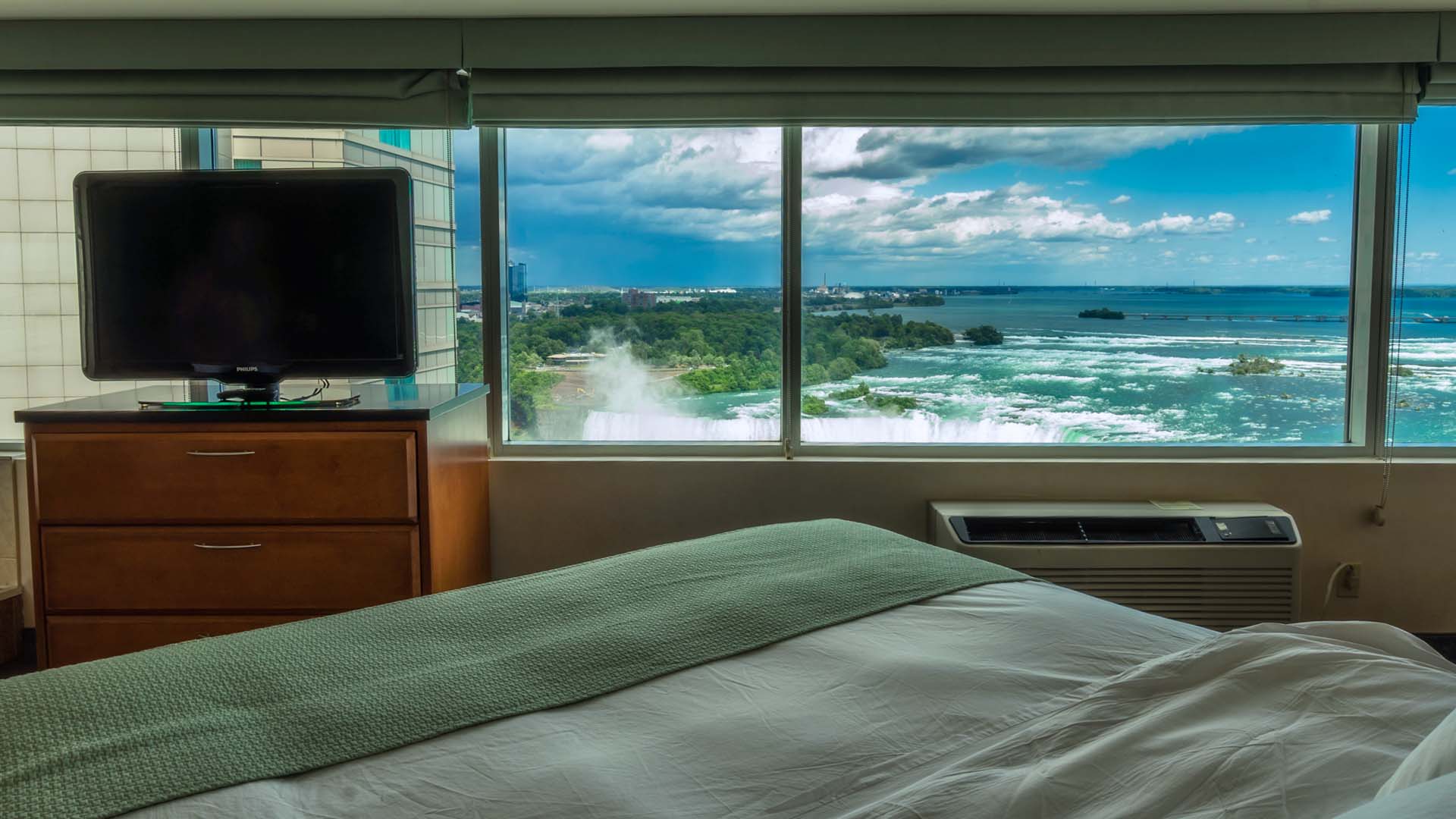 If you have the budget, our favorite area to stay in Niagara Falls is the Fallsview Area. Hotels here have epic views of the falls and it's the more upscale neighborhood of Niagara Falls. This is where we almost exclusively stay when visiting Niagara Falls and the hotels below are our favorites.
Where to stay in Fallsview Tourist Area
Marriott Fallsview – We always say you can never go wrong with a Marriott and this is a great choice for Niagara Falls. It has excellent views of the falls and one of the best places to eat for a falls view is located inside. It is connected to the Embassy Suites by Hilton which houses the Keg Restaurant. One of our favorite steakhouses and the very best view of the falls.
Hilton Niagara Falls /Fallsview Hotel and Suites- this is a big spectacle of a hotel with huge suites with jacuzzis and fireplaces. Indoor pool and spa. It has another amazing restaurant in Niagara Falls, the Brasa Brazilian Steakhouse that offers authentic Brazilian barbecue.
Raddison Niagara Falls – The Raddison has beautiful rooms overlooking the falls. In my opinion some of the best. It is connected by indoor walkway to the Fallsview concourse and it has a swimming pool and its restaurant is the ever-popular Outback Steakhouse.
Things to do at Fallsview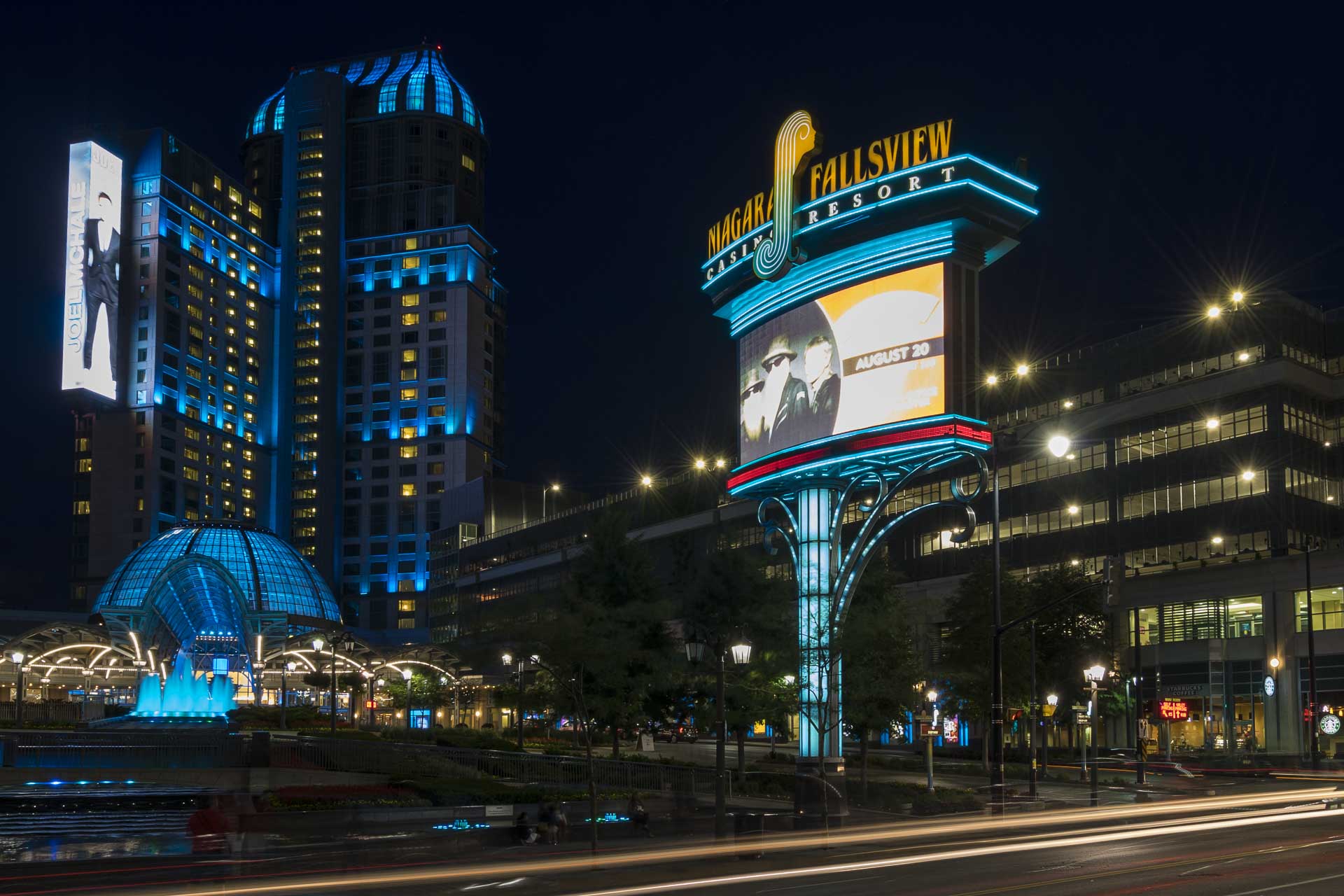 Fallsview Casino – Niagara Falls premier casino is a 200,000 square foot entertainment complex.
Niagara Falls Incline Railway – A fast link between Fallsview Tourist Area and the Table Rock area. Get down to the falls fast.
Journey Behind the Falls – One of our favorite Niagara Falls Attractions. Take a walk behind Horseshoe Falls in a series of tunnels under Niagara Falls.
Avalon Ballroom Theatre – Attracting world-class entertainment from John Legend to Steven Tyler. Great music venue.
IMAX Theatre – Check out a movie on this giant screen.
4D Fallsview Movie – Legends of Niagara Falls is a 4D sensory overload movie tracing the evolution of Niagara Falls and the Great Lakes.
Get the Niagara Falls Adventure Pass to gain discounted access to Journey Behind the Falls, Hornblower, Whitewater Walk, Niagara's Fury and the Butterfly Conservatory with transportation to each activity in the WEGO shuttle people mover.
You can also purchase advance passes at Get Your Guide where you can book a complete pass to attractions on both the United States and Canada side of the falls covering things to do on both sides of the falls when you cross the Rainbow Bridge.
Where to Eat in Fallsview Tourist Area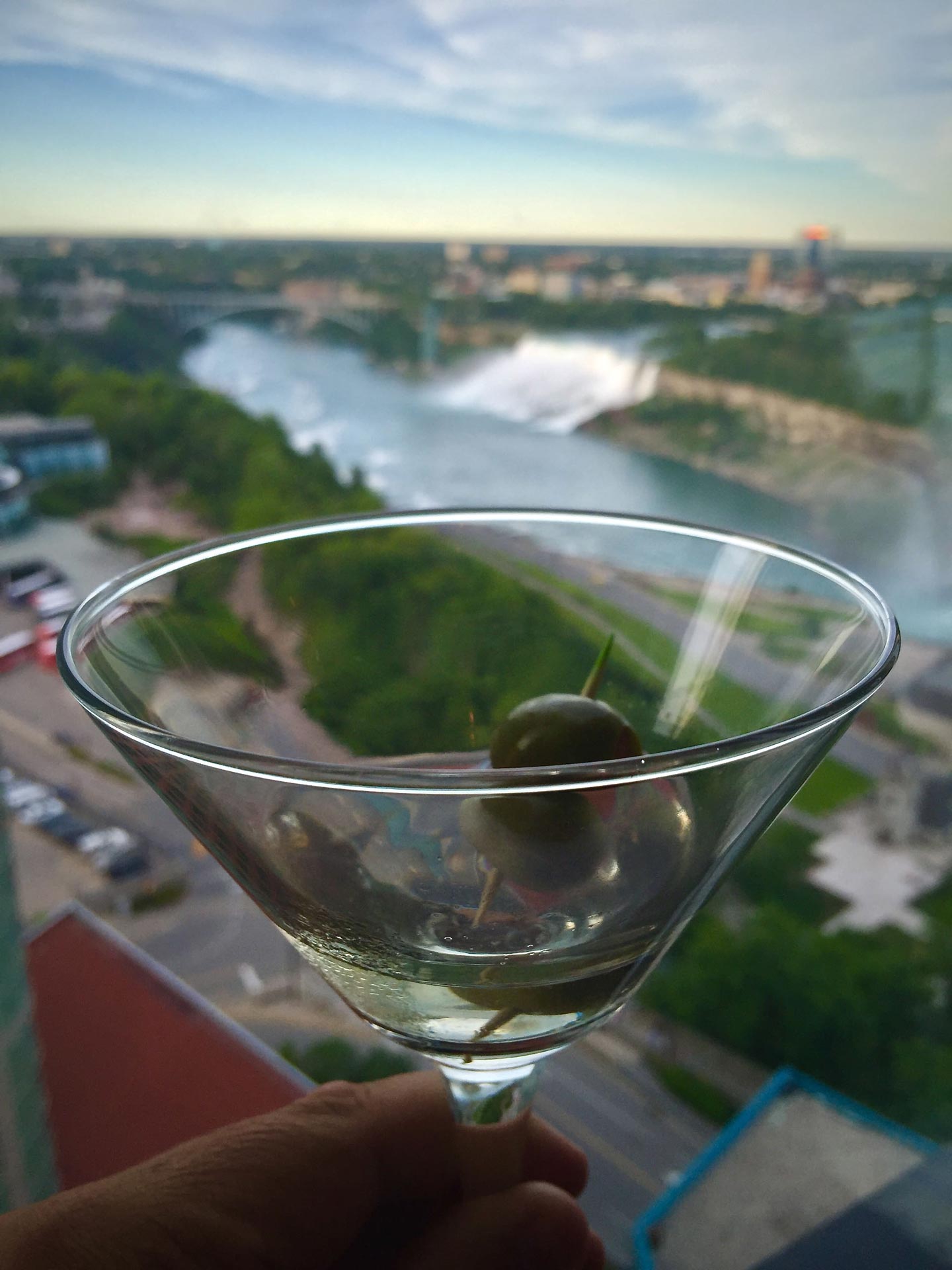 The Keg Steakhouse at Embassy Suites hotel – A great Canadian steakhouse with great views overlooking the falls. Our personal favourite.
Watermark Restaurant at the Hilton – Another amazing view of the falls.
Skylon Tower – Revolving restaurant offering 360 views of Niagara Falls, the Niagara Gorge, and the city.
Brasa Brazilian Steakhouse – Traditional all-you-can-eat Brazilian barbecue.
Fallsview Steakhouse at Tower Hotel – Great views of the falls in this classic hotel. We ate here when it was Marilyn's Bistro and the views were awesome.
2. Clifton Hill Tourist Strip – In the Heart of the Tourist Attractions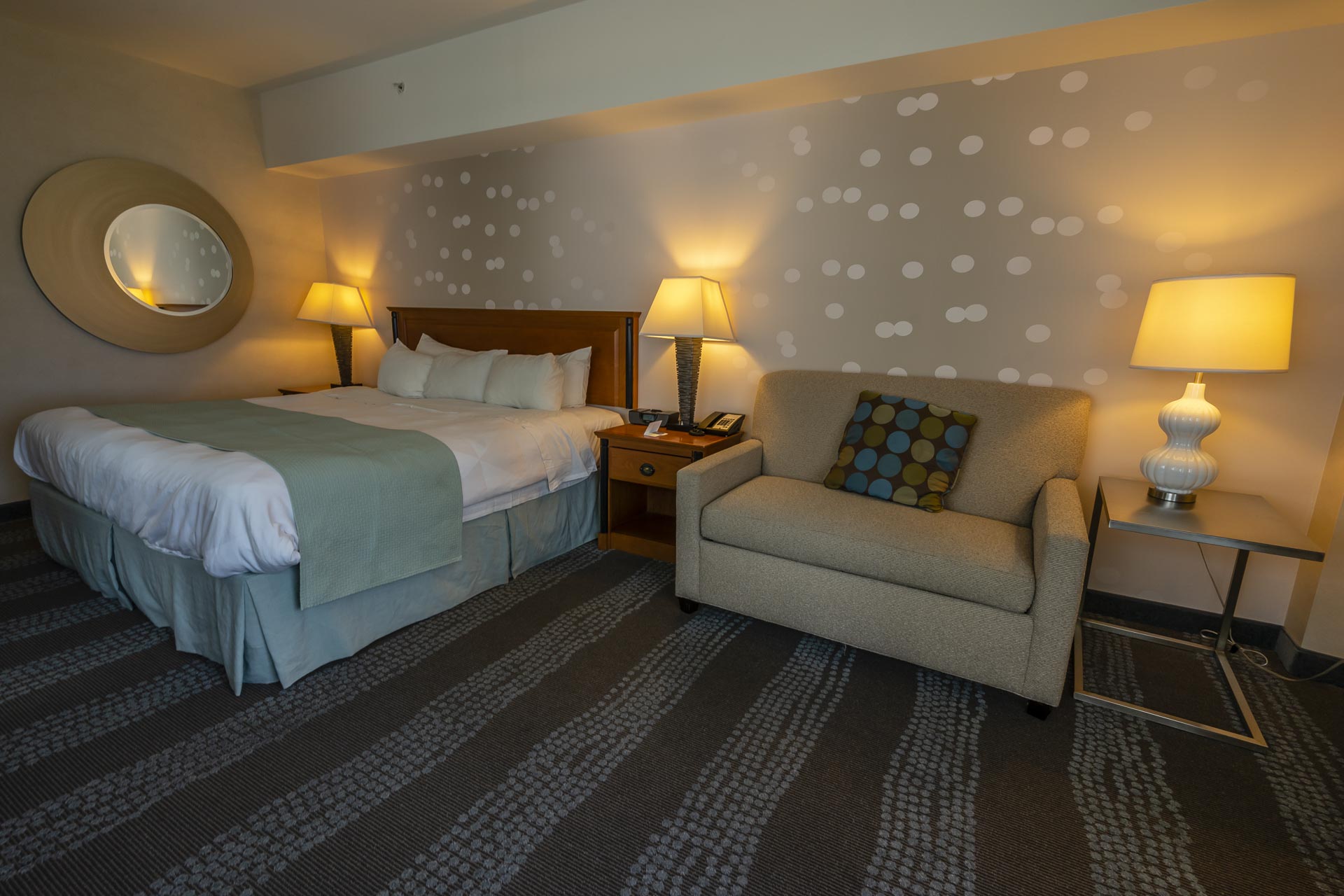 Clifton Hill was the first tourist area of Niagara Falls and it is probably the first place you'll go when you visit the city. It is the main tourist drag with all the souvenir shops, wax museums, and funhouses.
You can find budget accommodation along the strip and behind the midway or you can stay on the Niagara Parkway overlooking the falls. It's a great place to stay to be near the attractions that are located on Clifton Hill.
Our favorite Hotels in the Clifton Hill Area of Niagara Falls are:
Sheraton on the Falls Hotel – Great views of the US and Canadian Horseshoe Falls. It's connected to the casino and the Fallsview indoor waterpark. There is an indoor midway for the whole family and rooms are elegant.
Crown Plaza – The Crown Plaza is located beside the Sheraton and it is connected to both the casino and indoor waterpark. It has the more elegant old-world feel as one of those grand hotels. It was Niagara Falls' first luxury hotel dating back to 1927 when it was known as the General Brock Hotel. It has one of the best restaurants in Niagara Falls, Rainbow Room Restaurant run by Chef and Host Massimo Capra.
Things to do on Clifton Hill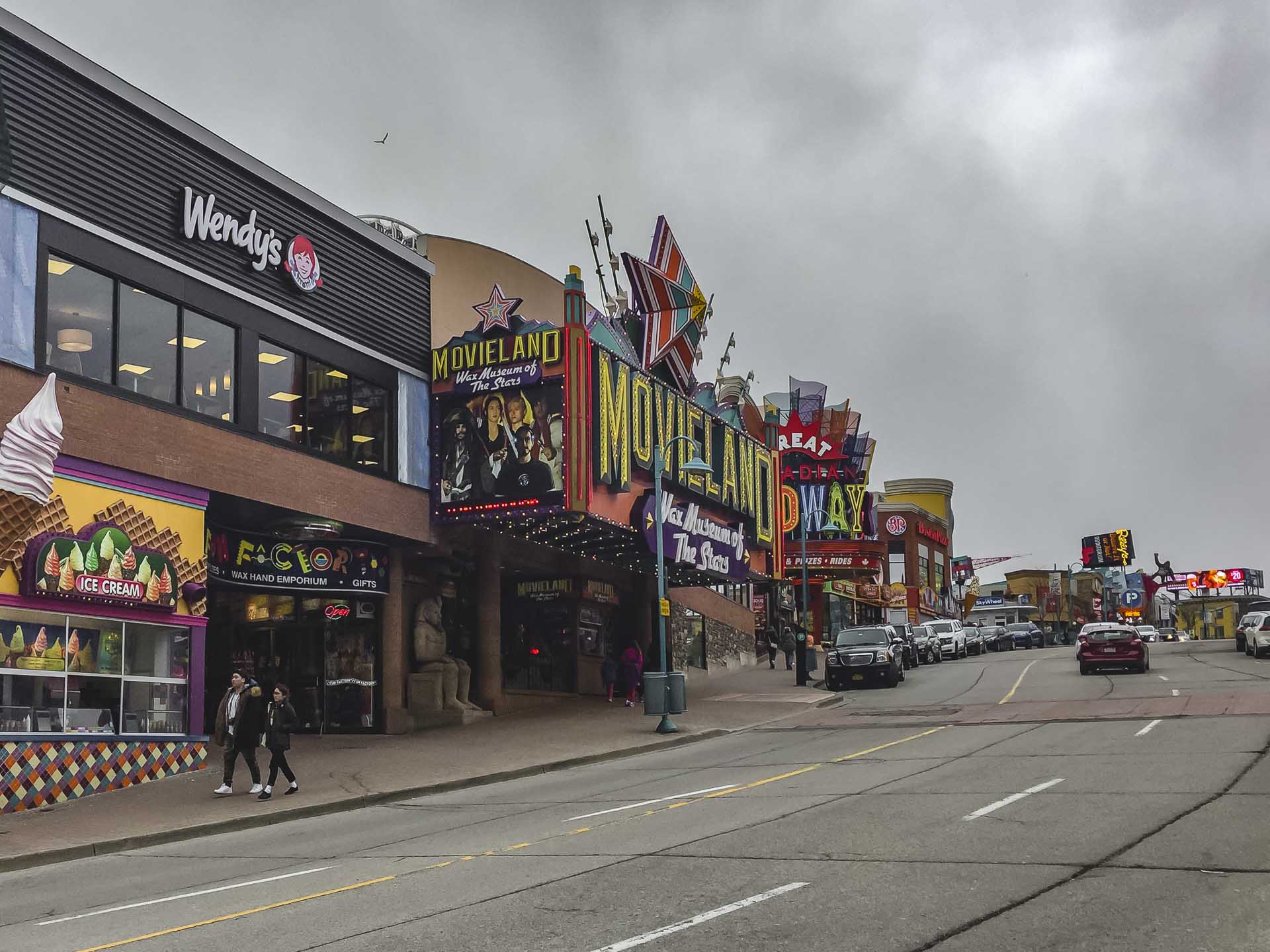 Niagara Falls Skywheel – Get a birds eye view of the falls on this 175 foot high Ferris wheel.
Great Canadian Midway – Fun and Games for the whole family with amusement park rides, wax museums, and mini golf
Casino Niagara – You don't have to go up to Fallsview to gamble. There's a world-class casino right here.
Niagara Falls waterpark – 3 acres of indoor waterpark fun with wave pools, waterslides, and private cabanas.
Wax Museums and Clifton Hill attractions – see everything from Ripley's Believe it or not to Louis Tussaud's Wax Museum and even bowling.
Get your Clifton Hill Attractions package. It includes a ride on the Niagara Falls Skywheel, Movieland Wax Museum, Zombie Attack, Mini Golf, and your choice of Dinosaur Adventure Golf or Wizards Golf.
Where to Eat on Clifton Hill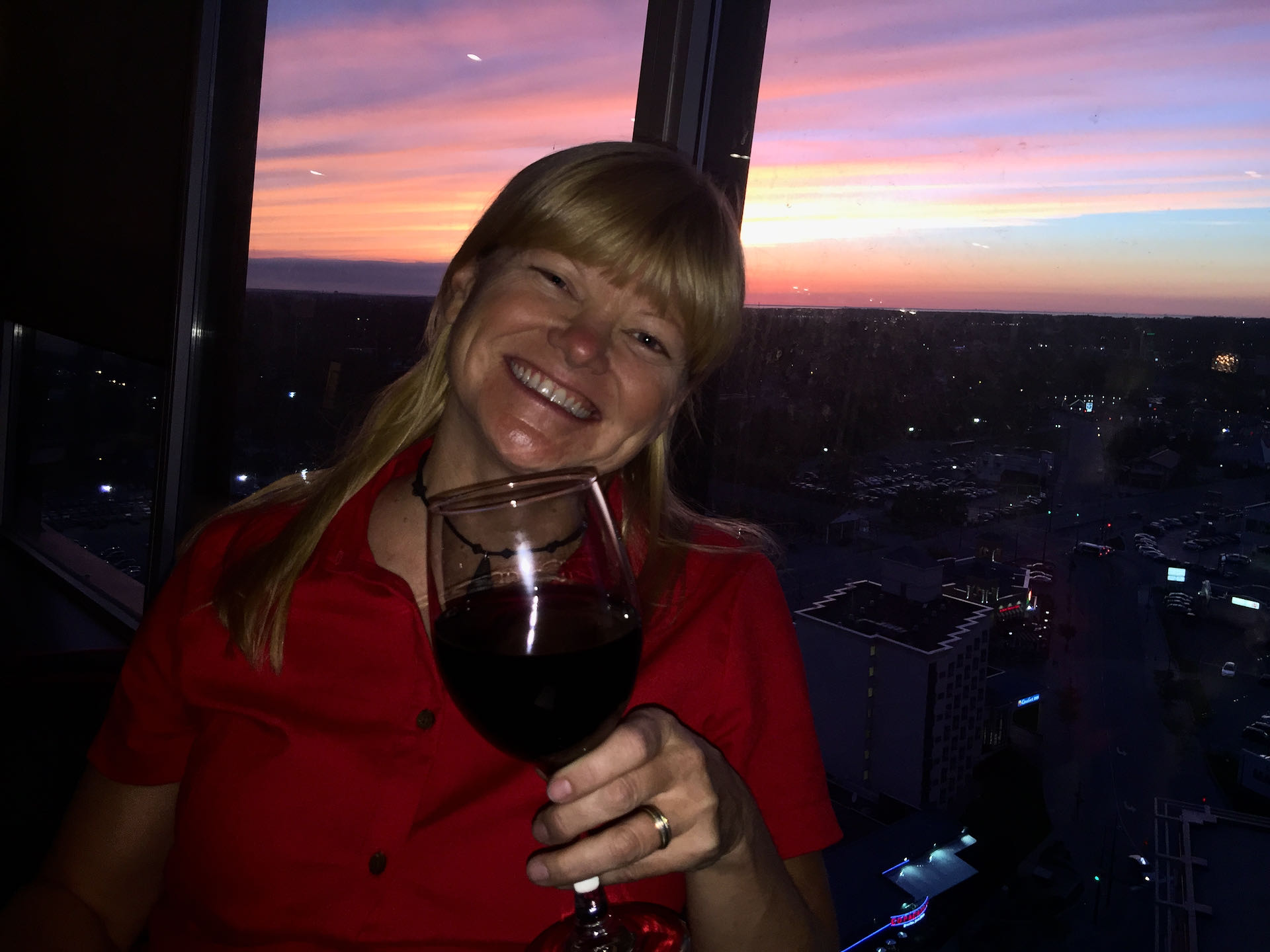 Clifton Hill is definitely touristy, so you'll find the typical tourist destination restaurants. There's plenty of fast food and diners as well.
Massimo's Italian Fallsview Restaurant – Located in the Shertaton Hotel Fallsview, it has great view of the Falls, inspired by Chef Massimo Capra
Hard Rock Café – Located in Casino Niagara this music-themed restaurant is a Niagara Falls staple.
Rainforest Café – This jungle-themed restaurant is fun for the whole family.
3. Lundy's Lane Neighborhood – Good for Families and Budget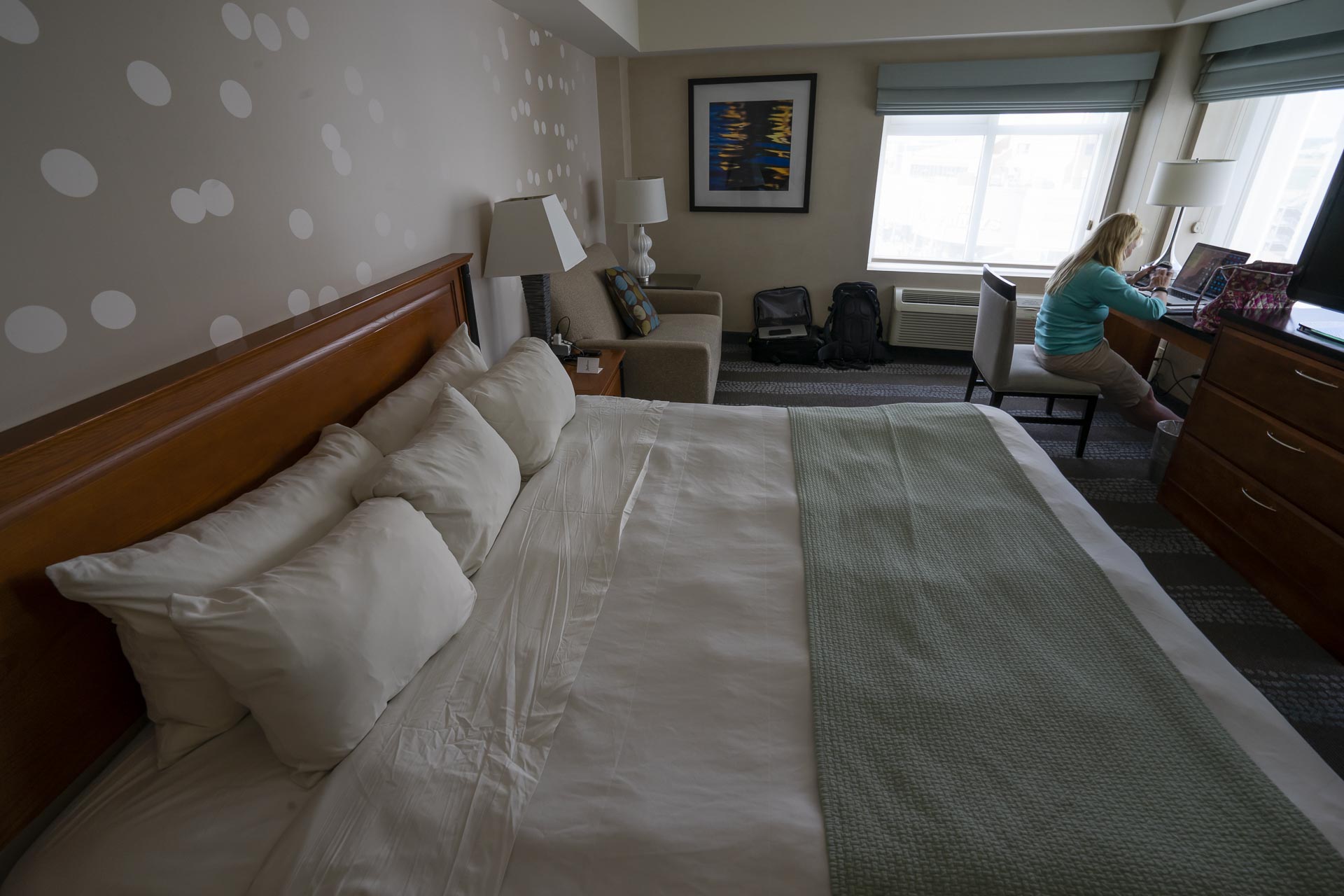 Located at the top of Clifton Hill, Lundy's Lane offers a lot of hotel choices. It's Niagara Falls longest street and when you get to the top of Clifton Hill at Ripley's Believe it or Not is Victoria Street which turns into Lundy's Lane.
Staying at Lundy's Lane is cheaper than the other two choices, but it is an easy walk to either location. It's about 20 minutes to Fallsview and 10 minutes to Clifton Hill.
Our Favorite Hotels on Lundy's Lane
Niagara Falls Marriott – offers free shuttles for guests to the Fallsview Marriott. It's an excellent choice for Lundy's Lane as you have easy access to Fallsview at a more affordable price. It's also very close to Clifton Hill which is fun for the whole family.
Days Inn – This is a good budget choice. It was one of the first places we ever stayed on a package in Niagara Falls and if you are on a budget, the location is good and you can't go wrong with the Days Inn Brand.
Americana Conference Resort and Waterpark – It's located a little far out of the main strip, but if you want a waterpark it's a good option. There is also a spa, and a few dining options within including Boston Pizza, coffee and snack bar and a bistro.
Things to do in Lundy's Lane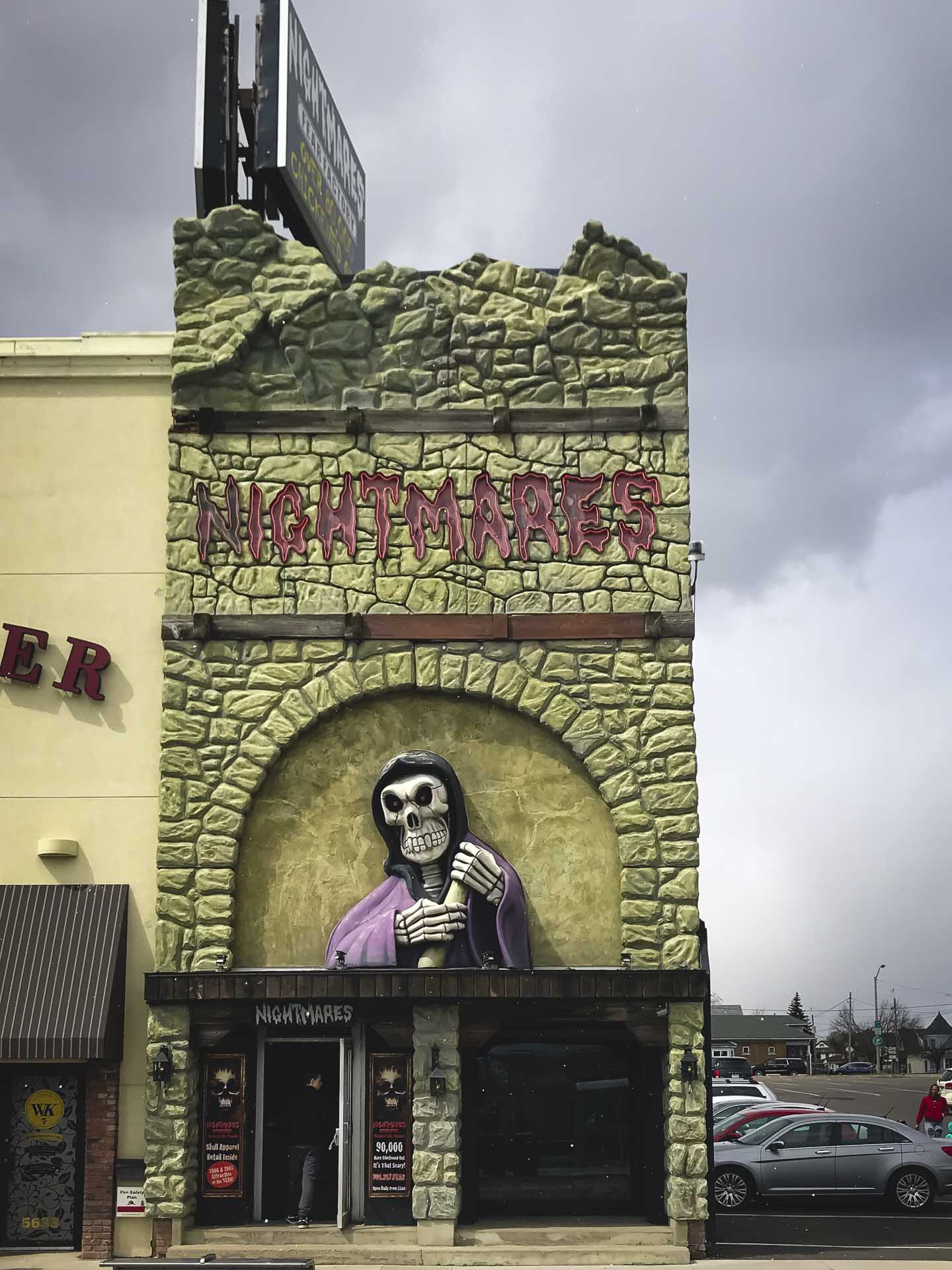 Niagara Falls speedway – it's a go-cart roller coaster ride all in one.
Nightmares Fear Factory – The most frightening experience in Niagara Falls. 100k have chickened out. I almost did once!
Lundy's Lane Battlefield Park – Location of the bloodiest battle of 1812 at the Battle of Lundy's Lane.
Niagara Falls History Museum – learn about the history of Niagara Falls and the Battle of Lundy's Lane and the war of 1812.
Where to Eat at Lundy's Lane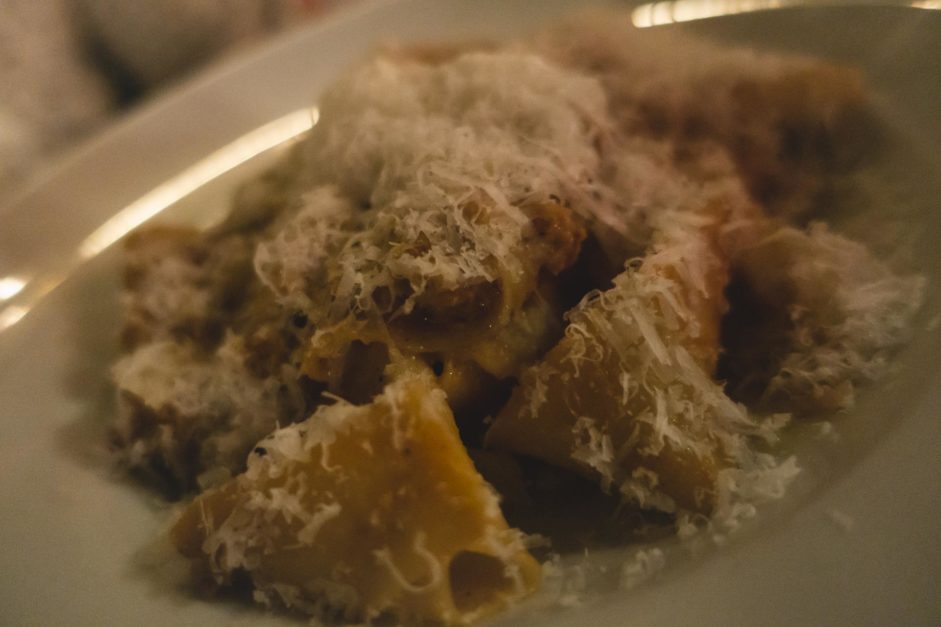 Carpaccio Restaurant and Wine Bar – Voted the best overall restaurant in Niagara Falls. Enjoy Italian and Mediterranean Cuisine.
Johnny Rocco's Italian Grill – Italian menu with pizzas, pasta, and a kids menu.
Don MacGillin's Irish Pub – Named one of North America's top pubs several years running. Good typical pub grub.
4. Downtown Niagara Falls Canada – Local Feeling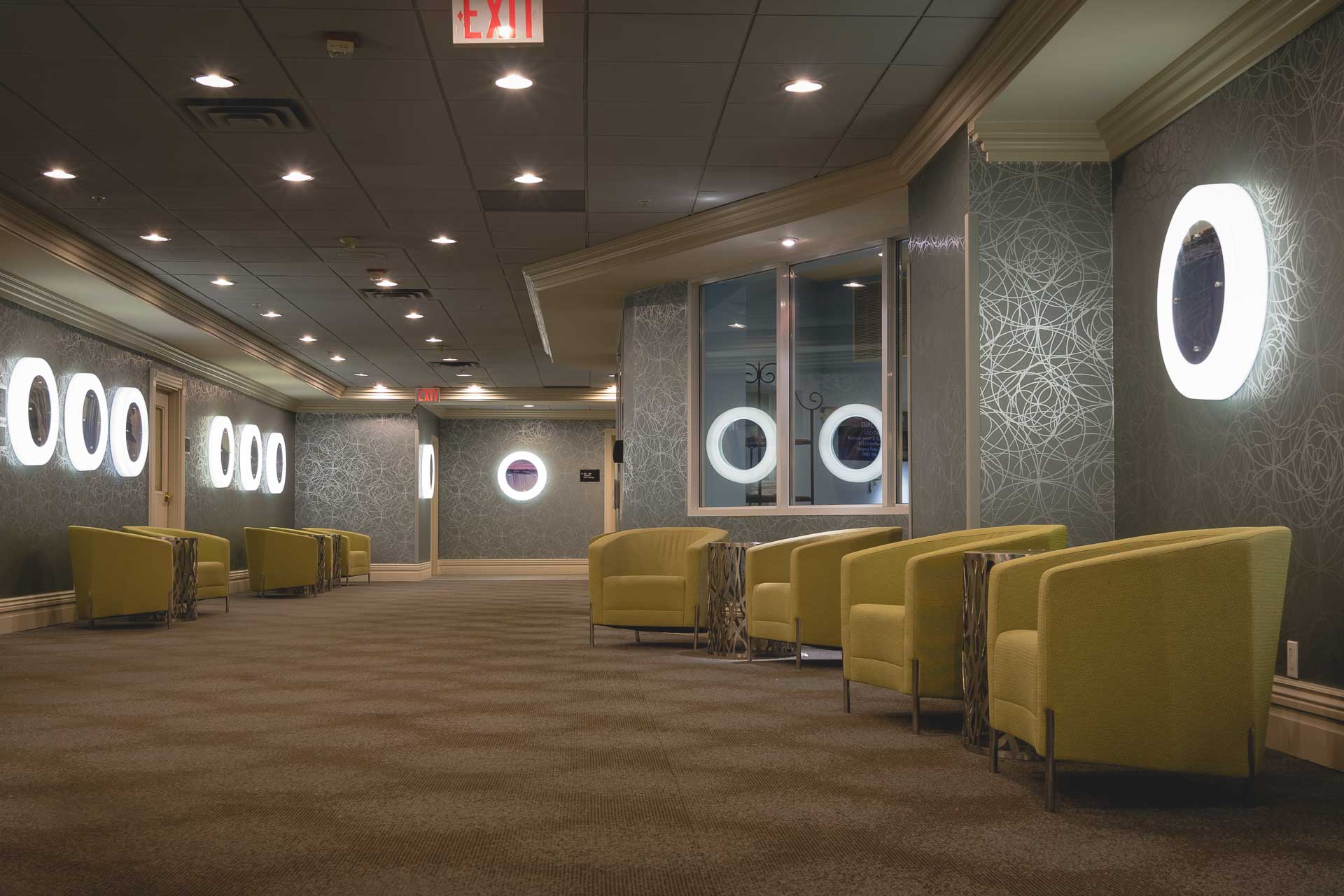 A word of warning, the Niagara City Center is farther away from the Niagara Falls tourist attractions but more and more accommodation is starting to pop up here.
If you do want to stay in the Niagara Falls city center, you will be close to the bus depot and train station making it easy to get to your accommodations. Here are our recommendations.
Where to Stay Downtown Niagara Falls, Canada
Great Wolf Lodge – This is a super resort for families that we have stayed at for a fun romp in the water. There's a great indoor waterpark complete with waterslides, splash bucket, wave pool and a lounge area for adults to relax by the pool while the kids frollick in the water playground.
Travelodge by Wyndham is the closest to all the attractions just outside the tourist area on the Niagara Parkway. You can walk to the Bird Kingdom and Rainbow Bridge and from there all of the Niagara Falls attractions are close.
Niagara Grandview Manor – Couples will love this historic BnB. It has a rooftop terrace and parking.
Bonus for Budget accommodation in Niagara Falls
HI Niagara Falls Hostel – Backpackers will like downtown for the budget option. It is quite far away from the falls though, expect a 40 minute walk to the falls. They do rent bicycles that you can use to get around.
Things to do in Niagara Falls Center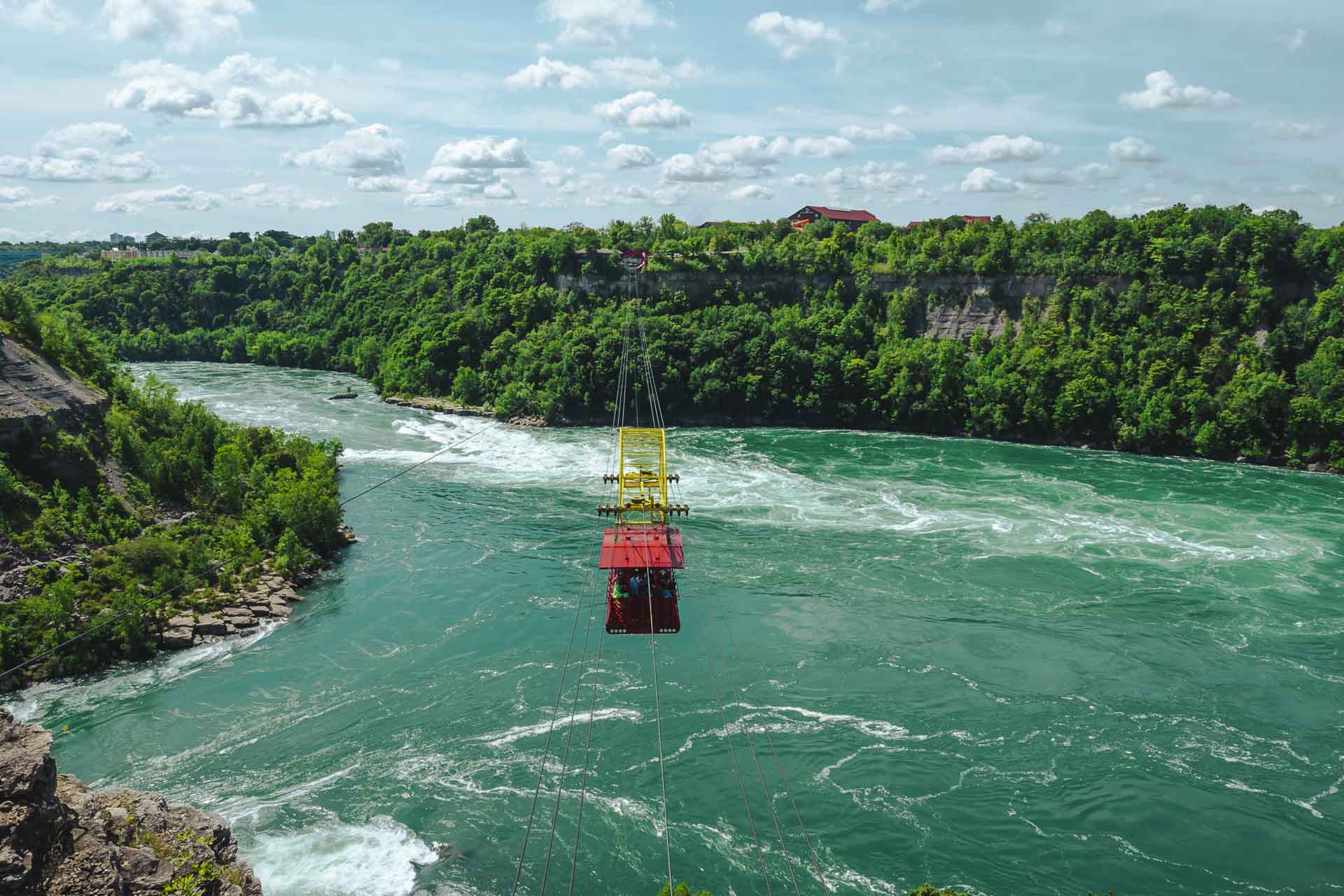 Whitewater Walk – This is a great walk. Take an elevator 70 meters (210 feet) down to the Niagra River and walk right beside Thundering Class 6 rapids.
Whirlpool Aerocar – Take a cable car directly over the Niagara Falls Whirlpool and see a bird's eye view of class 6 rapids.
Military Museum – Niagara Falls saw many a battle along the Niagara River and this museum showcases its history.
Hiking Trails – Enjoy the path along the Niagara Gorge and River that leads all the way out to Niagara on the Lake.
5. Niagara on the Lake – Romance and Luxury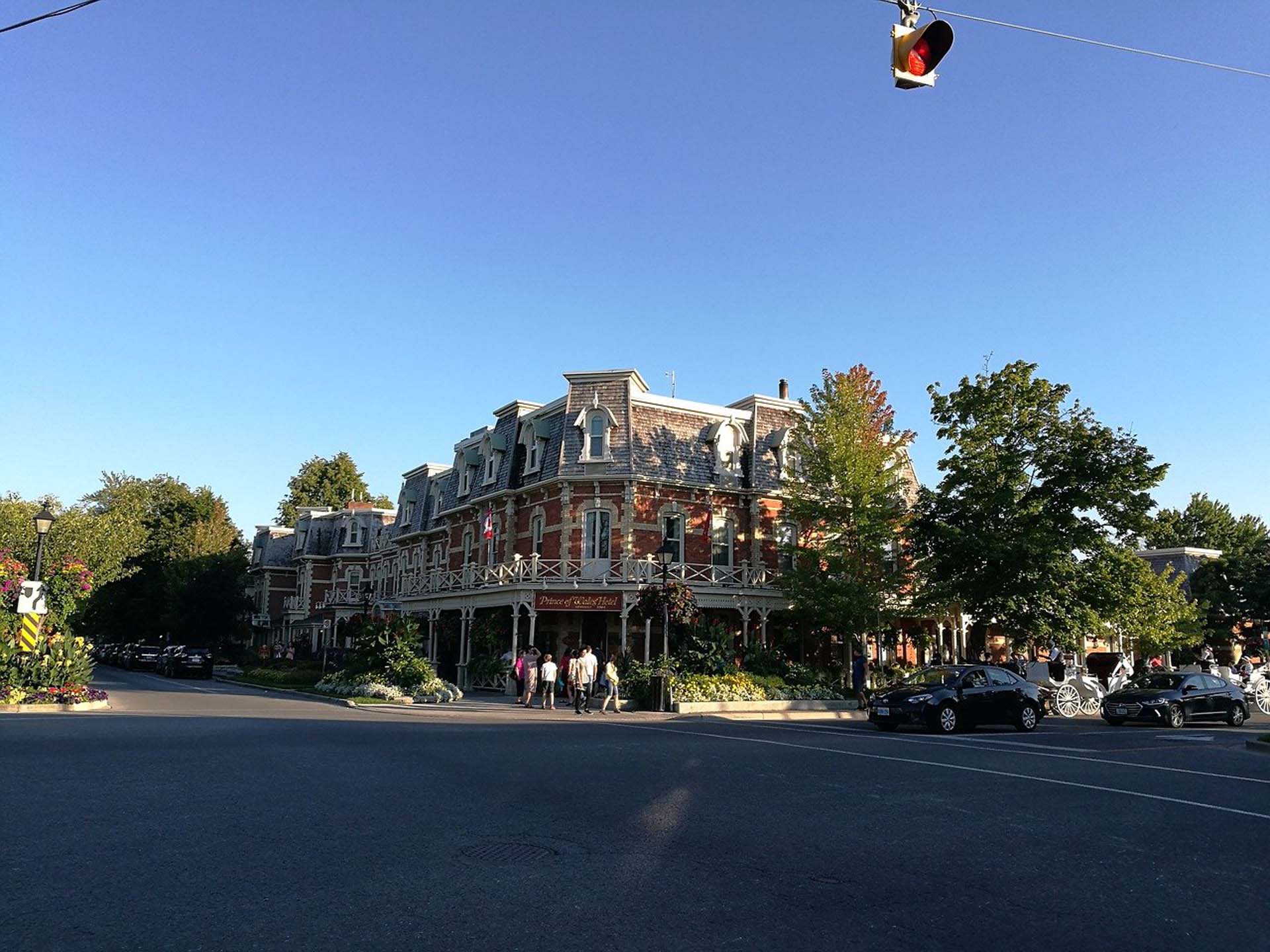 If you have a car and want to stay outside of Niagara Falls in a quieter more romantic location, Niagara on the Lake is the perfect choice for a romantic getaway. It's just a 20-minute drive along the Niagara Parkway.
Niagara on the Lake is the Niagara Falls Wine region and it is a destination unto itself. Many people from Toronto and around Ontario, make Niagara on the Lake a regular weekend getaway.
Pillar and Post – The Pillar and Post Resort and Spa is in an old canning factory from the 1800s that was renovated and transformed into a country inn. It has full amenities and has been named one of the top spas in Canada.
Prince of Wales – The Prince of Wales is a landmark historic hotel located downtown Niagara on the Lake. Indoor pool, fitness center, and spa. Located downtown with a romantic restaurant and afternoon tea served in the tea room.
Queens Landing – This beautiful Georgian Style mansion overlooks the Niagara River. Full amenities with indoor pool, sauna, gym and spa. Rated one of the best hotels in Ontario with a award winning four diamond restaurant and accommodation.
All the the hotels we mention in Niagara on the lake are high end, but there are affordable AirBnBs as well that are elegant. Browse below to find one that suits you.
Check these best Hotels and AirBnBs in Niagara on the Lake
Things to do in Niagara on the Lake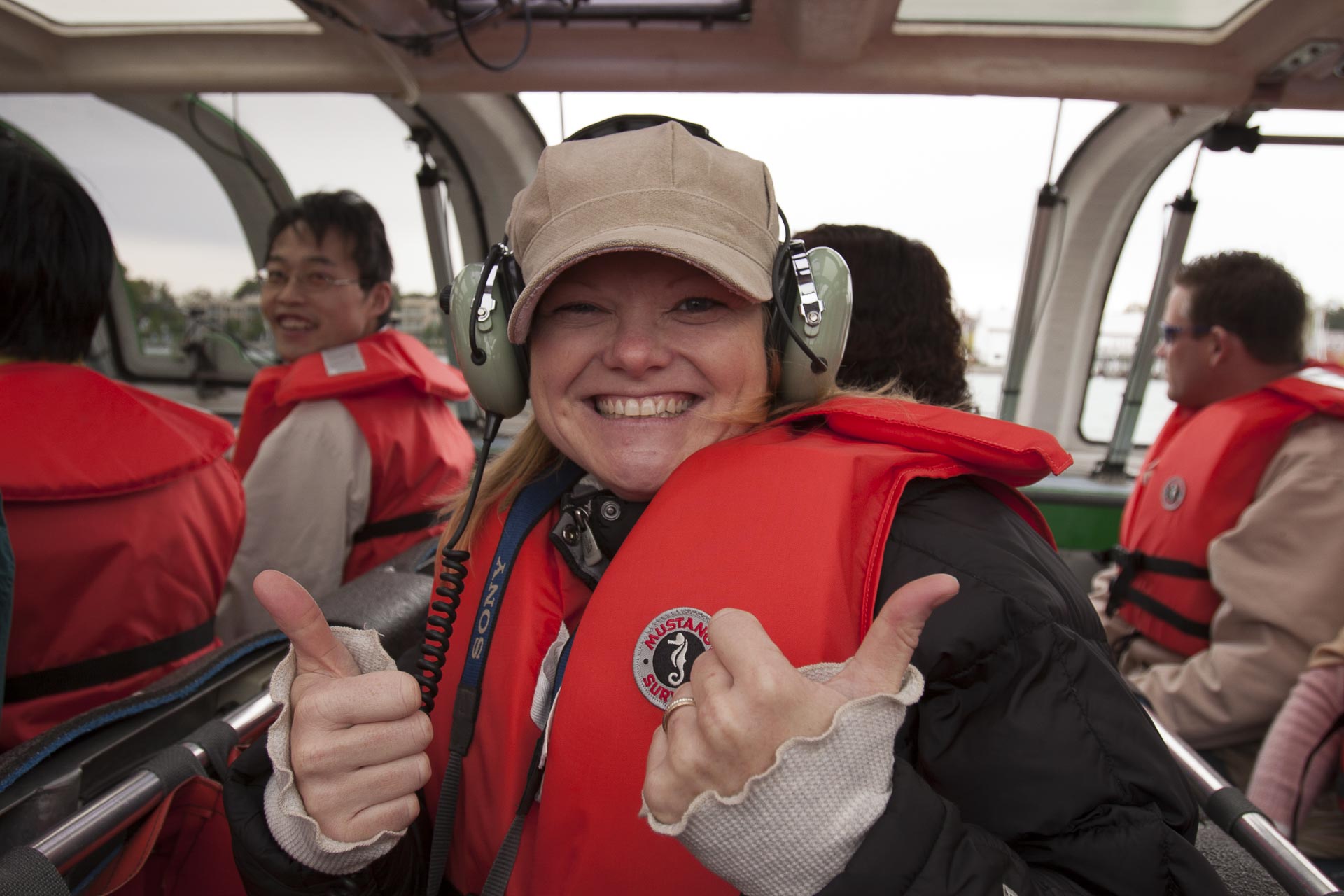 Whirlpool Jetboat Tour – Take a high powered jet boat tour up the Niagara River through the Niagara Gorge. This is the ultimate thrill ride that feels like a roller coaster on the water as you ride Class 6 rapids. You can get soaked, or go dry. We've done both!
Take a wine tour – Niagara on the Lake is the Niagara Falls wine country. Go vineyard hopping and sample some of Niagara's finest wines like Inniskillen, Peller Estates, Trius, and Wayne Gretzky.
Fort George National Historic Site – Tour this historic fort that was a strategic locations for defending the colony during the War of 1812.
Catch a Show at the Shaw Festival – Niagara on the Lake is home to the Shaw Festival featuring the works of George Bernard Shaw.
Where to Eat in Niagara on the Lake
There are many choices for dining at Niagara on the Lake. Vineyards in the area have dining rooms and restaurants, and downtown offers plenty of choices. Here are a few of our favourites.
Corks Wine Bar and Eatery – Local wine with a good variety on the menu plus events in the Playhouse Theatre on the second floor.
The Epicurean – French and Mediterannean food blended with Niagara wines.
Treadwell Cuisine – Farm to table Canadian Cuisine paired with local Niagara Wines. Plus, grab a pastry or breakfast at the bakery next door.
Trius Winery – located about a 10 minute drive from downtown, Trius Winery serves lunch and dinner 12:00 to 8 pm daily.
What is the best area to stay in Niagara Falls for Families?
Great Wolf Lodge waterpark in Niagara Falls is great for families located near downtown Niagara Falls and Niagara Parkway.
Where to stay in Niagara Falls for Nightlife?
Fallsview Tourist Area has the most nighttime attractions with several lounges, bars, entertainment venues and restaurants.
Where to stay in Niagara Falls on a Budget?
Clifton Hill is a good choice for budget accommodation while still being close to Niagara Falls attractions.
And these are the best places to stay in Niagara Falls. Have you been to Niagara Falls? Where is your favorite places to stay?
Read Next: